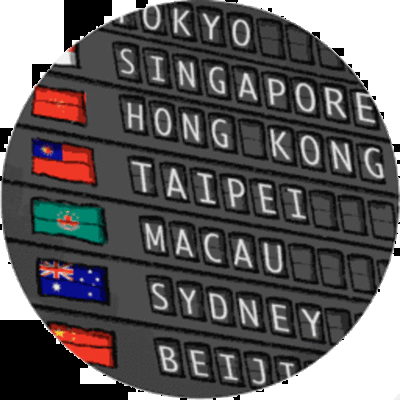 Two ways to read the story
Quick Read
Deep Read

( 4 Min. )
By

Michael Holtz

Staff writer
What's in a name? To Beijing, an awful lot – especially if it's Taiwan, Tibet, Hong Kong, and Macau. Over the past several months, China has gone on the offensive against foreign companies that have contravened its position on long-standing territorial disputes. Often, the supposed crime is listing those territories as separate from China. This week, for example, Beijing ordered 36 airlines to update their websites. But it isn't always officials calling out foreign companies for unpatriotic behavior: Sometimes it's nationalistic Chinese web users who track down perceived offenses and push the government to act. "You need to follow our rules if you want to do business here," wrote one user on a popular Chinese microblogging site. "If you can't, get out." And that popular support, in a market as large as China's, seems to have made many companies think twice about refusing to comply, particularly as China doubles down on its long-term plan to isolate Taiwan, a self-ruled island that it considers a breakaway province. "The pressure is just going to get stronger and stronger," one analyst says.
Beijing
For Mercedes-Benz, it was quoting the Dalai Lama in an Instagram post. For Marriott, it was referring to Tibet and Taiwan as countries in an online customer survey. And for 36 international airlines, it was listing Taiwan, Hong Kong, and Macau as separate from China on the companies' websites.
Over the last several months, China has gone on the offensive against foreign companies that have, in one way or another, contravened the government's position on long-standing territorial disputes. Government officials and internet users have been especially quick to lash out against any hint of support for an independent Taiwan: a self-ruled island that Beijing considers a breakaway province, and has increasingly tried to isolate on the international stage.
While the United States and Australia have started to push back – the White House accused the Chinese government of "Orwellian nonsense" in a recent statement on the airlines issue – analysts say China is emboldened by its growing economic and geopolitical influence. And with the support of nationalistic consumers, Beijing has made clear that companies who resist its political demands do so at their own risk.
Chinese consumers have proven to be a potent force when harnessed by Beijing. In 2012, Chinese nationalists smashed Japanese stores and boycotted Japanese cars because of a dispute over the Diaoyu/Senkaku Islands in the East China Sea. Last year, they boycotted the South Korean retailer Lotte for providing land in South Korea for a US missile defense system. After being forced to close more than 80 of its stores, Lotte announced that it planned to pull out of the country altogether. 
Geng Shuang, a spokesman for the Ministry of Foreign Affairs, said in a May 6 statement that foreign companies operating in China "should respect China's sovereignty and territorial integrity, abide by Chinese laws and respect the national feelings of the Chinese people." 
Left unsaid was the role that online nationalists – partially inspired by President Xi Jinping's rhetoric about "national rejuvenation" — have played in not only responding to Beijing's cues, but drawing attention to perceived offenses and pushing the government to act. That nationalism is palpable in tens of thousands of comments on Weibo, a microblogging site, where the US Embassy in Beijing shared the White House statement.
"You need to follow our rules if you want to do business here," wrote one Weibo user. "If you can't, get out."
Risky business
The consequences can be severe for foreign companies caught out of step with Beijing's official position. In January, regulators ordered Marriott to close its China-based website and app for one week. Marriott later apologized and pledged that it did not support separatism in China. The company took down the survey and ended its contract with the Canadian firm that wrote it.
Other companies, including the German carmaker Daimler, which owns Mercedes-Benz, have also publicly apologized and removed sensitive online content in response to similar incidents. Many seem to have calculated that doing so is simply the cost of doing business in China. To refuse is to risk triggering a more serious backlash. The Chinese internet users who first brought attention to the Marriott survey, for example, called for a boycott of the company.
Galvanized by the Marriott case, Chinese internet users began searching online for other offenders. They quickly found that Delta Air Lines and the fashion brand Zara had also listed Taiwan and Tibet as countries on their websites. The two companies apologized and updated their sites after being rebuked by Chinese authorities. (Delta still lists Taiwan separately from the mainland, however.)
So far, most foreign companies have acquiesced to Beijing's demands for fear of missing out on one of the world's largest consumer markets. But Jessica Chen Weiss, an associate professor of government at Cornell University who studies Chinese foreign policy and nationalism, says in an email that the recent episode involving the 36 airlines could turn out differently.
"While individual companies such as Marriott and Mercedes have apologized, likely to preserve their appeal to Chinese customers, the Chinese government's direct involvement this time may backfire," Dr. Weiss says, referring to a letter the Civil Aviation Administration of China sent to the companies. "By drawing public attention to what the White House has called 'Orwellian nonsense', US airlines face counter pressure to stand firm against Beijing's unreasonable demands."
American Airlines and United Airlines, two of the 36 companies that received the letter, have so far refused Beijing's order. If they continue to hold out, the question is how China will respond. The Civil Aviation Administration of China has reportedly threatened to enact various administrative penalties against airlines that fail to comply. Then there is the risk of boycotts, which could be devastating. By 2022, China is expected to surpass the US as the world's largest air travel market, according to the International Air Transport Association.
Target: Taiwan
The order against the airlines comes as China ratchets up military and diplomatic pressure on Taiwan. The Chinese Navy held live-fire drills in the Taiwan Strait last month. And last week, the Dominican Republic announced that it was severing diplomatic relations with Taiwan in favor of recognizing China, leaving the island with only 19 diplomatic allies.
"Often these pressure campaigns have been spearheaded by angry netizens," Weiss says, referring to the incidents involving foreign companies. "But the recent Chinese effort to compel foreign airlines has had a more official stamp. It's a symbolic reflection of Beijing's dissatisfaction with political trends on Taiwan and recent developments between Washington and Taipei."
Cross-strait relations have steadily deteriorated since 2016, when Tsai Ing-wen from the pro-independence Democratic Progressive Party became president of Taiwan. Meanwhile, the US has taken steps to show support for the island, a longtime ally. In March, President Trump signed into law a bill that encourages official, high-level visits between the US and Taiwan. And this summer, the American Institute in Taiwan, the de facto US embassy, is scheduled to open a new office in Taipei.
Mareike Ohlberg, a research associate at the Mercator Institute for China Studies in Berlin, says Beijing's targeting of foreign companies is simply one part of its campaign to isolate Taipei. And with President Xi having promised China's "national rejuvenation" by 2049 – a promise which many analysts say includes reunification with Taiwan – Dr. Ohlberg sees no signs of it stopping.
"The pressure is just going to get stronger and stronger," she says. "Unless there is some sort of fundamental political shift, it's not going to go away."