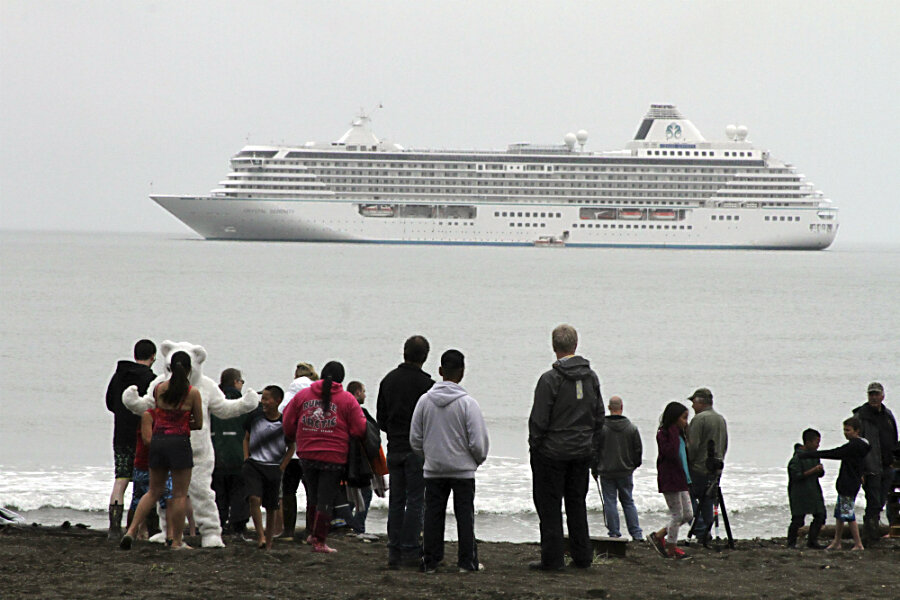 Behind oil-drilling bans, a debate over competing Arctic visions
Patterns of thought
Oil companies and Arctic communities have long sought prosperity through resource extraction. Plans announced by Barack Obama and Justin Trudeau imply more focus on tourism and sustainability.
—The days of the Arctic being a remote and frozen wilderness appear to be coming to an end, but precisely what the rapidly changing region will develop into is only just beginning to be addressed.
Two competing visions for the region clashed this week when President Obama and Canadian Prime Minister Justin Trudeau announced new restrictions on offshore drilling in their respective jurisdictions of the Arctic Ocean.
In the eyes of these two progressive-minded leaders – one cementing his environmental legacy on the way out the door, the other beginning to establish his – the melting Arctic represents an opportunity to develop the increasingly accessible region in a cleaner and more diverse and sustainable fashion that protects its fragile ecosystems while helping the two countries reduce their carbon emissions.
On the other side, critics say the new restrictions will simply boost fossil fuel development in other Arctic regions, namely in Russian and Norwegian territory, while forcing Arctic communities to abandon industries that have, literally and financially, fueled their development to date.
The restrictions on drilling could see the countries follow in the footsteps of other Arctic nations that have moved away from oil and gas toward the tourism and shipping industries, according to Mia Bennett, a PhD candidate at the University of California, Los Angeles, who is researching Arctic development.
"Outside of Norway and Russia, there has already been a shift away from developing infrastructure for [oil and gas] in the Arctic and a move towards building maritime infrastructure, namely for the cruise and shipping industries," she says by email.
The new limits on Arctic drilling are potentially indefinite in the US, but will be reviewed every five years in Canada.
Tourism rising
Even prior to this week's announcement, the fossil fuel industry in the North American Arctic was slumping while tourism has been enjoying slow but steady growth. Low oil prices combined with the hazardous conditions have made Arctic oil exploration a financial nonstarter for companies for now. Royal Dutch Shell, perhaps the most aggressive company in the region, has sunk over £5 million in Arctic fuel exploration with no meaningful return.
The thawing of the Northwest Passage, meanwhile, has enabled the slow-but-steady growth of the tourism industry. The Passage's southern route has been navigable every summer since 2007, while the northern route has been navigable for six summers since then. Cruise ships have been making increasingly lengthy transits, beginning in 2011 and culminating this past summer in the first larger-size cruise ship, the Crystal Serenity, traversing the entire passage.
The industry is still in its infancy, however, and far from accessible to the typical traveler. Tickets for the Crystal Serenity ranged from $22,000 to $120,000, plus required insurance coverage costing $50,000.
And the shipping industry still has some way to go. Ships have managed fewer than 240 complete transits of the Northwest Passage since Roald Amundsen first did it 110 years ago, and without oil and gas development there may be precious little for ships to transport in and out anyway.
"The shipping industry's bread and butter is transporting resources out of the Arctic and importing in supplies for extraction (including oil and gas)," writes Ms. Bennett. "Without the latter, I'm not sure how lucrative the former will be."
Indeed, the fossil fuel industry has long sustained Arctic communities by providing jobs, resources, and infrastructure to places few other industries are willing to go. And this was among the arguments made by critics of the new restrictions.
Decision 'will inhibit our ... communities'
"This decision will not stop our climate from changing, but it will inhibit our North Slope communities from developing the infrastructure, communications capability and technology necessary for growth," said Rex Rock, Sr., president of the Arctic Slope Regional Corporation, according to KTUU News in Alaska. "It's a move which was made without any consultation from the largest private land owners in the U.S. Arctic and yet we will be the ones forced to live with the consequences."
Despite the lack of exploration activity in the region, some politicians in both countries bemoaned the potential lost revenue, which they believe will be soon captured by competing nations like Norway and Russia.
"The Arctic is going to be developed. We know that," said Sen. David Sullivan (R) of Alaska, according to KTUU. "So now what we're going to see is companies taking their resources and their capital to countries that don't have the high standards that we do."
Bob McLeod, premier of the Northwest Territories, criticized Mr. Trudeau for leaving untapped 7 billion barrels of oil and 92 trillion cubic feet of natural gas in a territory that has the third-lowest per-capita GDP in the country.
"The Russian Arctic is already the frontier of Arctic [oil and gas] exploration, and now with these restrictions, it looks poised to remain that way," writes Bennett. "A frontier, sacrifice zone, or vulnerable testing ground, depending on how you look at it."
For now at least, the North American Arctic will take a slightly different path.
A different kind of power
Clean-energy technology is beginning to enter the conversation, with companies interested in taking advantage of the region's immense hydropower potential. One company, Ocean Renewable Power Company of Portland, Maine, has been testing small-scale tidal and river power generators in remote Alaskan villages, training locals to install and operate the systems.
"These communities have the potential to grow," says Chris Sauer, the company's president and CEO. "Being able to provide them with affordable energy that doesn't damage the environment could be a huge catalyst in the growth of these communities."
Meanwhile, tourists can arrive by air as well as ship. And more development is coming by land, name in the form of a $300-million, 150-kilometer highway being built between Inuvik in the Northwest Territories and the Arctic coastal town of Tuktoyaktuk.
While the road may bring more development, particularly tourism, Bennett is concerned that projects like this – which may only have a 40- or 50-year lifespan – will become more common.
"I think there's a general unwillingness to think about longer-term development past, say, 2050," she says. "We have at this moment in the Arctic a strong desire to put in infrastructure and money and investment, but the future landscape is becoming harder and harder to predict."