Behind the civil disobedience: Woman fired for giving free lunches at school
Della Curry was fired from her kitchen position for giving school children free meals, raising questions about the availability of free or low-cost school lunches.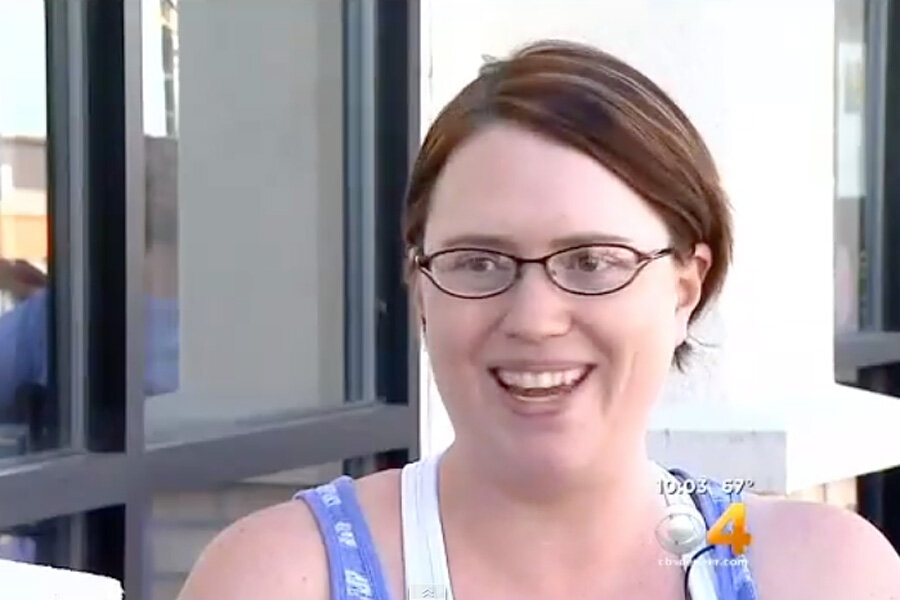 What do you do when a child doesn't qualify for free or reduced lunch, but doesn't have enough money to pay for a meal at school?
Della Curry, an elementary school kitchen manager at Dakota Valley Elementary School in Aurora, Colo., opted to give such children free lunches. Her decision was a violation of school policy and she was fired.
"I had a first grader in front of me, crying, because she doesn't have enough money for lunch. Yes, I gave her lunch," Curry said.
Curry told KCNC-TV in Denver, Colo. that she hopes her dismissal will bring about much-needed change in her school district. "If me getting fired for it is one way that we can try to change this, I'll take it in a heartbeat."
Students at Dakota Valley are allowed to charge up to $8 on their meal account if they forget to bring money, according to the district's website. Once they have used up their $8 allowance, however, they may no longer charge lunch.
The Cherry Creek School District has issued a statement explaining that: "The law does not require the school district to provide the meal to children who have forgotten their lunch money, that is a district decision. According to our practice, we provide hot meals to students the first three times they forget their lunch money and charge their parents' accounts. The fourth time, we provide a cheese sandwich and milk."
The District notes that the school lunches are already subsidized, and any additional losses have to be covered by the district's general fund, which is also used to cover the cost of security, instruction, and building maintenance, among other things.
What bothers some, however – Curry included – is that the cheese sandwich provided is just a slice of cheese on a hamburger bun.
CBS News posted the story on Facebook and many readers expressed their concern in the comment section.
"A slice of cheese on a hamburger bun? Oh man! That should fill them up for the rest of the day?!" said one.
"It's 2015. There should be no transaction of any kind that the student or staff has to participate in. Putting aside the absurdity of making students pay for lunch in the first place, it can be simply charged to an account that the parents are billed for," wrote another in the comment section of the story.
"Honestly I think this is the first case where I would agree that it made sense for the school to follow protocol. I mean it was very noble, and it was nice. But I can't help but think this is equating to stealing," wrote another.
For many, the issue boils down to ensuring that children are not going hungry in school. 
It's an issue that continues to be debated nation-wide. Solutions have been proposed, but some are still in their early stages.
As The Christian Science Monitor reported, Maryland recently enacted a law that allows schools to take part in the Community Eligibility Program (CEP).
Through this program, schools and school districts that serve pre-dominantly low-income students (at least 40 percent) can extend their free meal program to every child, no matter their family's earnings.
The National Free Lunch Program offers free or low-cost lunches to millions of US school children each year, but students must meet federal income eligibility guidelines to qualify. The idea behind CEP is to remove the gap between students who qualify for free lunches and those who do not – some of whom may come close to qualifying but not quite make it.
Advocates of the program say that it also takes away the stigma of eating a "free lunch," because everyone else is having a free meal too. Some students have reported being too embarrassed to get the free or reduced meal they qualify for and instead choosing to go without one.
The 2011 demographics of Colorado's Cherry Creek School district, the district that Curry worked for, suggest that most of its schools would not be eligible for the CEP. Only one or two out of more than 30 elementary schools report having a free/reduced population over 40 percent. In this case, a family of four would need to have an income of less than $31,000, reports KCNC-TV.
Curry's school, Dakota Valley Elementary, reports that only 18.7 percent of its students are on the free and reduced meal program. When a student shows up at Dakota Valley without lunch, it's more likely to be a case of a forgotten lunch than an impoverished family.
But is a hamburger bun and a slice of cheese enough for a child?
Curry suggests that it's not. As she told KCNC-TV, "I'll own that I broke the law. The law needs to change."