Houston, we have a problem. I've got a hanging chad...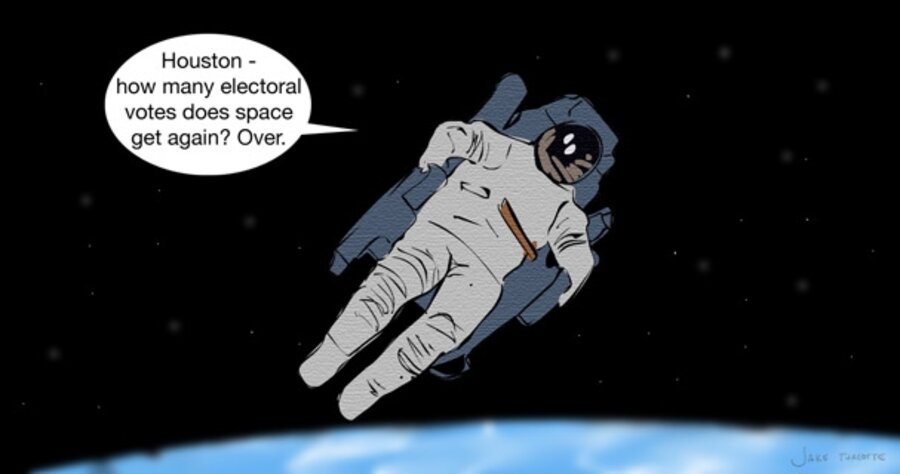 There's a lot of talk about the battleground states. But what about the final frontier? Space.
While political observers expect record turnouts across the nation, they won't be able to top the turnout from the International Space Station. Try 100 percent.
Astro-voters
Our friends over at Space.com report that astronauts Michael Fincke and Greg Chamitoff became the fifth and sixth Americans to vote from space. A law passed in 1997 allowed astronauts from Texas to vote from orbit.
While they didn't reveal who they voted for, they did say that if they can vote from 220 miles above the planet -- so can earthbound citizens.
"It's also to show the rest of our country that [while] I'm so busy up in space, even I can vote, so you on the ground should be able to vote, too," Fincke told SPACE.com "It's a privilege and an honor, so hopefully we'll get some people excited."
Florida 2000
What are the chances of a hanging chad when you're in outer space?
No worries. The International Space Station will not turn into a cosmic Volusia County.
It's all electronic. The gravity-bound county clerks email the electronic ballots to the astronauts. They make their votes and beam them back to Earth.
No privacy
But if you want privacy, then forget about being an astronaut. A voting officer on Earth has to decrypt it to make it official.
"So one other person, she's going to see who I voted for," he said. "If you can't trust her, you can't trust anyone. So it's a pretty solid system."