Poll: World wants green action, despite costs
Sixty-nine percent of those polled in 21 countries say utility firms should be obliged to use more renewable resources, even if this would increase their monthly bills.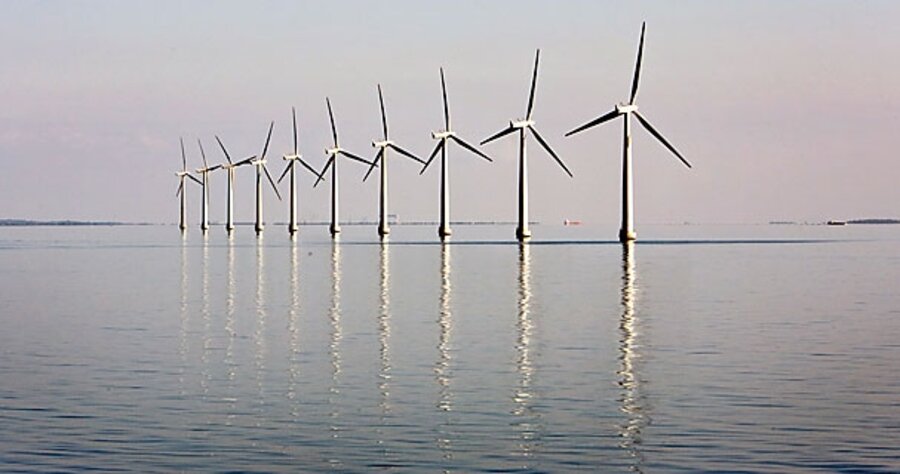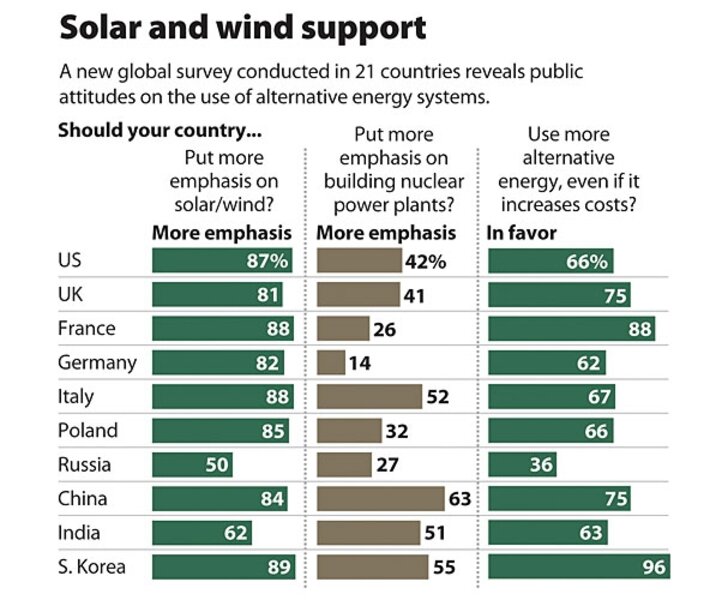 Peter Ford

Staff writer of The Christian Science Monitor
| Beijing
A wide majority of the world's citizens are unhappy with the slow pace of their governments' moves toward renewable energy and want their leaders to do more, even if that raises their utility bills, according to a global opinion poll released today.
The finding sends a clear signal to officials at next month's climate change meeting in Poznan, Poland, scheduled to lay the groundwork for a 2009 international treaty to limit greenhouse-gas emissions.
"Governments have left a lot on the table in terms of public readiness to take action," says Steven Kull, head of the Program on International Policy Attitudes at the University of Maryland, which conducted the 21-nation poll.
"I was struck by the consistency and strength of support" for greater reliance on solar and wind power to generate electricity, he adds. "People think of this as an investment and a transition. They are optimistic."
From Buenos Aires to Nairobi to Beijing, only 40 percent of respondents said they thought more coal, oil, and nuclear power plants were needed.
Seventy-seven percent said their governments should put more emphasis on solar and wind energy systems, and 69 percent said utility companies should be obliged to use more renewable energy sources "even if this increases the cost of energy in the short run."
Fifty-eight percent also said they were ready to pay higher prices for goods if the money was used to help businesses use energy more sparingly.
In the long run, two-thirds of respondents felt a major shift to alternative sources of energy would save money rather than hurt the economy.
Concerns about oil supplies
Behind these figures, says Dr. Kull, lie fears of climate change and worries about the reliability and cost of oil supplies. "That has caused people to look to alternatives," he says.
"Energy security and climate change loom large" in many parts of the world, adds Antony Froggatt, an energy specialist at the Chatham House think tank in London. "Renewables and energy efficiency simultaneously address both concerns."
At the same time, the poll also seems to suggest that increasing numbers of people believe that a shift away from fossil fuel toward renewable energy sources offers practical and immediate economic benefits.
Barack Obama's victory in the recent US presidential elections was a signal of this trend, argues Keith Schneider, spokesman for the Apollo Alliance of businesses, unions, and environmentalists in the US, which advocates rapid development of "clean technology."
Obama plan over 'drill baby, drill'?
Mr. Obama's plan to invest $150 billion over 10 years in "clean technology" is designed to create 5 million new jobs in the sector, the president-elect has said.
"Obama made clean energy one of his three basic visions," says Mr. Schneider. " 'Drill, baby, drill' sounded good, but Obama won the election. People understand that this is an investment in their futures."
Speaking to a bipartisan group of governors by video on Tuesday, Obama said that despite the weakening economy, he had no intention of softening or delaying his aggressive targets for reducing greenhouse-gas emissions.
"Now is the time to confront this challenge once and for all," Obama said. "Delay is no longer an option. Denial is no longer an acceptable response."
Financial crisis may dampen zeal
In the short term, Kull predicts, the financial crisis and the global recession it has spawned "will probably have some dampening effect" on public enthusiasm worldwide for a quick shift to renewable energy sources, given the initial investment costs of such a move.
Dallas Kachan, managing director of the Cleantech Group, which promotes "green" business investment, notes that public concern about climate change was more noticeable a year ago "before rising gas prices made people look more at their pocket book than at the polar icecaps."
Investors stand by 'clean tech'
But the poll numbers "show a fairly large wellspring of support for significant change ... even if people are not ready to go as far as they were six months ago," says Kull. And investor interest in "clean technology" is still growing strongly, Mr. Kachan points out; Venture capitalists invested $6.6 billion in the sector worldwide in the first nine months of this year, up 10 percent from the total for the whole of 2007, he says.
Indeed, with advocates holding out the promise of growth and jobs in renewable energy – making and installing new technology – "a lot of people are saying that the current situation offers an opportunity we cannot miss to create a "green New Deal," says Mr. Froggatt. "Renewable energy and energy efficiency can be a fundamental part of revitalizing our economies."
"The way Barack Obama made alternative energy a major part of his jobs program was quite popular," Kull points out. "I see no reason why that would not be the case in other countries. When that is aligned with long-term concerns about climate change it would have a lot of appeal."
The economic potential of renewable energy is equally attractive to governments facing a slowdown.
China, for example "hopes to take this opportunity to upgrade [its]industrial restructuring" away from traditional low-cost, low-margin industries toward more sophisticated and profitable sectors, said Xie Zhenhua, vice chairman of China's National Development and Reform Commission recently.
Although China is the largest producer of solar panels in the world, and one of the top producers of wind energy, it still generates only 8.3 percent of its electricity from renewable resources according to official figures, and is expected to rely very heavily on coal for the foreseeable future, because it is cheap.
Other governments, too, are reluctant to pay the price that shifting to new technologies will demand, and persuading them to do so more quickly will not be easy despite the clear trend in public opinion, Kull warns.
"The short-term costs are always a problem and organized economic interests are invested in the status quo," he says. "Support for change is very widespread, but it is not very well organized."