An Atlanta school makes a community from a world of difference
Cash poor, rich in spirit, this haven for refugee children is sought after by American families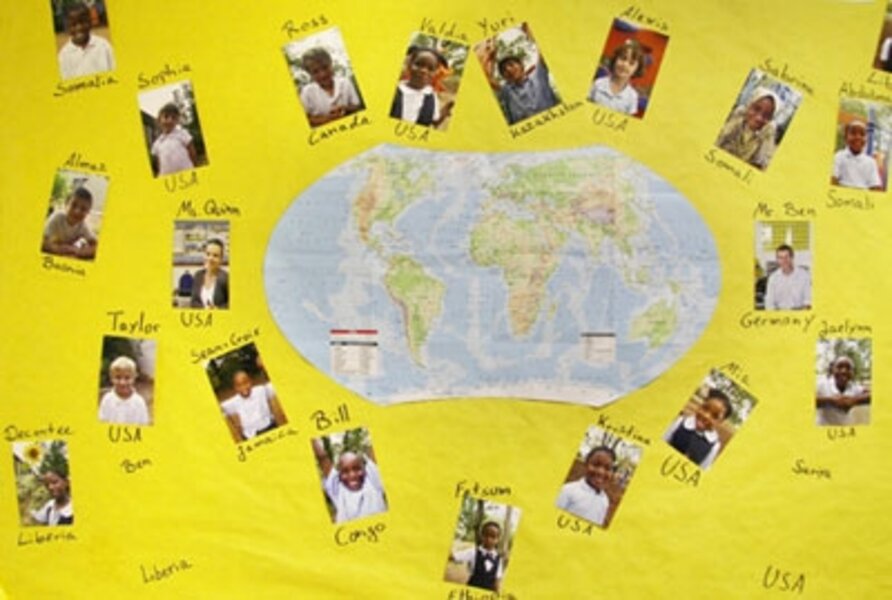 | Decatur, Ga.
In a beige trailer behind a Methodist church in this Atlanta suburb last May, Bill Clinton Hadam was deep in a game of Sight Word Bingo.
"Good," he sounded out, covering a matching square. Student art plastered the walls above him. "Night," he read.
His tutor, retired teacher Joanna Putman, adjusted her bifocals. She was trying to let him win. The second-grader wasn't making it easy.
"You've got night,' " he nudged."I've got night,' " she conceded. "But you've got night' too."
"Oh yeah!" Bill flashed a wide grin.
Their session was up. He was supposed to be at lunch. But she'd watched him struggle all year, and this day he was so chatty and animated that she hated to cut him off. She flipped another card.
"How about home?' ""You've got home!' " he said.
"I do?" she asked. "Oh, you're right."
"You won!" he said, squirming with pleasure. Who is this boy, Ms. Putman wondered; where's he coming from? Georgia for the past year or so - and before that, Congo, Tanzania, maybe both? He lives with his parents and brother. He speaks Swahili at home. He cries easily, and stutters a little. He owns two sweaters: blue-and-white and blue-and-yellow. Chocolate doesn't sit well with him. Soccer comes naturally. That's all Bill's teachers, tutor, mentor, coach, and counselor at the International Community School (ICS) know about the young refugee's home life or the life he escaped. So they watch for clues.
Last May, Putman started to suspect that the difference between Bill's receptive days and those when he seemed absent might be simple: "I wonder if sometimes he hasn't had enough to eat."
When school opens today at ICS, a lot hangs in the balance. Like Bill, half of the 400 students at this public charter elementary school are refugees from the world's war zones; the other half were born Americans. Together, they speak more than 40 languages. The playground looks like a small, dusty United Nations.
This mix presents a host of challenges; in its first six years, the school has done a remarkable job of meeting them. Armies of volunteers pitch in to tutor and take food to newly arrived refugees. Last year, the school received a national award for closing the achievement gap between poor and wealthy students. Whether Bill and Igey - and to some extent, their parents - make it in America depends on this school. And whether the school makes it depends on this year.
Georgia has slashed education spending the past five years, the county is closing schools, and charters and other "choice programs" are especially vulnerable. ICS - whose $4.4 million annual budget is only 80 percent funded by the DeKalb County School System - struggles financially and lacks a permanent home. Last year, ICS failed to meet the requirements of No Child Left Behind. The reasons are complex, but the revelation upset parents and makes it that much harder to defend the school's vision against skeptics who ask: Can such a place be "fair" to nonrefugee students?
"There are three questions ICS poses to the world," says Marney Mayo, the US-born mom of a fourth- and a sixth-grader at ICS: "What does it mean to be a refugee today in America? What does it mean to be becoming an American? And do we actually believe in common schools?"
This story is about those questions. Starting today, the Monitor will spend an academic year with ICS. The series will go inside the school and the lives of teachers, students, and families - especially two brothers starting their second year at ICS: Bill Clinton Hadam, age 9, and Igey Muzeleya, 8.
Their American education didn't start at ICS. When they landed in the US in October 2006, caseworkers enrolled them at Indian Creek Elementary, the public school down the road from their apartment.
"Indian Creek, every day fight," says their mom, Dawami Lenguyanga. "Every day, Igey and Bill come in house, they cry."
Educating kids like Bill and Igey is the big challenge for DeKalb County. In the 1990s, aid agencies singled out the eastern Atlanta suburb for its cheap housing and proximity to public transportation. They have since funneled thousands of refugees here. Today, it's the state's most diverse county, split about 50-50 white and nonwhite, rich and poor.
Every year, more than 3,000 non-English speakers enter its school system; international students make up 13 percent of total enrollment. In big schools with shrinking program budgets, some are left behind.
ICS began 11 years ago, when Bill Moon, the principal of a fancy Atlanta private school, and Barbara Thompson, a freelance writer, sat next to each other at a lecture and started talking about the challenges facing refugees. Soon, the pair joined with Sister Patty Caraher, a Sinsinawa Dominican nun and former teacher. All agreed that refugee students were getting lost in public schools. They envisioned, in Martin Luther King Jr.'s home city, a school modeled on the "beloved community" he envisioned: where "brotherhood is a reality" and people of all faiths, origins, and social situations learn from one another.
Four years later, they had gathered an unlikely group of parents, business leaders, immigrants, and activists ready to build that community.
Today, teaching assistant Eddie Mutabazi, a Rwandan refugee, marvels that a group of nonrefugees foresaw so well what such kids would need. He's not the only ICS teacher who shares his students' experience; the staff includes many for whom bloodshed in Iraq and Afghanistan, and disasters like the Chinese earthquake and the cyclone in Burma, hit close to home. This makes for a community more engaged with the world beyond its walls than are most elementary schools. Last May, a kindergartner handed Burmese teaching assistant Htwe Htwe a bunch of pennies and nickels and said: "Ms. Htwe, this is for your country people who need water and food."
And that's a draw for many parents - including some who might otherwise look to private schools. So are ICS's music, art, and language programs: English for those learning it, and French or Spanish, taught by native speakers, for everyone else. ICS is one of 16 Georgia schools authorized to offer the prestigious International Baccalaureate Primary Years Programme.
Still, parent participation is a struggle. Language and transportation hamper newly arrived families' involvement in their kids' education. Helping with homework is impossible; report cards are inscrutable. As ICS begins its seventh year, there's still no PTA. Bill's teacher last year never met his parents.
To reach out, ICS goes to lengths unimaginable at most schools. Food distributions, weekend English classes, and home visits give a sense of students' stories. Some arrive illiterate and innumerate. Many are waiting for word of missing relatives. At first, their needs barely resemble those of classmates who grew up going to the aquarium and playing Wii.
Volunteers fill the gap. ICS's volunteer-to-student ratio is unheard of: nearly one-to-one. Retired teachers work intensively with new arrivals. No school could begin to pay what such help is worth, says Mr. Moon.
Today, Igey and Bill speak English well enough that Bill's mom hears him losing his Swahili. Bill arrived at ICS last fall with good artistic skill, but zero literacy and zero inclination to speak. His frustration at being behind his peers was evident. He wept often. By the end of the year, he was making headway and crying less. This, teachers say, will be the crucial year for him. Students who haven't caught up in reading by the end of third grade tend to slip further and further behind. Igey, too, made progress. But the child he is at home - bright, creative, and full of questions, as well as spoiled and tantrum-prone - bears scant resemblance to the withdrawn boy he becomes in class. Teachers hope repeating first grade will give him a chance to catch up socially and academically.
This year will be decisive for ICS, too. New principal Laurent Ditmann plans to solidify the school's finances by upping annual fundraising at least $150,000 - and to move ICS from leased space in two churches to a permanent home. Dr. Ditmann, a French military historian whose own parents' refugee experience moved him to work at ICS, says that already, it's the best job of his life.
"I feel that ICS is a place that makes people better: better scholars, better human beings, better friends, better family members," he says, "I think there's a great model here."