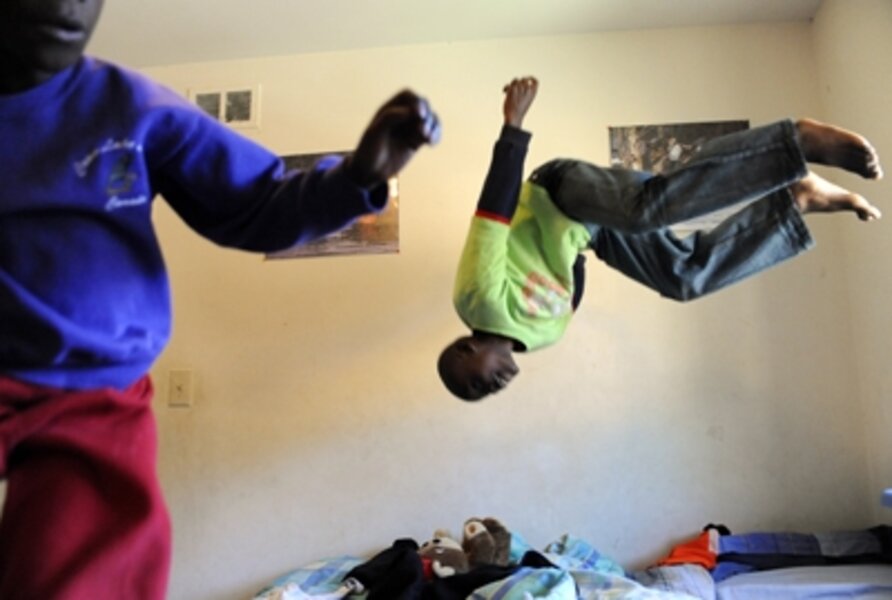 Boys will be boys, and thank goodness for that! Bill and Igey may have struggled in their early years living in African refugee camps, but here in America, they're all smiles when it comes to jumping on their beds.[Today's blog is by staff photographer Mary Knox Merrill.]While reporting earlier this month on a story about their father, Hassan, I spent time with Bill and Igey, watching television, playing video games, and talking about soccer. They exert the typical older brother/younger brother dynamic that anyone with siblings can relate to: Igey wants to do whatever Bill does, and Bill just wants to be left alone.
So when Igey started jumping on the corner of his bed, trying to get our attention, Bill kept on playing his video game. I started taking photos, and after showing both of them what the images looked like on my camera screen, it suddenly became a competition of who could jump the highest and flip the coolest way. Belly flops, somersaults, the running man. Over, and over, and over again. It was the most joyful I saw them all weekend - just messing around and acting like any other American kids.
When I left the room and saw Hassan and Dawami in the kitchen, I couldn't tell if all that jumping had made them upset. I know my parents didn't like it when I used the bed as a trampoline. But then I saw the edges of their mouths curl up into smiles and thought to myself they're probably just pleased that their sons are happy here in their new, safe, hopeful American life.