New tool for 'green' Christians: ecofriendly Bible
Printed on recycled paper with soy ink, the new edition highlights more than 1,000 passages in green.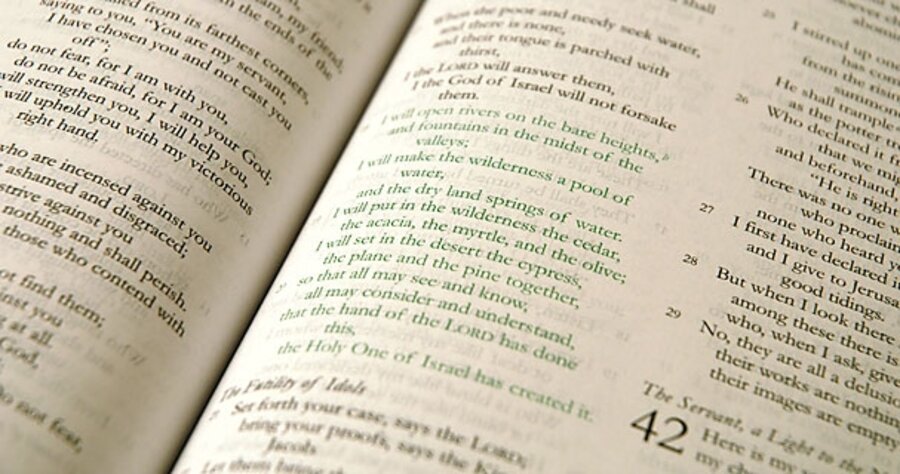 Jane Lampman

Staff writer of the Christian Science Monitor
Can a "green" Bible bring more of the Christian community into the growing "creation care" movement? Many people of faith, including young Evangelicals, hope so.
This past weekend, Christian college students from across the US kicked off an effort to become catalysts for environmental action on campuses and in churches. The student-initiated Renewal network, which gathered at Eastern University in Pennsylvania, has a new resource to help them: an ecofriendly version of the Good Book published this month by HarperOne.
Produced with soy-based inks, recycled paper, and a cotton/linen cover, "The Green Bible" highlights in green more than a thousand passages relating to God's love for creation and the role of humans in caring for the earth.
"It's beautifully put together. I appreciate that they used sustainable materials," says Anna Jane Joyner, Renewal's coordinator. "It's a great compilation of different resources."
Along with the biblical text, the book includes a set of essays by theologians and conservationists (including Archbishop Desmond Tutu, Brian McLaren, and Pope John Paul II). There's a concordance on environmental subjects and a study guide on "green" biblical themes for use by individuals and church or campus groups.
"Many younger people very much feel it is part of the Christian message to take care of the world," says Michael Maudlin, coproject editor for HarperOne. "So we wanted to give them a primer to help people understand that Earth care is part of the mandate God gives us."
For others working to spur a church awakening on environmental issues, the new Bible is a welcome development.
"It helps rectify a misperception that this is not a biblical issue," says Peter Illyn, an evangelical pastor who founded an environmental stewardship group called Restoring Eden to foster awareness across the denominational spectrum. (The Green Bible comes in the New Revised Standard Version, which is accepted by Protestants, Roman Catholics, and the Orthodox.)
While some Christians have been active on these issues for decades, others – particularly Evangelicals – have long questioned the justification and aims of environmentalism. Many conservative Christians have viewed it as a "leftist" issue, sometimes bordering on pantheism. In recent years, however, some prominent evangelical leaders have been converted by the evidence of climate change, and in 2006, they signed the Evangelical Climate Initiative. Others continue to dispute the evidence.
Churches have lagged in recognizing the problem, Mr. Illyn suggests, partly because of a misperception of what it means that man has dominion over the earth and partly because of the fundamentalist theology of dispensationalism, which teaches that "the earth is going to burn up" during the end times – which some believe could come at any moment.
But signs of a shift in attitudes are multiplying, say those on the front lines.
Matthew Sleeth – a former medical doctor concerned about environmental degradation who came into Christianity through reading the Bible – is the author of "Serve God, Save the Planet." He's become a sought-after speaker on campuses and in churches and wrote the lead essay in the Green Bible.
"When I started doing this, my own church wouldn't let me speak from the pulpit – the only people who would were the Unitarians," he says. "Now many churches who call themselves quite conservative are taking it up."
This month he'll spend a weekend with 350 Southern Baptist ministers in Tennessee talking about creation care. (Evangelicals prefer that term to emphasize that environmental action is about a relationship to the Creator.)
Dr. Sleeth has also seen Christian colleges that had no interest in the subject begin to change their behavior, modifying curriculum and finding ways to reduce their carbon footprint.
"When I speak to an audience, I start with the tree of life in the first part of the Bible and trace trees right through to Revelation 22, which has the beautiful description of the river of waters and the tree of life that is for the healing of the nations," Sleeth says. "It seems there's a tree there whenever anything of significance is happening, from Abraham to Zacchaeus."
The Rev. Joel Hunter – senior pastor at Northland, a megachurch in Longwood, Fla. – led his own congregation and then other pastors into the movement. Northland formed a creation-care task force that conducted a comprehensive environmental audit and saved money by switching to more sustainable practices. This year, it hosted a Green Expo for its community and a national Creation Care Conference for pastors.
The Sierra Club also issued this year its first national report on the environmental engagement of communities of faith, which highlighted an example in each of the 50 states.