More 'Rebirth' titles arrive, stirring additional mystery for comic book superheroes
Kudos to the folks creating these comics, who are taking 80-year-old characters and making them fresh and exciting.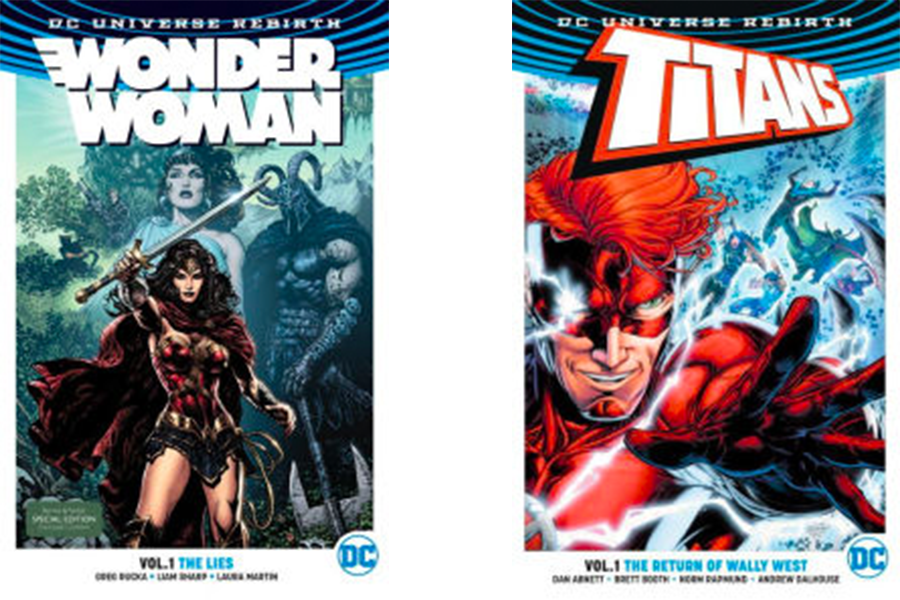 When DC Comics relaunched the first titles in its "Rebirth" series, a major mystery was introduced – a mystery that has superheroes questioning everything to do with their own lives and memories. The newest titles to be published in this series show how this mystery has widened and deepened and is now touching more and more of the DC Universe.
Let's check in on the latest adventures to be released:
Wonder Woman Vol. 1: The Lies is written by Greg Rucka and illustrated by Liam Sharp (with Matthew Clark) and colored by Laura Martin. The latest chapter in the amazing Amazon's life begins with her realization that her recent life has been a lie. She's not the Greek god of war nor was what she thought was Olympus ever really Olympus. But most importantly she can not find her way home to the Amazon island of Themyscira. She seeks out her old friend Barbara Minerva, who, after making a deal with an ancient primal deity Urzkartaga, has been transformed into the villainous Cheetah. Diana finds her friend-turned-foe in the jungles of Africa where Urzkartage dwells. The two former friends strike a bargain that Minerva will help Diana in return for her help in ending her curse and stopping the deity's growing power forever. Along for the adventure is Steve Trevor, who's once again restored as Diana's love interest in the series. While this story doesn't resolve the question of Diana's life of lies, readers are nonetheless fully invested in her quest to find her true place in the world. Liam Sharp's detailed art is noteworthy but it's Laura Martin's amazing colors that bring the visuals to a new level. Her deep rich palette brings the characters to life and gives the backgrounds a lushness that makes many panels looks like mini-paintings.
Titans Vol. 1: The Return of Wally West by writer Dan Abnett and artist Brett Booth delves deeper into Wally West's homecoming back to the DC Universe. It all started in the first part of DC Rebirth where Wally's mentor Barry Allen, aka The Flash, remembered his protégé – a recollection that brought Wally back to reality. In this first "Volume of Titans," Wally reaches out to his dearest friends, Nightwing, Donna Troy, Tempest, Arsenal, and Lilith, to further reconnect to his life. The Titans have been together since their youth when they formed the "Teen Titans," so they're more like family at this point and that's the glue which helps the team remember their "lost" friend. But Wally's return has also awakened an old foe – Abra Kadabra. Kadabra claims to have been the one to erase Wally and he attacks the Titans in hopes of making Wally disappear for good. This story has so many heartwarming moments but none as touching as when Wally is "remembered" by each of his teammates. It's great to see these friends reunited as Wally uses their bond as his new "lightning-rod" to keep him grounded in the DC Universe as they all work together to solve who is behind the mystery of "Rebirth."
Action Comics Vol. 1: Path of Doom is written by Dan Jurgens with art by Patch Zircher, Tyler Kirkham, Stephen Segovia, and Art Thibert. This is a Superman series so it continues the adventures of the Superman, Lois Lane, and their son Jon from a different reality, all of whom find themselves in the present DC Universe. This reality's Superman is dead so the displaced Superman steps into the limelight to take his place. This is met with suspicion, especially by Lex Luthor who had suited up to become the next Superman. The "new" Superman doesn't trust Luthor because in his reality Luthor was his greatest foe. But they have to learn to put their differences aside as the monstrous Doomsday appears destroying everything in its path. On his Earth this is the monster that killed him, so Superman has to find a way to stop it and not leave his family without him. And in the background the mysterious hooded Mr. Oz – who is part of the mystery of "Rebirth" – watches wand waits to claim his prize. This is an exciting race against time as the Man of Steel has to stay alive while finding a way to stop Doomsday. It's made even more enjoyable as this "stranger in a familiar-but-strange land" forms "new" relationships with "old" friends. Not just with Luthor but Wonder Woman as well who was romantically involved with the previous Superman. But she's wise enough to realize this man is Superman as she risks her life to help him and protect his family. Oh, and there's this nosy reporter named Clark Kent who risks his life to get the scoop on this new Superman. What does that mean? It'll be fun to find out!
Detective Comics Vol.1: Rise of the Batmen written by James Tynion IV and illustrated by Eddy Barrows and Alvaro Martinez with Al Barrionuevo, begins when Batman rescues ally and crimefighter Azrael from a brutal attack, and the Caped Crusader realizes that he and his allies throughout Gotham City are being watched and targeted. So he enlists his cousin Kate Kane, the Batwoman, to train some of his youngest and newest allies to form as sort of "Bat-team." Batman needs them to face a literal Bat-army, called the Colony, which has adopted his tactics and weapons. The new team consists of young crime-fighters Red Robin, Spoiler, Orphan, along with reformed criminal Clayface. The fledging teammates have little time to prepare as Batman is captured by the Colony and Batwoman has to take them into the hornets' nest to free him. This is an on-edge-of-your-seat adventure as the Bat-team as to use their brains and brawn to overcome an army of "Batmen." And amid all the action are some fun character moments as we learn what makes Batwoman and her team heroes despite the overwhelming odds. The story has a shocking conclusion which is quickly followed by another shocker which ties to the mystery of DC Rebirth.
I have to give kudos to all the folks creating these comics. To take characters that are going on 80 years old and keep them exciting and fresh is daunting task. I'm guessing the members of the creative team are inspired by their heroes.