A gifted poet shares his moving struggle with questions of salvation, both physical and spiritual.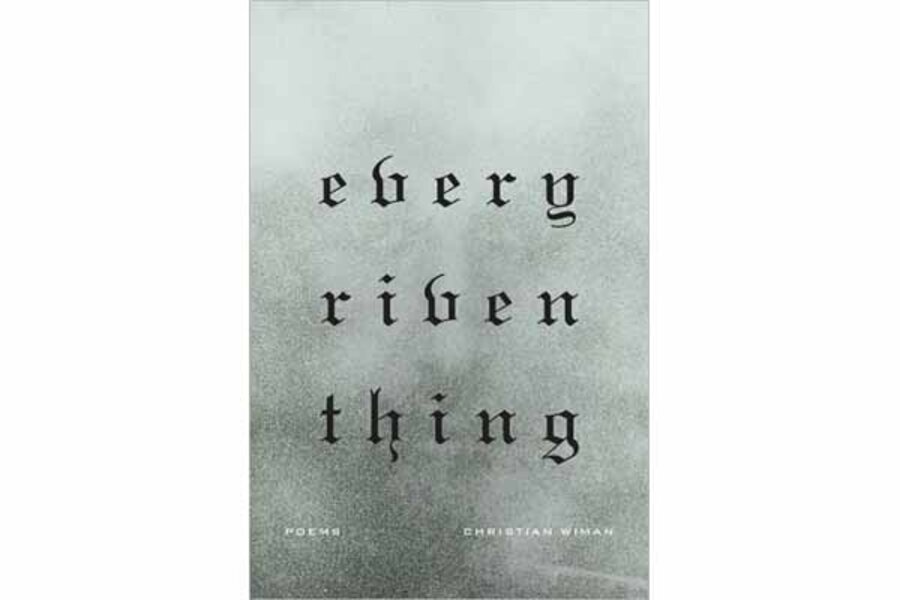 Many readers think they know Christian Wiman because they've seen his work as editor of Poetry, the influential – and sometimes controversial – magazine. Or they have read his haunting 2007 essay "Into the Abyss," where he revealed the dire medical diagnosis he received shortly after getting married.
Both those views are incomplete, which is why Every Riven Thing, his third and best collection of poems yet, is so compelling and important. The work here is searingly honest and beautifully crafted, and it establishes Wiman in his most important public role: a gifted poet whose work cannot be ignored.
Wiman's talent is apparent from the opening pages, as are his two central struggles – with illness and faith. In "After the Diagnosis," the second poem, he writes about an apple sapling that had been blown "almost out of the ground" by harsh winds that destroyed nearly everything around it. The image – a metaphor for Wiman's situation – is poignant yet starkly hopeful, especially at the end of the poem:
... all days come down
to one clear pane
through which he sees
among all the other trees
this leaning, clenched, unyielding one
that seems cast
in the form of a blast
that would have killed it,
as if something at the heart of things,
and with the heart of things,
had willed it.
From there, Wiman moves to memories of Texas (where he grew up) and people he knew who, like the tree, were gritty, tough, and had their own unique splendor. In "Five Houses Down" Wiman describes the hours he spent helping a neighbor who "salvaged" junk cars and had a porch cluttered "with its oilspill plumage, tools/ cauled in oil, the dark/ clockwork of disassembled engines/ christened Sweet Baby and benedicted Old Bitch."
Wiman's ability to love the unconventional or unlovely is one of the qualities that makes his work so memorable and, at times, endearing. In "Sitting Down to Breakfast Alone," he recalls the tough grace and earthy wisdom of a waitress at the Longhorn Diner. She knew what to do – wordlessly – whenever one of the regulars died and his friends struggled with the transition. The poet, watching the drama unfold, understands her gesture, even as he looks down at his own "plate's gleaming, teeming emptiness."
These poems suggest that the strength and harshness Wiman experienced in Texas shape other experiences – and perhaps all of life. That duality becomes more prominent when the collection shifts to more recent memories of grueling treatments and the grief caused by one's own mortality.
Wiman, who was raised a Baptist, sees every creature and object as riven (shattered or wrenched apart) and God as "a storm of peace."
That storm continues throughout the book, because the God of riven things can't offer much comfort or consolation. A beloved poodle biting snowflakes or flowers in the yard resonates more (for readers) than a remote deity.
Still, Wiman – who left Christianity for many years – pursues God because he knows that nothing else in this world can save him and the life he loves. That's why he writes, in the third section of poems: "For I am come a whirlwind of wasted things/ and I will ride this tantrum back to God."
The whirlwind and the illness continue in the book's fourth section. Yet here, at the end of "Lord of Having," Wiman declares:
and may my hands
my eyes
the very nub
of my tongue
be scrubbed
out of this hour
if I should utter
the dirty word
eternity
The book's final poem is "Gone for the Day, She is the Day," which conveys the deep love he feels for his wife. Yet even here, Wiman's spiritual struggle surfaces, and he admits in the third stanza that "sometimes one has the sense/ that to say the name/ God is a great betrayal."
The poem's last stanza explores the nature of God as both love and judge, since:
To love is to feel your death
given to you like a sentence,
to meet the judge's eyes
as if there were a judge,
as if he had eyes
and love.
Readers may question that description, but "Every Riven Thing" makes two points very clear: Wiman is at the height of his powers, regardless of what doctors may tell him, and he deserves both praise and prayers.
Elizabeth Lund regularly reviews poetry for the Monitor.
Join the Monitor's book discussion on Facebook and Twitter.