1.Michael Phelps and Ryan Lochte, USA
OK, let's get them out of the way first. They are the great two-headed monster of these Games.
For his part, Michael Phelps is going after history. Again. If he can win three medals of any color (which he almost certainly will do), he will pass Soviet gymnast Larisa Latynina as the most-decorated Olympian in history. She has 18 medals. He has 16, of which an astounding 14 are gold (already an Olympic record – by five).
But Ryan Lochte is trying to prove that he, not Phelps, is currently the best swimmer in the world after beating him twice at the 2011 world championships. Phelps, however, beat Lochte in three of four races at US Olympic trials.
Though the two are both set to swim in seven races, they will only face off twice – in the 200 and 400 meter individual medleys. Their other two individual races are different (Phelps the 100 and 200 butterfly and Lochte the 200 back and 200 free), and the remaining three are relays on which they would be teammates.
Kosuke Kitajima, Japan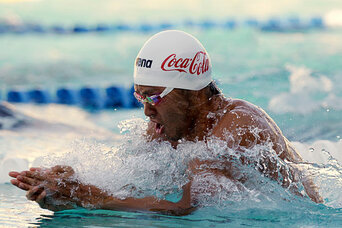 Two swimmers at the London Games have an early crack at becoming the first male swimmer to win a gold medal in the same event at three consecutive Games: Phelps and Kosuke Kitajima.
And both will have multiple opportunities.
Phelps will have the first turn. He swims the 400-meter individual medley on the competition's first night. If he fails, Kitajima is a strong favorite to do it the following night in the 100-meter breaststroke.
Kitajima has also won the 200-meter breaststroke at the past two Games, while Phelps has also won the 200-meter individual medley, the 100-meter butterfly, and 200-meter butterfly in Athens and Beijing. Kitajima's time in the 200-meter breaststroke at trials this year in Japan was the fastest recorded since swimming authorities banned super-fast bodysuits in 2010.
Missy Franklin, USA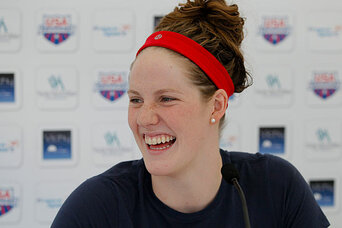 Missy Franklin is, in essence, the Phelps of these Olympics.
Of course, Phelps could win another seven medals, but that's old news. Franklin, too, could win seven medals – and she's just 17. If she can manage it, she would be the first American woman to do it. None has ever won more than six in a single Games.
It's a tall order. She's a favorite in her two backstroke events, and the US always hopes to medal in each of the three relays – leaving the 100-meter and 200-meter freestyle as her wildcards. If Franklin succeeds, she might singlehandedly relegate the Phelps-Lochte showdown to the swimming undercard, which would be no small achievement in itself.
James Magnussen, Australia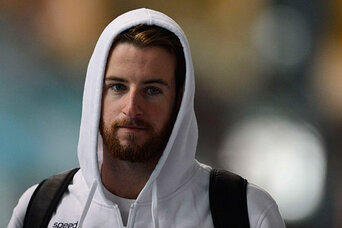 While the Australian women look to be strong in trying to fend off the threat of an improved US women's team, some forecasters see a tough Olympic Games for the Australian men.
Their one strong gold-medal favorite in an individual event is James Magnussen in the 100-meter freestyle. Countryman James Roberts could take silver.
Known as the "Missile," Magnussen, who is the current 100-meter freestyle world champion, makes bold comments and doesn't shrink from them – like he can win the 100 meters and set a world record so long as he is at 90 percent.
No Australian man has won swimming's blue-ribbon event since 1968.
Rebecca Adlington, Britain
In the pool, the host nation's gold-medal hopes begin (and probably end) with Becca Adlington. In Beijing, Adlington won double gold – unexpectedly in the 400-meter freestyle and blitzing a world record in the 800. She was the first British swimmer to win more than one gold medal at an Olympic Games since 1908. After a post-Beijing dip because of a bout with nerves, she returned to form to win gold and silver in the 800 and 400 in the 2011 world championships.