Jerusalem
Meir Dagan, former Mossad chief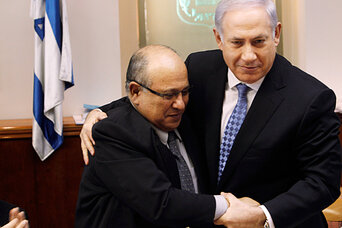 Meir Dagan has spearheaded opposition to a unilateral Israeli strike on Iran since May 2011 – shortly after he retired as head of Israel's foreign intelligence agency, the Mossad.
He has called such a move "the stupidest thing I have ever heard" and "patently illegal under international law" since Iran's nuclear infrastructure is operating under the framework of the International Atomic Energy Agency.
He also opposes a unilateral strike because:
A surgical attack such as Israel's 1981 strike against Iraq's Osirak nuclear reactor is not possible because Iran's nuclear program is much more dispersed
A strike could lead to a regional war and regional, or even global, arms race
A strike could cause Iranians to rally around the current regime, strengthening its hand
Coming from a family of Holocaust survivors, he has said that, like Netanyahu, he is determined to protect Israel against existential threats. But he apparently believes that his retirement, along with that of several other colleagues, removed an important counterweight to Netanyahu, or Bibi, as he is known.
"I decided to speak out because when I was in office, [Shin Bet director Yuval] Diskin, [military Chief of Staff Gabi] Ashkenazi and I could block any dangerous adventure," he said. "Now I am afraid that there is no one to stop Bibi and Barak."
Yuval Diskin, former director of Shin Bet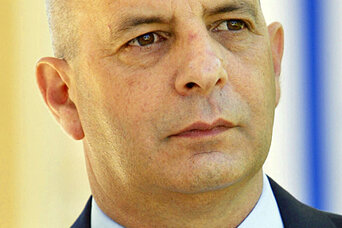 Mr. Diskin served as director of Shin Bet, Israel's internal security agency, from 2005 to 2011 and is reportedly close with former Mossad chief Dagan. While he remained largely quiet for nearly a year after Dagan first spoke out against an Israeli strike, he didn't mince words when he spoke out in April 2012.
"There's a false image being presented to the public and that's what bothers me," he said.
"[Netanyahu and Barak] are giving the sense that if Israel doesn't act, Iran will have nuclear weapons. This part of the sentence apparently has an element of truth. But in the second part of the sentence, they turn to the – sorry for the expression – the 'stupid public' or the layman public... and tell them if Israel acts, there won't be [an Iranian] nuclear program. And that's the incorrect part of the sentence."
The left-leaning Israeli newspaper Haaretz reported at the time that Diskin had clashed with Prime Minister Netanyahu and Defense Minister Barak while in office, was bitter that Netanyahu had pushed him out of his job, and saw the two leaders as being "messianic" and not to be trusted to make prudent decisions on Iran.
Gabi Ashkenazi, former military chief of staff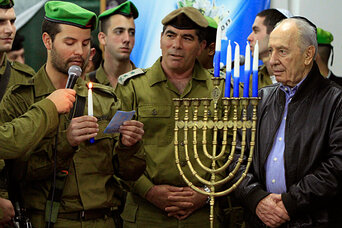 Gen. Ashkenazi (ret.) stepped down in 2011 after four years as the Israel Defense Forces' chief of staff.
Part of the troika that reportedly served as a counterweight to Netanyahu, he was the last to speak out, in late August.
"There is a feeling that someone can just [take] a suitcase off the shelf and there will be an Iranian bomb," he said, according to Israel's Makor Rishon newspaper and Israel National News. "We are still not there."
But he added, "It appears that we are on the way there."
Instead of an Israeli strike, however, the former general argued for the "covert war" strategy that the US and Israel have been pursuing in addition to sanctions against Iran.
"We need to employ a combination of strategies: a clandestine campaign; diplomatic, political and economic sanctions, and maintenance of a credible and realistic military option," Ashkenazi said. "I hope that this combination will prevent Iran from reaching a bomb."
"I think that today, too, a secret campaign should be waged. Anything that is below the level of war, the level of a strike. I keep reading in the papers about worms or scientists – and I don't know anything about that – but we should keep on doing it. True, it only buys us time, but it is important."
President Shimon Peres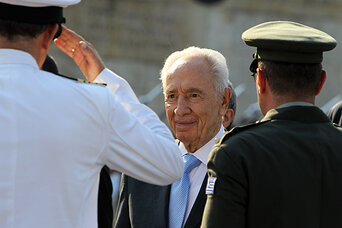 President Peres served in Israel's military during the country's war of independence and went on to become minister of defense and prime minister (twice). In addition, as Israel's minister of foreign affairs, he was awarded the Nobel Peace Prize for his role in the 1993 Oslo Accords that established a framework for peace between Israelis and Palestinians.
He has maintained a relatively low profile as president, largely a ceremonial office in Israel, but in August spoke out against an Israeli strike on Iran as counterproductive.
"It's clear to us that we can't do it alone," said Peres, who has reportedly opposed the idea for years. "We can only delay [Iran's progress]. Thus it's clear to us that we need to go together with America. There are questions of cooperation and of timetables, but as severe as the danger is, at least this time we're not alone."
After he spoke out, Netanyahu aides chastised Peres for forgetting his place as president and said it was a good thing that former Prime Minister Menachem Begin hadn't heeded Peres's opposition to Israel's 1981 strike on the Osirak nuclear reactor in Iraq.
Shaul Mofaz, opposition leader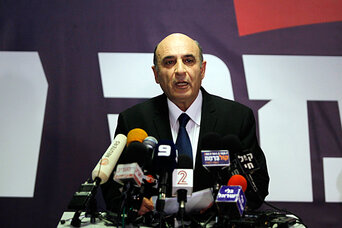 Mr. Mofaz, the head of the centrist Kadima party, briefly joined Netanyahu's governing coalition in 2012. But the partnership was short-lived and Mofaz has since brought his party back to the opposition and publicly opposed a unilateral Israeli strike on Iran.
"Such action is immoral and operationally illogical under the circumstances," he wrote in late August in a letter to Netanyahu, requesting an urgent meeting on the issue.
Among the reasons he cited for his opposition, according to Haaretz, were "loss of life, grave damage to the home front and deep erosion of Israel's political situation" – as well as the danger of disrupting relations with the US.