Freed: Abd al-Aziz Salaha
Abd al-Aziz Salaha is the subject of a photo that came to symbolize the second Intifada for many Israelis and observers worldwide. In the photo, Mr. Salaha is proudly holding his hands, covered in the blood of an Israeli soldier, out the window of the Ramallah police station. Two soldiers were killed in the 2001 incident.
Not freed: Marwan Barghouti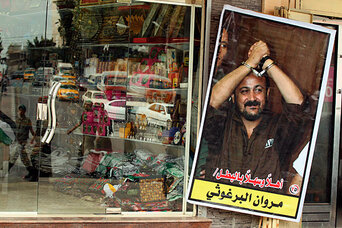 Contrary to earlier vows by Hamas that they would never accept a deal for Shalit that didn't include Mr. Barghouti, he will remain in prison. Barghouti is the head of the armed wing of Fatah, known as Tanzim, and remains a prominent Fatah leader, even in prison. He is widely perceived as one of the leaders of the second Intifada that began in 2000 and was given five life sentences for his role in the death of four Israelis and a Greek-Orthodox monk, who were shot in Tel Aviv.
Barghouti is one of Palestinian Authority President Mahmoud Abbas's biggest rivals within Fatah and his release would likely pose a threat to Abbas's hold on power. He is seen as one of the few people who could possibly unite disparate Palestinian factions.
Freed: Ahlam Tamimi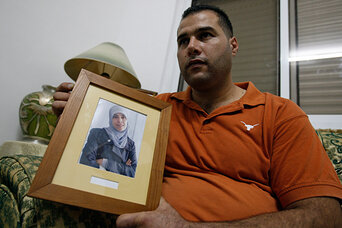 Ahlam Tamimi was convicted as an accomplice in the bombing of a Sbarro restaurant in downtown Jerusalem in 2001 that killed 15 people.
The parents of one of the children killed in the attack, then 15-year-old Malka Roth, have waged a public campaign against Ms. Tamimi's release and wrote a letter to Prime Minister Benjamin Netanyahu urging him to keep Tamimi off the list, the Jerusalem Post reports.
Shvuel Schijveschuurder, whose parents and three of his siblings also died in the attack, was at the Israeli Supreme Court today voicing his anger against the deal as last-minute petitions were filed. Last week, Mr. Schijveschuurder vandalized the Tel Aviv memorial to assassinated former Prime Minister Yitzhak Rabin, Haaretz reports.
Not freed: Ahmed Sadat
Ahmed Sadat, the head of the Popular Front for the Liberation of Palestine, also will not be released.
Mr. Sadat was sentenced to 30 years in prison in 2008 for his leadership of the PFLP and was also accused, but not charged, of masterminding the assassination of Israeli cabinet minister Rehaven Ze'evi in 2001.
Sadat is staging a hunger strike in protest of being kept in solitary confinement since 2008. The strike began Sept. 27 and more than 150 prisoners are joining the strike in solidarity. The Jerusalem Post reports that Sadat was taken to the hospital and the PFLP threatened a "harsh" response if Sadat's condition does not improve.
Freed: Nasser Yataima
Nasser Yataima, another prisoner slated for release, was responsible for the bombing of a hotel in Netanya on Passover eve in 2002. Thirty people were killed and another 140 were injured in the attack.
Not freed: Ibrahim Hamed
Haaretz reports that Shin Bet, the Israeli intelligence agency, declared Ibrahim Hamed's release a "red line." He is the head of Hamas military operations in the West Bank and Shin Bet considers him very dangerous because of his leadership clout, "vision, and creativity."
Former Prime Minister Ehud Olmert previously refused to release him. He is linked to the murder of 90 Israelis and attacks at a Jerusalem cafe, the Hebrew University of Jerusalem, and a Jerusalem public square. He is believed to have masterminded other attacks from prison.
Freed: Waled Anjes
Waled Anjes, responsible for orchestrating a bombing at a Jerusalem cafe in 2001 that killed 11 people and wounded many more, will be released. He received 36 life sentences for his role in that attack and another in Rishon Letzion.