Who is Gilad Shalit?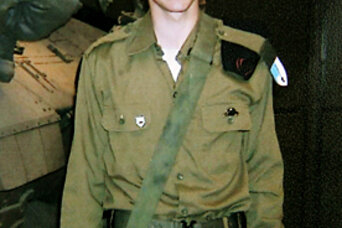 At the time of his capture, Gilad Shalit was a 19-year-old corporal in the Israel Defense Forces (IDF), working as a tank gunner along the Israel-Gaza border. During his imprisonment, he was promoted to the rank of sergeant.
Sgt. Shalit holds dual citizenship with Israel and France. He was born and raised in northern Israel and joined the IDF in 2005 after completing high school – the norm in Israel, where military service is compulsory for men and women.
How was he captured?
Shalit was kidnapped on June 25, 2006, in a cross-border raid by Palestinian militants based in Gaza. They dug under the border to reach an Israeli army post near the Kerem Shalom checkpoint (see map), where Shalit was patrolling the Israel-Gaza border. Two Israeli soldiers were killed and four others were wounded in the raid, while Shalit was brought into the Gaza Strip and held captive there by Hamas.
Days later, Israel staged an invasion into Gaza, trying unsuccessfully to free Shalit and stop rocket fire from Gaza into Israel. The fighting was soon overshadowed by the July 2006 kidnapping by Hezbollah of two Israeli soldiers working near the Lebanese border, which led to a month-long war between Israel and Hezbollah that summer.
How many previous attempts at deals have failed?
Negotiations have been start-and-stop since Shalit's capture.
The Christian Science Monitor reports that Israel and Hamas seemed on the verge of reaching agreement in 2009, but the deal fell through. Previous attempts stalled over disagreement about which Palestinian prisoners would be released by Israel in exchange for Shalit's release.
What do we know about his captivity?
Very little information has been released about Shalit in the five years he has been held captive by Hamas, although Hamas periodically released videos or letters from him.
The first letter, which seemed to be dictated by his kidnappers, was delivered in September 2006. In it, he warned that his mental and physical health was deteriorating, the BBC reports. An audio recording, again warning of his health, was released in June 2007. There are reports of other letters in February and June 2008.
In October 2009, Hamas released a video of Shalit holding a Gazan newspaper dated Sept. 14, 2009. The video, which was given to Israel in exchange for the release of 20 Palestinian female prisoners, showed him to be in "reasonable health," BBC reports.
Hamas did not permit the International Committee of the Red Cross or any other humanitarian organization to visit Shalit during his captivity.
Why does he matter so much?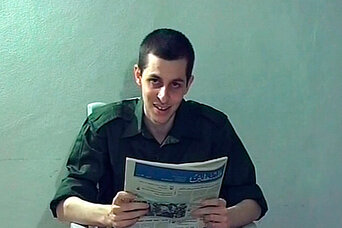 In a highly militarized country like Israel, where nearly every native-born Israeli does at minimum his or her mandatory military service and many continue to serve as reservists for decades after, the kidnapping of a soldier hits close to home for nearly everyone. Five years after Shalit's capture, banners proclaiming "Gilad still lives" could be found hanging across the country.
Seeing Shalit released, alive and well, would reassure Israelis about the fate of their own loved ones who serve.
"I have a son who's in the midst of his national service. He's 20, and that of course augments everything that I'm feeling," Israeli Shira Ezra told the BBC in June 2011. "Just being an Israeli, I'm thinking how absurd it is that someone is alive there and we're not getting him out."
However, for some – particularly those who have had a family member targeted in a terrorist attack – the release of so many Palestinian prisoners isn't worth the release of one soldier, as the Monitor reported in 2009, as a deal on Shalit seemed imminent.
Yossi Zur, whose son died when a Haifa bus he was riding was blown up in 2003, explained why.
"I believe that releasing so many terrorists is going to do a lot of harm, most probably by creating a new wave of terrorism," he adds, "and we know many of these terrorists go back to the same kind of activity after they are released."