Palestinian land concessions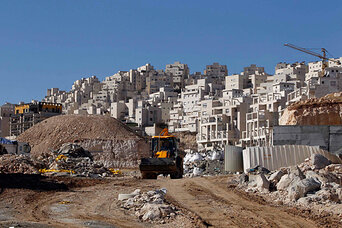 Israeli settlement expansion in East Jerusalem – considered occupied territory under international law – has been a major obstacle to renewed peace talks, with leaders like Palestinian Authority President Mahmoud Abbas arguing that peace talks are pointless while Israel is expanding its presence on land they claim for a Palestinian state. But according to the Al Jazeera documents, chief Palestinian negotiator Saeb Erekat in 2008 proposed allowing Israel to keep almost all of its East Jerusalem settlements in a final deal. The only exception was the Jewish neighborhood of Har Homa. Mr. Erekat described the concessions as "historic" but got a negative response from Tzipi Livni, then Israel's foreign minister. "We do not like this suggestion because it does not meet our demands… but I really appreciate it," Ms. Livni reportedly said.
The Haram al-Sharif/Temple Mount
Al Jazeera says it has obtained minutes of a meeting between Erekat and US Mideast Envoy George Mitchell. In the minutes, Erekat appears to propose allowing some sort of international control of the holy site that Jews call the Temple Mount (because they believe it was the site of the destroyed Second Temple) and Muslims call the Noble Sanctuary or Haram al-Sharif (because they believe it's the site from which the Prophet Mohammed ascended to heaven and received instructions from God).
In the meeting, Erekat tells Mitchell that the Palestinians are also willing to cede control of the Jewish and Armenian Quarters of the Old City, which surrounds the religious sites, to Israel. He doesn't explicitly say that international administration of the holy sites is what he has in mind, but that's the strong implication. There "are creative ways, having a body or a committee, having undertakings, for example, not to dig. The only thing I cannot do is convert to Zionism."
The entire Old City is now on the Israeli side of the 1967 Green Line, and the kinds of concessions indicated in the meeting would be major ones. They may also infuriate Palestinians who see the status of the Old City as non-negotiable.
The Palestinian right of return
The full documents have not been released yet and there's been some confused reporting on the issue of the right of return – whether Palestinian refugees will be allowed in any agreement to return to their pre-1948 homes in what is now Israel.
The claim is that either the Palestinians proposed that only 10,000 refugees would be required to be allowed to return, or 10,000 a year for 10 years. Whether it's 10,000 or 100,000 in the end, it would be another major concession.
Though Israel was unlikely to agree to allow the return of large numbers of Palestinians, with more than 1 million Palestinians now living outside of Israel and the Palestinian Territories (and at least a million more living as refugees in the Gaza Strip and the West Bank), the question of refugee rights has been a major bargaining chip and the revelation is sure to disappoint many. It may also infuriate Lebanon, which hosts many Palestinian refugees and has been loath to grant them citizenship.
A Palestinian partner for peace
Israel and its supporters have typically described members of the Palestinian leadership as unreliable peace partners, saying they rarely make meaningful concessions. But the portrait emerging from the Al Jazeera documents is one of a string of concessions from the Palestinian side that led nowhere and an increasingly frustrated and desperate Abbas. That frustration extends to the US.
"Nineteen years of promises and you haven't made up your minds what you want to do with us," Abbas reportedly told Mitchell in 2009. "We delivered on our road map obligations. Even Yuval Diskin raises his hat on security. But no, they can't even give a six-month freeze to give me a figleaf." Mr. Diskin is the head of Israel's internal security agency and the "six-month freeze" refers to the moratorium on East Jerusalem settlement construction that Abbas sought.
On the Palestinian side now, the official leadership is one committed to a peace process with hard compromises. Abbas has renounced violence and has a few arrows left in his quiver. On the Israeli side, hardline politicians are on the rise. Israel's right-wing Foreign Minister Avigdor Lieberman responded to the Palestinian Papers by saying a plan he recently put forth is the only option: the creation of a temporary Palestinian state on just 50 percent of the West Bank.
Bibi won't take my calls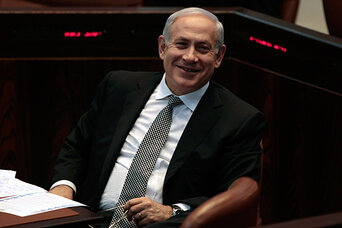 In January 2010 Erekat complained to US diplomat David Hale that he couldn't get Israeli Prime Minister Benjamin Netanyahu to take phone calls from Abbas. "I called (Israeli National Security Advisor) Uzi Arad before Passover and arranged a call from Abbas to Netanyahu to congratulate him. I got nothing. Come Ramadan, the feast, nothing. I called them to meet from the beginning, they kept canceling. This is Netanyahu," Erekat reportedly said.
Erekat asks Hale to get the US to forcefully express support for a state based on the 1967 borders "with agreed swaps" and complains that he's being given the cold-shoulder by the Israeli side. Referring to Palestinian offers to Israel, he says: "What is in that paper gives them the biggest Jerusalem in Jewish history, symbolic number of refugees return, demilitarized state… What more can I give?"