1.Historic improvements in health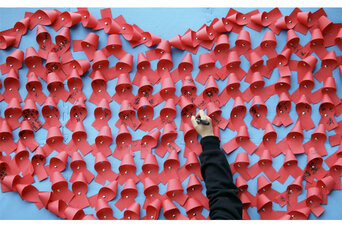 By Jina Moore/Correspondent
One of the areas where incremental progress is easiest to miss is global health. It's hard even to say the word "progress" in the face of continued suffering, but this year has brought some significant achievements.
Not 15 years ago, an HIV diagnosis was medically considered a death sentence, and policymakers worried whether the world could contain the spread of AIDS. In that context, today's news is surprising: AIDS infections have dropped 50 percent or more in 25 countries, compared with a decade ago, reports the Joint United Nations Program on HIV/AIDS (UNAIDS).
"For many years, we've been talking about the millions of people dying from AIDS, which is still the case in many countries, but for the first time we see the light at the end of the tunnel," says Christoph Benn, director of external relations and partnerships at The Global Fund to Fight AIDS, Tuberculosis and Malaria. "Treatment prices have come down, and you're now finding drugs not just in hospitals, but in rural clinics."
UNAIDS reports that the number of children newly infected with HIV is down by more than a quarter in the past two years. "This progress in reducing new infections among children is actually quite dramatic," says Peter Ghys, chief of Data for Action at UNAIDS. "We're seeing this in a large number of countries."
One place that might be lagging? The United States. A November report by the Centers for Disease Control and Prevention said that young people ages 13 to 24 make up fully a quarter of new HIV infections each year; and 60 percent of them don't know they are infected, making it impossible to medically treat them.
Antiretroviral therapy is credited with reducing the pace of HIV-related deaths and limiting the transmission of the virus. The UN Millennium Development Program put universal access on the global agenda. Though it failed to meet the objective by its 2010 deadline (now revised to 2015), this year for the first time the majority of people eligible for HIV treatment in low- and middle-income countries receive ART. Dr. Benn singles out Rwanda as an example of stunning progress: More than 90 percent of eligible Rwandans were receiving ART by the end of October.
"This is fantastic ... historical. That is beyond our expectations from a couple of years ago," Benn says.
Kazakhstan is the site of another moment of global public health progress this year. In March, it was certified malaria-free by the World Health Organization, joining only four other malaria-endemic countries with that designation.
Nigeria heads the pack of 17 countries poised to eliminate malaria. Their antimalaria agenda includes a $50 million bed-net program, underwritten by The Global Fund, which hopes the country will offer two bed nets per household.
The Republic of the Congo, meanwhile, has made massive strides in combating maternal mortality. The number of women dying in childbirth dropped 60 percent between 2010 and 2011, from 740 deaths per 100,000 live births to 300 deaths.
David Lawson, who heads the UN Population Fund's Congo Republic office, says a government strategy and increases in the health budget have been factors in the change. Starting in March, Caesarean sections were offered free of charge, reducing deaths from delivery complications.
More than 80 percent of Congolese women deliver babies in health centers, an unusually high rate in sub-Saharan Africa, which Mr. Lawson attributes to the Congo Republic's high degree of urbanization. But he did caution, in an e-mail interview, against too much optimism: "While such a significant drop is spectacular and certainly unusual in Africa [the maternal mortality rate nevertheless] remain[s] very high for a middle-income country where women deliver babies in health centers."
Sarah Kess contributed to this report.
A green secret: It was the year plug-in car sales accelerated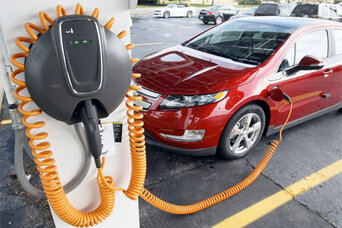 By Mark Clayton/Staff Writer
People love to hate the electric car. This year, only the second in which vehicles using electric motors for primary propulsion were widely available, the technology was hammered by pundits, politicians, and analysts. Yet despite inflated sales expectations, plug-in vehicles are doing quite well when compared with the last big technology to hit the auto industry – the gas-electric hybrid, analysts say.
Plug-in vehicles like the Chevrolet Volt, Toyota Prius PHV, and all-electric Nissan Leaf are on pace for combined sales of about 50,000 by year-end – far ahead of what hybrid sales were at the same stage of market development – and a 280 percent jump in sales over 2011, according to data from Baum & Associates, an auto industry research firm. Next year will bring 33 models from a dozen companies.
"We expect that plug-in vehicles will continue to outpace the historical penetration of hybrid vehicles during their first years in the market, which is remarkable given their higher cost and unfamiliar operating requirements," says John Gartner, an industry analyst with Pike Research, a Boulder, Colo., market research firm. "2012 will go down as the year when plug-ins became legitimate participants in the global automotive market, and an important step along the journey towards broader consumer acceptance."
Other indicators suggest he may be right. In October, the Toyota Prius plug-in version and Chevy Volt turned in their best monthly sales. Volt sales set records three months in a row with about 3,000 units sold last month and more than 20,000 so far this year. The Volt today outsells many well-known conventional gasoline-powered models like the Mazda Miata, Audi A3, and Lexus GS, a Natural Resources Defense Council study found. It beats Chevrolet's Corvette, too, which nobody is declaring a loser.
At the current pace, global sales of plug-in vehicles are projected to leap past 1 million units in 2017, after seven years in the market – about half the time it took hybrid electric vehicles to reach that level, Pike Research reports. By 2020, worldwide sales volumes will reach 1.7 million with most of those sales in the United States.
Not everyone is convinced. "Electric vehicles don't make any more sense today than they did in 1912," Sean McAlinden, an analyst at the Center for Automotive Research, told the New York Daily News this summer. "They take too long to charge. The range is too short and they cost too much."
But plug-ins are a catalyst technology helping automakers reach the next federal milestone of 54.5 fleet miles per gallon by 2025. That, in turn, will lop 4 billion barrels off American oil consumption and 2 billion tons of greenhouse-gas emissions over the lifetimes of vehicles purchased during the coming decade or so – at least denting the US auto world's share of greenhouse-gas emissions.
The rate of adoption, all by itself, still isn't enough to make a huge difference in emissions and its impact on climate change. But it could as part of a broader effort.
Plug-in technology has also been hammered for allegedly exchanging one form of pollution (tailpipe) for another (power plant smokestack). But several major studies have shown that, when compared with most cars, electric-drive vehicles are a plus for the environment no matter where they charge up.
Reshoring: 50,000 jobs, and counting, return to the US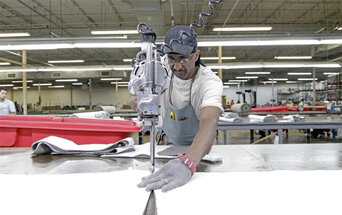 By Jina Moore/Correspondent
There's a new hot word in the business world, and it packs a surprising punch: "reshoring." It's meant to single out an economic reversal: Manufacturing jobs that companies were once more than happy to ship overseas are coming home.
The idea has been a hit in the media – who wouldn't hope a factory coming back home isn't just a local story? – but, analysts say, this isn't just a momentary trend.
"I think it's a real thing," says Chad Moutray, chief economist at the National Association of Manufacturers in Washington, D.C. "There's certainly some hype to it. But when I talk to a lot of manufacturers, many of them actually say that they have moved some production back."
There's no official tally of the number of jobs returning, but Harry Moser, director of the Reshoring Initiative, which aims to bring manufacturing jobs back to the United States, estimates that 50,000 jobs have returned in the past three years. He bases his estimate on a close read of the media and on reports his organization receives. If that number is accurate, reshoring would account for 12 percent of the manufacturing jobs the Bureau of Labor Statistics reports returned to the American economy since 2010.
Part of the trouble with the number, Mr. Moser says, is that many reshored jobs "don't get much attention. There's no groundbreaking, no governor with a golden shovel, no flag," he says. "It's just an order. The foundry has 10 percent more business, so they hire three more people. There's no news in that, but when you add all that up you get to, we think, conservatively, 50,000 jobs."
Rising wages in China, unpredictable supply-chain problems, oil prices, and the risk of intellectual property theft are making manufacturers more wary of producing overseas, analysts say.
It's not just that it's getting more expensive to produce overseas. It's also getting cheaper to produce back at home. "It's the shale gas revolution," says Kevin Swift, chief economist and managing director of the American Chemistry Council. "There are low-cost, abundant sources of energy [here] now."
Mr. Swift says that's a game changer for his industry: "We were being written off as being noncompetitive. It's completely changed. There's significant investment on the books ... 50 [planned] projects valued at over $40 billion."
The Boston Consulting Group, a global management consulting firm, in a September report projected that returned manufacturing could bring 5 million new jobs by 2020 and add $90 billion in US exports to the economy.
US youth: record levels of education... optimism rising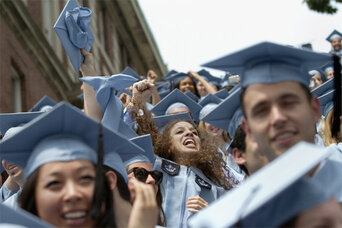 By Jina Moore/Correspondent
This year, record-high numbers of young people have college and high school educations, according to the Pew Research Center.
One-third of America's 25-to-29-year-olds hold a bachelor's degree, and 63 percent – another record – have completed at least some college. This year, like last year, 88 percent of young Americans have a high school diploma, and a record 90 percent have at least some high school education.
Even more significant, these are gains seen across all segments of the population.
"It has been the case for a long time that African-Americans and Hispanics on average are much less likely to complete those [educational] milestones than whites and Asians," says Richard Fry, senior economist at the Pew Research Center. In the 1990s, as demographers predicted the growth among those populations, overall educational attainment was expected to decline. That hasn't happened. "What we see looking at the latest Census Bureau data ... is that educational attainment is still rising."
Mr. Fry says there are three important things behind these numbers. Limited job opportunities make the classroom a more viable option than the workplace. Federal legislation known as No Child Left Behind demanded that high schools improve their graduation rates, and Fry says it's possible that the policy has driven some of this change. And it's clearer than ever that "there are significant returns on going to college" – even when stacked up next to debt.
Fry's latest numbers suggest that two-thirds of "newly minted bachelor's degree holders" borrowed money to go to school, and that debt averages $23,000. Meanwhile, Fry says, students with bachelor's degrees will earn $600,000 more than their high-school-only counterparts over a lifetime. (As any good student of student loan debt will tell you, a dollar today is worth more than a dollar 30 years from now – but those figures are adjusted to reflect today's dollar values.)
Kim Parker, associate director of Pew's Social & Demographic Trends project, says even this generation of debt-saddled, jobless students are optimistic about their future. Nearly 60 percent of 18-to-34-year-olds told Pew they don't have enough money to lead the kind of life they'd like, but they believe they will in the future – compared with only 41 percent in 2004.
The "boomerang effect" of a poor job market – young people moving back home with their parents and delaying marriage, economic independence, and other "milestones of adulthood," according to Ms. Parker – hasn't dampened their optimism. "There doesn't seem to be a big sense of panic about that," she says. "Just a new sense of normal."
Myanmar blooms in political opening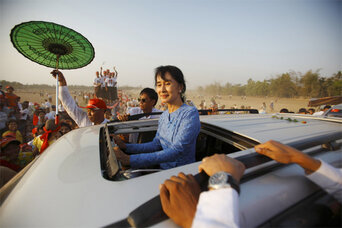 By Peter Ford/Staff Writer
In less than two years, Myanmar (Burma) has gone from being a dictatorial hermit country, isolated from the rest of the world by a harshly oppressive military regime, to a country that welcomed President Obama in November to hear him praise its "remarkable journey" toward democracy.
"So much change has happened so unexpectedly," says Khin Zaw Win, a former political prisoner who is now working as a community organizer. "It is quite unbelievable."
Hope was already beginning to flicker a year ago. A new civilian government – albeit made up of former generals who had swapped their uniforms for sarongs – had begun to relax political controls and make overtures to Western governments. Today, those hopes burn more brightly, fed by 12 months of encouraging progress on both the economic and the political fronts.
Key were parliamentary by-elections in April, in which Aung San Suu Kyi was allowed to run at the head of her National League for Democracy. The NLD swept the board, winning 43 of the 44 races it contested. Perhaps more surprising, the Army swallowed the humiliation of its pet Union Solidarity and Development Party, which still has a large parliamentary majority, and accepted the victory of the woman it had held under house arrest for the better part of two decades.
Before and after the elections, the government released political prisoners; some 300 remain behind bars, according to human rights groups, but that compares with thousands who languished in fearsome jails during military rule.
In August the authorities abandoned the last vestiges of press censorship, and Myanmar newspapers are no longer required to submit articles to government censors for approval before publication.
That freedom extends, officially, to the street: A law passed in July allows public protests and demonstrations. But near the end of November, riot police stormed an encampment where local residents and environmentalists had staged a three-month sit-in against a copper mining project run by the military and a Chinese partner company. The protesters charged that some mining land had been unlawfully confiscated – a common complaint in a country where military officers and their business cronies have traditionally taken what they wanted of Myanmar's legendary timber and mineral reserves.
In the moldering, decrepit former colonial capital, Yangon, a few shoots of modernity are sprouting. ATMs, previously unheard-of, can be found in some banks, and soft-drink vendors can now pull a can of Coke from their iceboxes. When the United States lifted economic sanctions in September, Coca-Cola was quick to rush into a market in which it hadn't sold its beverages for 60 years.
The most striking change, says David Steinberg – the doyen of US Myanmar scholars who has been visiting the country for decades – is that "people talk frankly to you; they don't whisper to you in private anymore.... There is an openness I have not seen since 1962," when a hard-line military coup plunged Burma, as the country was then known, into a half century of obscurantism, violence, and poverty.
Some violence has not gone away. Though the government has signed truces with most of the ethnic minority armed rebel groups that have been waging war for decades, the Kachin fighters have not put down their guns. And in the northwest, recent ethnic clashes between Buddhists and the traditionally scorned Muslim Rohingya in Rakhine State – displacing tens of thousands of Rohingyas – have turned particularly ugly.
The overall picture is not entirely rosy: For the time being the mood among even the most hopeful citizens is one of cautious optimism.
Julie Masis contributed reporting from Myanmar.
'Extreme poverty' cut by half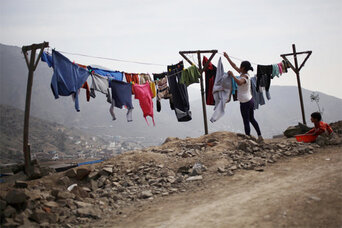 By Jina Moore/Correspondent
This year, for the first time in history, the number of people living in "extreme poverty" declined – everywhere in the world.
So did the poverty rate, and the simultaneous decrease is the first since the World Bank started measuring extreme poverty, defined as people living on less than $1.25 a day.
All that change adds up to something else: The world has achieved the United Nations Millennium Development Goal of halving extreme poverty – three years early.
Well, almost. "The goal is really to be achieved country by country, not just globally, so there are many, many countries that are still not achieving the poverty reduction goal," cautions Jeffrey Sachs, director of The Earth Institute at Columbia University and a key architect of the Millennium Development Goals.
The biggest raw gains have been in China, where 663 million fewer people are living in extreme poverty today than in 1981, when the World Bank first began collecting data.
"China's success against poverty is just unequaled in human history," says Martin Ravallion, Edmond D. Villani professor of economics and leader of the World Bank team that produced the numbers. In fact, China last year doubled its own national poverty line, from 90 cents a day to $1.80. The economy there has grown so fast, Mr. Ravallion says, that "the old poverty line was just a joke. It was no longer relevant."
World Bank data show that the rate of extreme poverty in East Asia generally has dropped 63 percent since 1981. In Latin America, the rate has dropped 45 percent. And in Africa, the rate of poverty decline since 2000 has, for the first time, kept pace with the rate of decline elsewhere, Ravallion says.
In fact, the rate of decline in extreme poverty everywhere in the world has more than doubled in the past decade, Ravallion says. That's after adjusting for China, whose sheer size makes it an outlier.
But the good news is mixed. More general poverty – measured by the World Bank at $2 a day – isn't falling as fast as extreme poverty. "When people rise to about $1.25 a day, they don't just catapult into the Western middle class," Ravallion says.
Despite the good news, Mr. Sachs says, there are still obstacles to overcoming poverty. "We're in a complicated situation where we can see a pathway forward, even to the end of extreme poverty itself," he says, "but we have to be very hardheaded and realistic about some of the big obstacles." Those include climate change and population growth, he says.
Individual poverty and national poverty re-inforce each other.
"If the government is poor, it can't build the roads needed to get crops to market, and you end up with shortfall of productivity that's very serious," Sachs says. Increased income means an increased tax base, and Sachs says both of those increases can help countries through what he calls "the poverty trap."
That in turn should lead to lower aid. China may be the best case in point: Its dramatic reduction in poverty, Sachs argues, comes after receiving significant aid 20 years ago.
Today, China is a financier of infrastructure in Africa. "[Aid] often plays an important catalytic role, especially for countries that start out in extreme poverty," he says, "[but] in no country is aid the only story."
Mexico drug murders drop; 'Calderón's war' won?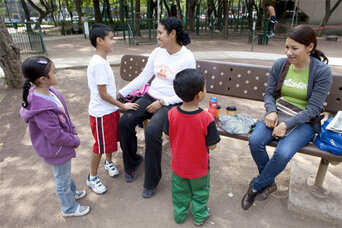 By Sara Miller Llana/Staff Writer
Between 2007 and 2008, the first full year of Mexico's military-led struggle against organized crime, drug-related murders rocketed 110 percent. Subsequent years offered little solace: The homicide tally rose by 63 percent between 2008 and 2009, and by 70 percent the following year.
The numbers had been so grim during former Mexican President Felipe Calderón's United States-supported operation that when the annual rate of increase in murders dropped to 11 percent between 2010 and 2011, his administration sought to sell it as a sign of success. "It's the first year that the homicide rate increase has been significantly lower compared to previous years," Mexico's attorney general's office said at the time.
But now there might be more than public relations at play: For the first time in six years, Mexico has seen a dip in its national homicide rate, with murders dropping by 8 percent in the first half of 2012, compared with the same period in 2011. The local daily Reforma, which tallies drug-related deaths specifically, has counted 8,352 drug-related homicides through Oct. 26, which would mean an 18 percent decrease in drug-related killings compared with 2011, if the pace stays constant.
Mr. Calderón, who left office Dec. 1, furiously tried to communicate in his last months on the job that Mexico is at a turning point. To a group of Jewish community leaders in August, he proclaimed that Mexico had reached its peak violence, and that the country is likely to see a downward trend, a scenario he dared to say was faster than what happened in Colombia. "It took Colombia, more or less, 28 years to reach its peak and register a turning point in violence," he said. "Mexico has suffered a lot, but it's taken less time."
Has "Calderón's war," as it's often called, been won? Calderón's strategy focused on taking out "top leaders." He captured dozens of most-wanted traf-fickers, but for most of his six-year term, called a sexenio, that did little to reduce violence. In fact, it caused mayhem within cartels, leading to deadly power struggles. But sustained pressure has perhaps helped the strategy turn a corner.
"The pressure that the government has put on some organizations, the most violent ones, has had some effect," especially on the Zetas, "who kill the most people," says Jorge Chabat, a drug-trafficking expert at the Center for Economics Research and Teaching in Mexico City.
Not everyone is ready to declare success. The death toll is at least 60,000, and could be much higher. The government stopped releasing drug-related deaths in the fall of 2011, casting doubt on the figures. Likewise, it is unclear to many why the numbers have gone down: Is the decrease due to a stronger state, or to calculations made by criminal elements?
Erubiel Tirado, a security expert at the Iberoamerican University in Mexico City, has long criticized the government's top-down approach, arguing that the groups will transform themselves as long as impunity is rampant, job opportunities scant, and US demand for drugs insatiable. What's worse, he says, is that Mexico could be seeing a mere pause in violence, while a new government takes office and criminals assess whom they can and can't work with. "The drop in murders, if there is one, does not bring me calm; it brings me more fear," he says.
Still, as the new president, Enrique Peña Nieto, begins his term, Mexico is experiencing a rare moment of optimism on the security front. Mexicans have reported feeling personally more secure, including feeling safe walking alone in the late afternoon and early evening, in monthly public-security perception polls carried out by the national statistics office. The latest month on record, October, measures 104.4 points, an increase of 7.6 percent when compared with the same month in 2011 and among the highest ratings in the past four years.
And in some parts of the country, notably Ciudad Juárez, which was once considered among the most deadly cities in the world, improvements are clearly visible. The city has registered a projected rate of 1,132 deaths on average this year, compared with 1,940 the year before, and 3,100 at its peak in 2010. That's a decline of 42 percent and 40 percent respectively, according to the Trans-Border Institute at the University of San Diego, which analyzes Reforma's media tallies.
"Today there are restaurants open and full. In 2010 there were not. People were fleeing," says Eric Olson, the associate director of the Mexico Institute at the Woodrow Wilson International Center for Scholars who was in Ciudad Juárez recently. "People are excited that they have traffic jams now."