5.United States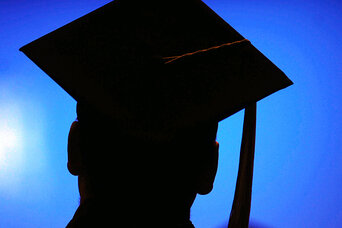 Post-secondary education: 42 percent of the population
Annual growth rate for that group: 1.3 percent
The US, the fifth most educated country in the world and the fourth most educated among OECD countries, is home to some of the most renowned institutions of higher education (see here for a list of the 2012 top universities in the world).
However, its growth rate for post-secondary education – 1.3 percent per year – is quite low in comparison to the OECD average of 3.7 percent, which means other countries could outpace the US in the coming years.
Although the US is one of the world leaders in higher education for people between the ages of 25 and 64, when looking at the percentage of those aged 25 to 34, it only ranks 14th globally.
Japan
Post-secondary education: 45 percent of the population
Annual growth rate for that group: 2.9 percent
In Japan, the fourth most educated country in the world, students pay some of the highest tuitions among OECD countries: Japan has the fourth highest fees for higher education behind the US, Korea, and Britain. Additionally, the government spends only 0.5 of its GDP on post-secondary education, less than half of the OECD average of 1.1 percent of GDP.
Nearly 32 percent of Japan's funding for post-secondary education comes from private sources – the third highest percentage of privately sourced funding in the world.
Israel
Post-secondary education: 46 percent of the population
Annual growth rate for that group: n/a
In Israel, which has the third largest population of post-secondary degree holders, an estimated 37 percent of Israeli youth are expected to complete a post-secondary education in their lifetime. The average in OECD countries is 39 percent.
Israelis with post-secondary degrees are less likely to be unemployed than people with their equivalent education level in the average OECD country. The unemployment rate for this population in Israel is 4.2 percent, compared with the average OECD rate of 4.7 percent.
Canada
Post-secondary education: 51 percent of the population
Annual growth rate for this group: 2.4 percent
Canada is the second most educated country in the world, and the most educated out of OECD countries. More than half of all Canadians between the ages of 25 and 64 have a college degree. Additionally, Canada spends $20,932 dollars per post-secondary student each year. Only Switzerland and the United States spend more.
And individual Canadians pay nearly as much themselves on their higher education: The total direct cost, on average, is $18,094.
Women with a college or university degree in Canada outpace lesser-educated women in pay by 55 percent there, which is the largest gap in pay rates between education levels in OECD countries. And though Canada is a global leader in higher education, according to a country-specific OECD economic survey, rates of participation in education will need to increase as its population ages if it is to hold onto its top spot and remain competitive in the global labor market.
Russia
Post-secondary education: 54 percent of the population
Annual growth rate for that group: n/a
Russia, a part of the G20 but not an OECD country, is the most highly educated country in the world, according to the OECD's study. Russia has a strong history of investing in education, with some 33 percent of adults completing their post secondary-level of education via vocational or technical programs.
Russia may not be able to hang on to its status as the most educated country in world for long, though. Korea and Japan's young people are rapidly catching up.
The number of post-secondary foreign students in Russia has also increased. Between 2005 and 2010 there was an increase of 78 percent. Four percent of all international students getting higher education – including vocational training – abroad study in Russia. These are largely students from neighboring countries. The US, Britain, Australia, Germany, and France together educate half of all post-secondary-level students studying abroad.