1.Overall picture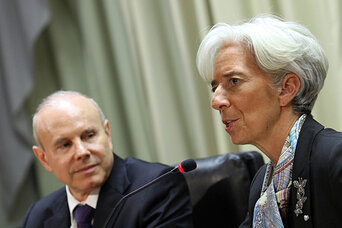 The economic story of Latin America for the past several years has been how well it fared despite global economic volatility, especially compared with the US and Europe. Growth for 2012 is still expected to be steady. The International Monetary Fund (IMF) forecasts that the region's economy will grow by 4 percent this year. But some analysts are starting to warn that this time, unlike in the 2008-09 crisis, a global recession could mean there's a "toxic" situation on Latin America's horizon.
The biggest risk? Europe.
In a blog this week, Nicolas Eyzaguirre, director of the IMF's Western Hemisphere department, has offered the most pessimistic view of the risks faced by the region.
"These days, all eyes are on Europe. While deteriorating conditions there have not yet spilled over to Latin America, we will not be immune if the risks move to the foreground," he wrote.
He brings up one possible scenario in the banking sector:
"Eurozone banks account for one quarter of banking assets in the larger Latin American countries, on average, and many of those banks are not lending or rolling over existing lines in an effort to shore up their balance sheets. But if the simmering crisis in Europe comes to a boil, that process could speed up, especially if eurozone banks are starved for short term dollar funds (though these banks have prudently funded their Latin American activities largely through local-currency deposits, reducing their vulnerability to a dollar funding squeeze). Fewer external credit lines available to banks could trigger a credit crunch in Latin America, coming on top of a decline in confidence and slower investment and, if the malaise spreads to Asia, falling commodity prices: a toxic mix for growth and stability."
Other ripple effects
In its report "Preliminary Overview of the Economies of Latin America and the Caribbean 2011," the United Nations Economic Commission on Latin America and the Caribbean (ECLAC) said it expected regional growth to slow this year to 3.7 percent, down from 4.3 percent in 2011, adding that the region is not immune to the eurozone crisis.
Alicia Barcena, the executive secretary of ECLAC, said other factors that could hit Latin America as well. "There is a great possibility of a deep crisis in the eurozone, which would significantly affect the global economy overall and would impact our region primarily through the real channel (exports, prices, foreign investment, remittances, and tourism) and the financial channel (greater volatility, possible capital outflows, and difficulties in accessing credit)," she said in a press release.
Risk of a drop in commodities
Growth throughout the region is uneven. According to recent ECLAC numbers, estimates for South America are at 4.6 percent, while in the Caribbean they are at just 0.7 percent. High growth in South America is due in large part to high prices of commodities, especially in those countries that trade with China.
China's economy is expected to slow this year, which could hurt Latin American exporters. "To be sure, we don't see a recession coming in Latin America if the European crisis remains contained, but weaker growth is clearly in the cards, not least because confidence and commodity prices have been falling," Mr. Eyzaguirre wrote in his blog.
The price of commodities, which according to Bloomberg account for more than half of the region's exports, declined by 7.8 percent last year.
The good news
Barring a major global recession, Moody's Analytics forecasts a strong year ahead in its Latin America Outlook. "The region's economy will advance steadily in 2012 despite global weakness mainly because of domestic demand helped by flexible monetary and fiscal policies," the authors write.
ECLAC says that even if the world economy sputters, Latin America might do better than other regions, as it did during the last crisis. High levels of reserves, and, with some exceptions, low levels of public debt will help.
Still, the group warns, Latin America's position today is not as rosy as it was preceding the 2008-09 crisis.