Angela Merkel, chancellor of Germany
Running the country with the fourth largest gross domestic product in the world is reason enough to be deemed one of the most prominent women in the world. But as the European Union struggles to contain its debt crisis, German Chancellor Angela Merkel has also become the de facto leader of the eurozone. Because of Germany's economic strength, no eurozone decisions can be made without her support.
Le Monde reports that in a recent poll in France, 46 percent of people reported having more confidence in Ms. Merkel's leadership and ability to avoid a future financial crises than they do in that of their own president, Nicolas Sarkozy (33 percent).
In 2011, several EU member countries faced the collapse of their financial institutions, high government debt, and rapidly rising borrowing costs. Merkel was faced with the challenge of finding a balance between pressure from within Germany not to fund future economic bailouts and calls from other EU countries to provide further assistance. Throughout the crisis, Merkel has urged fiscal discipline and demanded leadership changes and austerity measures in countries like Italy and Greece.
If the eurozone survives this turbulent period, Merkel will be lauded as the heroine that saved the European Union.
Aung San Suu Kyi, Burmese human rights leader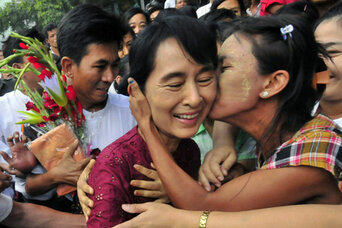 Aung San Suu Kyi, the Burmese human rights leader who spent 15 of the past 21 years in prison or under house arrest, rejoined mainstream politics this year after Burmese authorities permitted her opposition party, the National League for Democracy, to legally register.
Ms. Suu Kyi, who says she was inspired by the nonviolent campaigns of Martin Luther King, Jr. and Mahatma Gandhi, has become an international symbol of peaceful resistance. Her years in detention were a result of her calls for peaceful democratic reform and free elections in Burma (Myanmar).
She founded the National League for Democracy (NLD) in 1988, and in 1990 her party won a general election, but Burma's military junta did not allow her, or her party, to take power. In 1991, she received the Nobel Peace Prize for her efforts, and she served as general secretary of the NLD even while imprisoned.
The NLD was deemed illegal and forced to disband leading up to the Nov. 2010 elections, which were the first open elections in Burma in 20 years. The government's decision to allow the party to reintegrate this year, paired with the recent uptick in international visitors to the formerly closed-off country, gives hope to supporters internationally that Suu Kyi's work and perseverance will pay off.
Dilma Rousseff, president of Brazil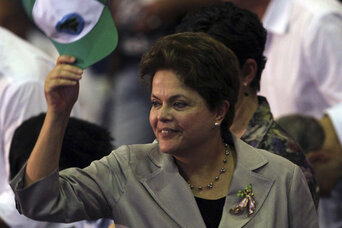 Dilma Rousseff reportedly dreamed of becoming a firefighter or trapeze artist when she was a kid, but serving as the first female president of one of the most populous countries in the world – and a burgeoning economic power – will likely inspire the dreams of young female Brazilians for years to come.

A career civil servant who never ran or held elected office prior to the presidency, Ms. Rousseff was inaugurated in January 2011. In her first year in office, Rousseff dismissed five cabinet members and dozens of officials charged with corruption. Known for supporting a prominent state role in the banking, oil, and energy sectors, Rousseff's approval ratings rose to 72 percent in December 2011.
Brazil is one of South America's most influential countries, one of the world's largest democracies (with a population of nearly 200 million), and an economic powerhouse. The discovery of offshore oil could thrust the country into the top echelon of oil-exporting nations.
Christina Lagarde, managing director of the International Monetary Fund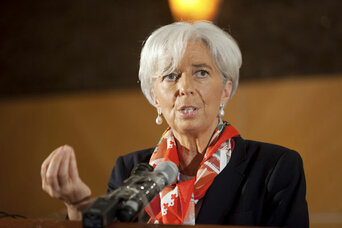 Christine Lagarde took the helm of the International Monetary Fund (IMF) in July, serving as the first female managing director of the organization, which promotes international monetary cooperation and exchange rate stability.
Ms. Lagarde, who has a background in law and formerly served as France's finance minister, was chosen for the leadership role after the arrest of former head Dominique Strauss-Kahn, who was accused of sexual assault during a visit to the United States.
As head of the IMF during the eurozone crisis, Lagarde has overseen the multibillion euro bailouts of several European countries and called for the initially unpopular, but now widely supported, mandatory restructuring of debt in European banks.
The outspoken leader has blamed the 2008 global financial crisis in part on the "male-dominated, testosterone-fueled culture" of the international banking industry.
Ellen Johnson Sirleaf, Leymah Gbowee, and Tawakkul Karman, Nobel Peace Prize winners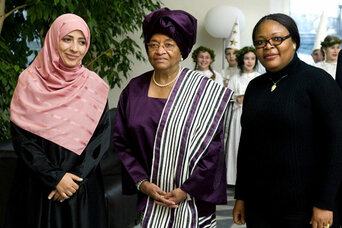 Three women were honored with the Nobel Peace Prize this year for their roles in promoting peace and democracy. Liberian President Ellen Johnson Sirleaf, Yemeni activist Tawakkul Karaman, and Liberian women's rights activist Leymah Gbowee were the first women to win the prize since 2004. Ms. Karaman is the first Arab woman to win the prize and, at 32 years old, she is the youngest recipient in the award's history.
"We cannot achieve democracy and lasting peace in the world unless women obtain the same opportunities as men to influence developments at all levels of societies," the Nobel Peace Prize announcement reads.
The majority of recipients of the 110-year-old award have been men, and many view the committee's decision to honor three women with the $1.5 million prize as highlighting the growing prominence of women in peace and democracy-building wordwide.
"You give concrete meaning to the Chinese proverb which says that 'women hold up half of the sky,'" Norwegian Nobel Committee president Thorbjoern Jagland told the recipients.
Cristina Fernandez de Kirchner, president of Argentina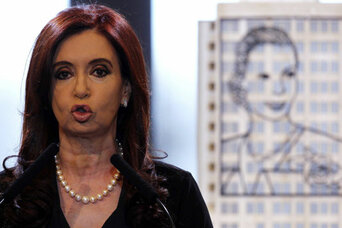 Often compared to Argentina's Eva Peron, President Cristina Fernandez de Kirchner created a legacy of her own this year when she won a landslide reelection, securing 53 percent of the vote – the biggest win since a democracy replaced a seven-year military dictatorship in 1983.
Ms. Fernandez became the first female president elected in this South American country in 2007, and her reelection challenged critics who said she rode the coattails of her husband, former president Nestor Kirchner, into politics.
A veteran lawyer and legislator, Ms. Fernandez entered politics in the 1980s and became a senator in 1995. She and Mr. Kirchner, who passed away in 2010, were close political confidants, practicing unconventional economic policies based on state spending and, until recently, virtually ignoring bondholders trying to collect some of the billions of dollars in Argentina's unpaid debt. Some say her economic policies put the country at risk due to high – and some say underreported – inflation rates.
Under Fernandez's leadership, Argentina has made strides to address human rights abuses from the years of dictatorship and became the first Latin American country to legalize same-sex marriage. The president has moved toward negotiations with the IMF over paying Argentina's debts after years of hostility.
Hillary Clinton, US secretary of State
Hillary Clinton was confronted with nonstop challenges in 2011 as US secretary of state, a position that deals with some of America's most sensitive and critical relationships around the globe.
From managing the government's response to the release of hundreds of thousands of diplomatic cables via the website WikiLeaks to grappling with the upending of the United States' critical, sensitive relationships with several Arab governments amid the revolutions of 2011, to the death of Osama bin Laden, Mrs. Clinton's handling of the potential diplomatic landmines has been largely considered adept and consistently solid.
Clinton, who served as senator of New York before becoming President Obama's secretary of State, is the third woman to serve in this position.