Warning signs
October 2009: Prime Minister George Papandreou comes into office, and soon after, substantially revises the country's budget deficit projections, hinting that the government has been understating its deficit for several years.
December 2009: Concerns about Greece's dangerously high debt prompt the Fitch credit rating agency to downgrade the country's credit rating to BBB+, the lowest level in the eurozone, with expectations it could fall further. Moody and Standard & Poor's warned that they, too, might downgrade its rating, according to a report from the Financial Times. A week later, Prime Minister George Papandreou begins efforts to rein in the country's budget deficit, focusing on eliminating corruption and cutting public spending.
January 2010: Greece releases a three-year plan to cut its budget deficit from 12.7 percent of GDP to 2.8 percent. It fails to reassure investors, who see the plan as too optimistic.
February 2010: Moody's and Standard & Poor's say that Greece risks having its credit rating downgraded two notches.
The first bailout
April 2010: The eurozone activates more than $40 billion in loans for Greece. The International Monetary Fund says it will provide more than $20 billion in additional funds, and considers expanding that amount. Standard & Poor's downgrades Greece's rating to "junk" status (BB+). Greece releases an outline for a $33 billion austerity package in order to receive its multibillion dollar bailout by the European Union and International Monetary Fund.
May 2010: Protests erupt in Athens over the austerity package, but Prime Minister Papandreou vows to carry it out. After weeks of haggling over the size of the bailout, $152 billion in funds from the European Union and International Monetary Fund are approved, on the condition that Greece implements harsh austerity measures.
Signs of progress?
June 2010: Moody's joins Standard & Poor's and downgrades Greece's credit rating to "junk" status.
July 2010: Only 9 of Greece's 71 banks fail stress tests, meaning that all but those seven have adequate capital.
August 2010: Greece meets the austerity requirements necessary for it to receive its second tranche of funds from the EU/IMF bailout.
January 2011: Despite meeting several benchmarks in the second half of 2010, Fitch cuts Greece's credit rating to "junk" status in January.
June 2011: Greece pushes through another slew of unpopular austerity measures in order to qualify for a tranche of the bailout funds in July, which will end the upcoming fall.
A second bailout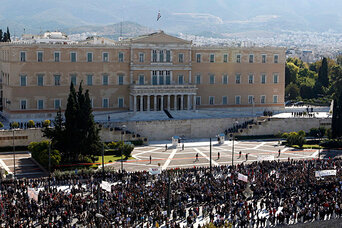 July 2011: A second bailout package for Greece of $157 billion in loans is approved. The deal includes a cut in interest rates Greece has to pay and an extension of the maturity period for Greek bonds, but requires continued austerity.
September 2011: The Greek parliament agrees to new, unpopular property taxes and begins discussing additional austerity measures. Both are necessary to continue receiving bailout funds, but wildly unpopular in Greece.
October 2011: A nationwide strike begins Oct. 19, alongside protests in Athens. Both are pegged to an Oct. 20 parliamentary vote on cutting public sector jobs, decreasing public sector wages, decreasing pensions for high-income earners, scaling back collective bargaining rights, and imposing new taxes, according to the Wall Street Journal. The government hopes that approving the new measures will convince international creditors, who will meet on Oct. 23, to release another round of much-needed funding for Greece. Without the $11 billion tranche, the Greek government says it will run out of money by November.