The Queen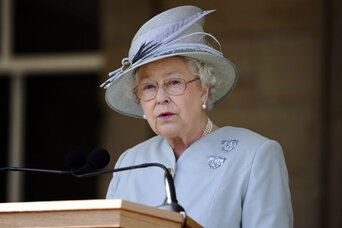 Even the royal household will take a hit in this period of austerity. The queen's spending will be reduced by 14 percent in 2012-13, a decrease of about $7.9 million, and she has agreed to one-year freeze in spending for this year. She typically receives about $47.4 million a year, $12.5 million of which comes in a grant funded by taxpayers.
Education
Although there will be some slight cuts for education, direct funding to schools will be protected and the budgets will actually increase slightly, from $55.2 billion a year to $61.6 billion. Education is seen as an area that could spur growth.
Policing, prisons
The Home Office, which handles policing, will swallow a 6 percent cut each year for the next four years, with 4 percent of that falling on police funding each year. The budget for counterterrorism policing will be cut by 10 percent, the smallest cut in the Home Office department. The Ministry of Justice budget will take a 23 percent cut over the next four years. That means a complete halt to plans to construct a new prison as well as a reduction in the number of inmates at several other prisons, which will translate into 3,000 fewer prison places overall by the end of that period.
Social welfare
The significant cuts to social welfare, which allowed the government to shield other budget areas, could be a precursor to a drastic restructuring of British society. The retirement age will be raised from 65 to 66 several years earlier than originally planned. Additional changes include: cuts to child benefits, the amount of time people can remain on employment allowances, changes to the threshold for housing benefits, and a benefits cap for each family. The National Health Service is one of the few social welfare areas that's growing, with an increase in funding, a new cancer drug fund, and additional money for social care.
Defense
The British military's $59 billion budget, which makes it the fourth-biggest defense spender in the world, took an 8 percent cut, with much of that falling on the Navy. Its fleet of Harrier jets will be decommissioned, as well as one of the country's two aircraft carriers that can handle those jets. The British Air Force and Navy will lose 5,000 personnel each, the Army will lose 7,000, and the Defense ministry will lose 25,000 staff. The cuts will also mean less investment in unmanned drones and a delay in the renewal of a submarine-launched nuclear deterrent. However, special forces and intelligence services received a boost.
British Prime Minister David Cameron sought to assure the US on Tuesday that it would continue being a "first-rate military power and a robust ally" of the US, despite the defense cuts.