1.Nawaz Sharif, of the Pakistan Muslim League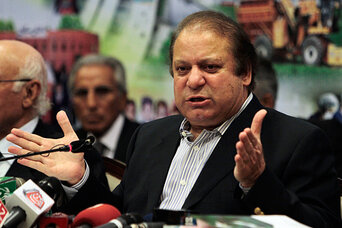 Nawaz Sharif is considered the front-runner to become Pakistan's next prime minister.
Mr. Sharif, a business magnate, jumped into politics as a protégé of the military dictator Gen. Zia-ul-Haq during the 1980s, after the Sharif family lost much of their business under the nationalization policy of the previous civilian government.
While he was Pakistan's prime minister from 1990 until 1993 he was popularly known for his economic liberalization policies. After taking office again in 1997 his government was upended in a coup in 1999 when Sharif tried to remove the army chief, Pervez Musharraf, from office.
He was tried on terrorism and corruption charges in a military court and given a life sentence. But Saudi Arabia, where his family did significant business, came to his rescue. And under an agreement with the Saudi government, Sharif was exiled from the country.
He returned to Pakistan in 2007 to participate in the last elections, this time as a heavy critic of the military that once brought him to power. His party, Pakistan Muslim League (PML-N), a center-right, pro-business party, came into power in Punjab Province under his leadership.
Sharif continues to run the family steel business, making his family one of the wealthiest in the country, and favored among business elites.
He's been long criticized for suspected covert support of Islamic extremist groups like Lashkar-e-Jhangvi, which has links with Al Qaeda and is headquartered in Punjab. Sharif's party denies alliance with extremists; however, while the Pakistani Taliban have pledged to attack the Awami National Party (ANP), the Pakistan People's Party (PPP), and the liberal Muttahida Quami Movement (MQM) parties, no extremist groups have threatened to disrupt campaigning by the PML-N or Sharif.
He promises to take Pakistan out of many challenging crisis, including bringing an end to crippling power shortages, improving law and order, and reviving the economy. No one is quite sure how many seats his party will win, but analysts say he may have to form a coalition. Still, unlike the PPP-led government which just left office, A Sharif government is likely to be more proactive in responding to issues, and thus more popular.
Imran Khan, Pakistan Tehreek-e-Insaf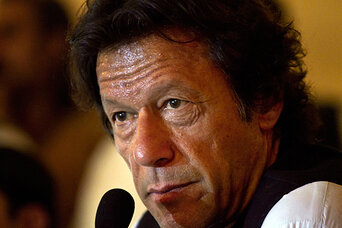 Popular cricket sports star-turned-politician, Imran Khan was an early favorite with the youth of Pakistan, and many urban educated, who saw him as a symbol for change. But analysts say his campaign has recently lost momentum.
Mr. Khan came into politics during the '90s but has not been able to make a significant mark in the political arena of Pakistan.
After winning the world cup for Pakistan in 1992, he quit his role in sports as the national cricket team captain and got into philanthropy, launching one of the largest charity-based cancer treatment hospitals in the country. He also established a modern university near him hometown, which was also well received.
In pursuit of a good governance agenda, Khan formed a centrist, nationalist political party called Pakistan Tehreek-e-Insaf (which means the movement for justice) in 1996.
He has campaigned based on a promise to abolish corruption "in 90 days" and stop US drone strikes. His party, one of the only mainstream political parties in Pakistan that is not family-based, is popular with young people and urban Pakistanis, but has struggled to gain seats in Parliament.
Khan's star power may have helped elect him to Parliament in 2002 under Gen. Pervez Musharraf's regime. He claims to have been offered the prime minister position at that time, which he declined. He stayed mainly in the background until, late in 2011, when he surprised everyone by holding a major public gathering in which tens of thousands of people showed up to support him.
Observers say that gathering was a game changer for Khan, as he started to attract local and international attention. Many big stalwarts of traditional parties like Shah Mehmood Qureshi, the then-foreign minister of Pakistan, quit his party and the Parliament to join him.
Khan has been criticized as a Taliban sympathizer for his anti-war policies and call to have talks with the Taliban, and many think the Pakistani military may be behind his rise to prominence to create a third party in the race in a country where historically only two traditional parties have dominated the Parliament. He dismisses both as labels by the opposition.
His biggest hurdle to getting his party seats in the Parliament and then getting elected will be breaking the ruling elites' hold in rural areas (that make up more than 70 percent of Pakistan) where he is not popular. Nevertheless, observers feel he may have a good chance at becoming a significant third force to watch.
Pervez Musharraf, All Pakistan Muslim League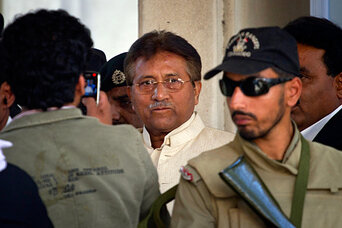 After four years of self-imposed exile, former president and military dictator Gen. Pervez Musharraf returned to Pakistan this year to, in his words, "lead" the country out of economic turmoil and problems with terrorism.
If he can find a district to let him run – he's been barred from running in four districts at the time of writing but is said to be looking to appeal those – he will still have a number of challenges ahead.
Musharraf ruled Pakistan from 1999 to 2008, after ousting the government of Nawaz Sharif in a coup, just as Mr. Sharif tried to replace him.
Under his regime Musharraf aligned Pakistan with the United States in the "war on terror" after Sept. 11, while at the same time providing a haven for Taliban fleeing from Afghanistan. He was popular for liberalizing the media by allowing private broadcasters to operate for the first time in Pakistan's history.
But after nine years, he was, himself, forced out of the presidential office when Mr. Sharif and Benazir Bhutto's party joined to impeach him through the Parliament. Facing legal battles, including charges of having a role in Ms. Bhutto's assassination, and treason, he fled the country.
In 2010, from England, he created his own faction of the Muslim League political party called the All Pakistan Muslim League, and announced his intent to return to politics.
He has a centrist approach. He hopes to appeal to Pakistan's younger generation who started careers during his tenure, as well as the business community that became rich overnight during his tenure because of the financial and real estate boom, and of the PakistanI diaspora.
He lost popularity as a leader when he tried to suspend the Constitution in 2007, and fired a number of judges. Still, when he returned to Karachi last month he said he expected hundreds of thousands to show up and support him. Yet only a couple thousand people welcomed him.
Musharraf doesn't have strong candidates in his party. And at best, analysts say, even if he is able to overcome the legal and registration hurdles he faces, he will only secure a seat for himself, making him irrelevant in a 342-seat Parliament.
He recently admitted to CNN that he gave the CIA permission to launch drone attacks inside his country, directly contradicting repeated claims by the Pakistani government that it has never authorized them. The claim has puzzled analysts since the former leader is beset by court cases and a lack of popular enthusiasm for his election campaign.
On top of those hurdles, Musharraf also faces threats from the Pakistani Taliban, which has openly vowed to assassinate him; he cracked down on affiliated groups like Lashkar-e-Jhangvi back in the early 2000s.
UPDATE: On April 18, A court revoked his bail and ordered Musharraf's arrest over his attempt to impose house arrest on judges in March 2007. He fled the courtroom and issued a statement saying he would make an appeal to the Supreme Court.
Raja Parvez Ashraf, Pakistan People's Party (current party in power)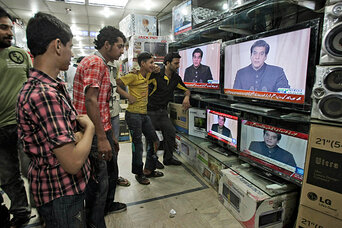 Raja Parvez Ashraf was the last prime minister of Pakistan. A leader of the Bhutto family's political party, the Pakistan People's Party (PPP), he became prime minister in June after the Supreme Court fired his predecessor. He has tried to stand for reelection since the beginning of April.
Yet, accused of misappropriating funds and corruption, he has been barred from running.
Despite five difficult years at the head of a governing coalition, the PPP is thought to still have resilient support among the rural poor. Some observers believe the ruling PPP still has a strong chance at winning a large number of seats in the Parliament and influencing who is elected as prime minister, as long as Pakistan's rural landowners maintain influence and have a feudal class system in rural Pakistan, which makes up almost 70 percent of the population.
It is not clear who will stand for prime minister if Mr. Ashraf is unable to. Analysts say that it will likely be someone from his own influential family. (Pakistan is largely run by a set of powerful families, numbering several dozen.) There has been no announcement for a replacement candidate yet.
Out of all of the major political parties vying to get their candidate in the prime minister seat, the PPP has had the most confrontations with the military, some with deadly consequences. Z.A. Bhutto, the father of Benazir Bhutto, was hanged by a military dictator and Ms. Bhutto was assassinated during military rule.