1.It sends a message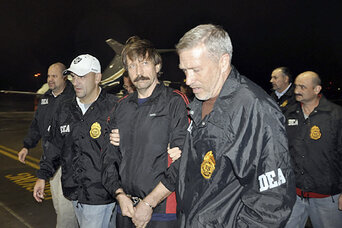 The arrest and extradition of Bout serves as a warning to other arms traffickers and underscores the global reach of the world's military superpower. This may deter some traffickers and drive up prices, though the opposite may also be true: removing Bout could be good for business. The US government, and its European allies, took their eye off Bout after 9/11. Some law-enforcement officials thought this was a mistake. Now they have their man.
Russian intelligence gathering
Bout is a former Soviet intelligence officer and likely has extensive ties to Russia's current security apparatus. Russia's vehement opposition to the extradition of Bout may be based on the fear that he could disclose military secrets, such as how Russia gathers intelligence in countries where Bout operated. The Pentagon also wants to get as clear a picture as possible of where power lies in Russia's civil and military circles.
Middle East militant groups
In the 1990s, Viktor Bout ran his cargo business out of the United Arab Emirates and is suspected of having links to militants in the region, such as Hezbollah. Any inside information on these groups and their operations is of potential value to the US intelligence community, though it's unclear how current this information would be.
Afghanistan
Bout's air cargo business was active in Afghanistan, supplying the Northern Alliance prior to its 2001 US-backed defeat of the Taliban government. By some accounts, Bout allegedly shipped arms to the Taliban during and after this period and may have useful knowledge of its sources of weapons and funding.
Colombia/FARC
Viktor Bout was arrested in Bangkok in 2008 during a sting operation set by the US Drug Enforcement Agency posing as FARC rebels. This is why he can be charged with conspiring to kill Americans, since US military personnel are engaged in the fight against FARC in support of Colombian security forces. Bout is suspected of previous dealings with FARC and may have other South American links. The US government wants to cut off FARC's supplies of arms.