1.Xi Jinping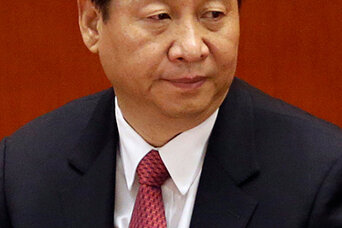 Xi Jinping was regarded as a shoo-in for the top leadership post, replacing Hu Jintao as General Secretary of the party Nov. 15, and as national president in March 2013.
Born into Communist aristocracy – his father was a revolutionary hero – Mr. Xi has also seen another side of life. When his father fell foul of Mao Zedong, the 15-year-old Xi was "sent down" to the countryside, and spent seven years in a remote village. Later, as a young party cadre whose career was already under way, he volunteered to work in a rural backwater rather than in the comfortable corridors of power in Beijing where he might have stayed.
Xi is known to have a personable, confident character that has served him well in a career during which he has not made any really powerful enemies – the best way to the top in consensus-ruled Chinese politics.
He studied chemistry at the prestigious Tsinghua University in Beijing, and as he moved up the ladder – from deputy mayor of the industrial port of Xiamen, to deputy governor of Fujian Province to party boss in Zhejiang Province, he built a reputation for attracting investment, being open to private business, and for being an effective leader.
"He's the kind of guy who knows how to get things over the goal line," former US Treasury Secretary and Goldman Sachs boss Hank Paulson, who has dealt extensively with Chinese leaders, once commented.
Xi served briefly as party chief in Shanghai, clearing up the aftermath of a corruption scandal, before being put in charge of the 2008 Beijing Olympics, whose success further burnished his reputation. He was named to the Politburo Standing Committee in 2007 and is one of only two members staying on.
Li Keqiang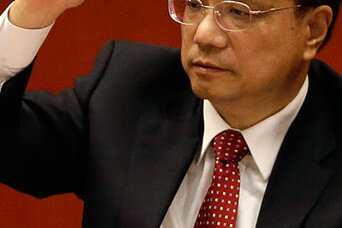 Li Keqiang, who has been a Standing Committee member and vice premier for the past five years, is the best educated leader in modern Chinese history, boasting a PhD in economics and a master's in law from the country's top seat of learning, Peking University.
He also speaks good English, a rarity among senior Chinese officials, and he came across as "engaging and well informed" to a US diplomat whose report on their conversation was revealed on Wikileaks.
Mr. Li has been in politics since he was a student, becoming head of his university's Communist Youth League, where he took his early steps toward prominence under the tutelage of Hu Jintao, his most powerful ally.
He moved fast, becoming the country's youngest provincial governor when he took that job in Henan, where he later became party chief. His tenure there was stained by a major scandal in which thousands of people were diagnosed as being infected with HIV/Aids through improperly administered blood donations, but the matter was largely hushed up at the time and he did not suffer significant political damage.
Li has sought to cultivate an image as a modern politician, espousing causes such as affordable housing, environmental protection, and renewable energy sources that appeal to younger generations of citizens.
He has a reputation as a cautious reformer, though he has done nothing to stand out from his colleagues on the current Standing Committee. Liberals hope that he still remembers the lessons he learned at university, where he was assigned with two fellow students to translate into Chinese "The Due Process of Law" by noted British jurist Lord Denning.
Zhang Dejiang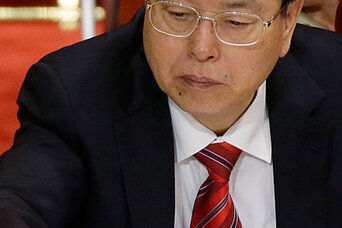 Zhang Dejiang has a reputation as the sort of man that China's leaders trust to take care of a crisis – and to do whatever it takes in the process.
He is rigid, tough, and unquestioning, say analysts who have watched his rise.
Mr. Zhang is unlikely to have broadened his mind much at university: He studied economics at Kim Il-sung Comprehensive University in Pyongyang, North Korea. But his Korean language skills got him a leadership post in Yanbian prefecture, along the border with North Korea, and his success in stemming the tide of illegal immigrants caught Beijing's eye.
Zhang has been Communist Party secretary in three provinces, including Guangdong in 2003, when SARS broke out there. He tried to keep that epidemic a secret, as his bosses clearly expected him to do, but doing so made it worse. Even a year later he was still trying to clamp down on reports of what had happened: The editor and publisher of a local newspaper that had published a report on the events of 2003 were prosecuted for corruption.
Most recently, Zhang was dispatched to Chongqing to restore the party's grip on the mega-city after the fall of its charismatic leader Bo Xilai, who had challenged the central party authorities and who is now awaiting trial, accused of a range of crimes from corruption to involvement in his wife's murder of a British businessman.
Zhang is a safe pair of hands, in iron gloves.
Wang Qishan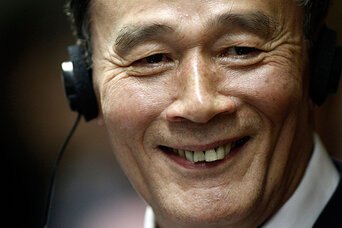 A history graduate with an extensive background in finance, Wang Qishan is popularly known in China as "the fire chief."
He has put out a number of fires over the course of his career, but perhaps his most notable achievement dates back to 2003, when he stepped in as Beijing's mayor after the previous incumbent – who had covered up the SARS epidemic – was fired.
Mr. Wang ordered daily briefings for the media and talked often and freely with officials from international bodies such as the World Health Organization. By doing so, he restored the Chinese government's tattered international credibility.
He is known as a straightforward talker unafraid of the limelight; a couple of years ago he appeared on the Charlie Rose Show to answer questions, a feat of daring unthinkable in any other Chinese leader of his seniority. Regarded as open to the West, Wang led Chinese delegations to several "strategic dialogue" sessions with the United States, making numerous friends among US officials.
Wang has been the governor of a state-owned bank and is experienced in financial affairs; for the past four years, he has been vice premier in charge of trade and the financial sector – a key post from which he has helped steer China through the turbulence following the global financial crisis in 2008.
He had been expected to take another economic role on the Standing Committee, but the latest rumors suggest that instead he will be made head of the party's Discipline Commission. That will put him in charge of the campaign to root out corruption, which outgoing General Secretary Hu Jintao warned last week could "prove fatal to the party and even cause the collapse of the party and the fall of the state."
Liu Yunshan
Liu Yunshan is a former journalist and PR specialist – with distinctly Chinese characteristics.
Far from being an advocate for freedom of expression, Mr. Liu is China's top censor; as head of the Communist Party's propaganda department, he oversees and does his best to control both the traditional media and the Internet.
It is his office that issues daily directives to Chinese newspapers, TV stations, and Internet portal,s telling them which stories they are allowed to cover and how they should present them.
During the 10 years that Liu has been in his job, there has been no sign of any relaxation of strict government controls over information and its presentation. Some critics say things have actually got worse over the past decade.
Last year, for example, when a high speed train came off the rails near the city of Wenzhou in an accident that killed 38 people and sparked a torrent of online commentary, Liu's reaction was to clamp down on reporting of the tragedy and to try to wipe all references to it off personal blogs.
At the same time, Liu has overseen a major push to expand China's international "soft power" by boosting the overseas presence of state-owned media. CCTV, the official TV broadcaster, has opened large regional bureaus in the United States and Africa, while the official English language "China Daily" has launched US and British editions.
Like many offspring of senior Communist Party officials, Liu's son Liu Lefei has done well. He is a prominent private equity investor, and Fortune magazine once named him one of the 25 most powerful business people in Asia.
Zhang Gaoli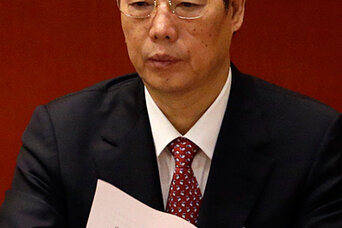 Zhang Gaoli is a somewhat colorless, spare, ascetic looking man about whom not a great deal is known, other than that he seems to owe his status as a likely Standing Committee member to patronage from former president Jiang Zemin, who has exerted considerable influence over the choice of China's next leaders.
Mr. Zhang is currently party boss of Tianjin, a booming port city in Northeastern China which enjoyed 16.4 percent economic growth last year. Previously he had held the same party job in Shenzhen and Shandong, two other prosperous east coast economic success stories.
He fed Tianjin's growth with massive investment, fueled by heavy debt, a familiar pattern in China's provinces, where leaders are judged by economic growth rates and state-owned banks fund projects that will boost growth figures without always worrying too much about their long-term profitability.
That, however, is not a sustainable growth model, China's leaders have agreed. The next generation of Standing Committee members will have to foster a new model, built on higher personal consumption rather than capital investment or exports, Chinese economists insist.
Zhang is an economics graduate who spent a number of years working for state-owned oil companies before going full time into politics. He has kept his head down throughout his career, rarely talking to reporters. After the fall of Bo Xilai, who had touted a "Chongqing model" of economic development, Zhang made a point of publicly insisting that there was no "Tianjin model" and that cadres should stick to the party Central Committee's line.