Mexico City
Latin America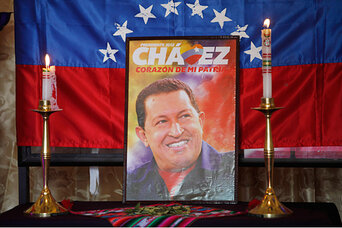 Leaders around the world who saw a friend and ally in Mr. Chávez mourned his passing and expressed "Bolivarian solidarity" with Venezuela. The outpouring was especially strong in Latin America, where Chávez had sought to create closer regional ties.
Argentina's Cristina Fernandez de Kirchner, who is seen by some as the ideological heiress to Chávez in Latin America, declared three days of mourning and was expected to leave Wednesday for Venezuela to attend the late president's wake. A funeral is scheduled for Friday.
Venezuela's closest ally, Cuba, also declared three days of mourning to honor a man seen by that government as embodying the spirit of the Cuban Revolution. The Granma, the official newspaper of the Cuban communist party, called Chávez "a son of Cuba."
He felt deeply our difficulties and problems and did all he could, with extraordinary generosity.... He accompanied Fidel [Castro] like a true son and his friendship with Raúl [Castro] was close.
His death marks the birth of the "true Chavismo," wrote Enrique Berruga Filloy, president of the Mexican Committee of International Affairs, in an editorial in the Mexico City daily El Universal.
"From now on, his name, his legacy, his thinking will be used as a reference point and orientation over how Venezuela should be run. The next government may ask itself, 'What would comandante Chávez do?' " Mr. Filloy wrote.
In Peru, Ollanta Humala offered "our Bolivarian, South American, Latin American solidarity" to the Venezuelan people. The president urged unity, calm, and reflection in Venezuela, and that "things can be carried out in a peaceful manner, within the democratic course." Mr. Humala's once-warm relationship with Chávez cooled as he shifted away from the populist style characteristic of his counterpart.
"Chavez will continue to be an inspiration for all peoples who fight for their liberation," said Bolivian President Evo Morales in a tearful televised speech.
News, comments, condolences, and hopes for the future lit up Twitter following word of Chávez's death, while in Spanish the hashtag #MuereChávez, or "Chavez Dies" rose near the top of the world's most tweeted on the social network.
One tweet read in Spanish, "#MuereChávez but his struggle and his love for the people and the nation will remain forever tattooed in the hearts of his followers."
"Chavismo," said the editors of El Salvador's El Faro online newspaper, "will have to reinvent itself or die."
Canada and the United States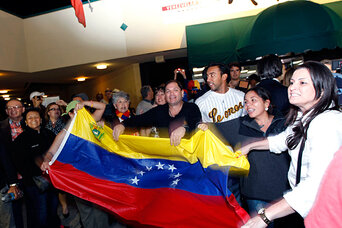 In Canada, the Globe and Mail published a column by Doug Saunders, who says "Hugo Chavez wasn't a dictator, but he crushed democracy."
True, elections in Venezuela were generally fair and well-conducted under Mr. Chavez. He even willingly conceded loss in one referendum designed to consolidate his power. But during his 14 years, every other institution of democracy – the courts, the media, the opposition – was destroyed, in an old-style attempt to create a party-run state and economy....

The authoritarianism extended into the economy. While he didn't, contrary to popular myth, nationalize the oil industry (it had been government-owned since 1976, and he merely devastated its productivity and output by packing it with cronies and failing to maintain its infrastructure), he did manage to trash most of the non-oil economy. In a country that should be one of the great agricultural exporters of the Americas, he turned farming into a non-viable business by subsidizing consumption and controlling prices, and converted large swathes of commercial-agriculture land back into subsistence-level peasant farms. As a result, his country became heavily reliant on food imports and suffered from serious food shortages.
In the United States, the White House reaffirmed "its interest in developing a constructive relationship with the Venezuelan government," President Obama said in a statement Tuesday.
Still, it could take time for the US to heal more than a decade of fraught relations with Venezuela as uncertainty – and anti-US sentiment – persists. According to The Christian Science Monitor's Howard LaFranchi:
[E]ven if ambassadors are exchanged in the coming weeks or months as a goodwill gesture, no one expects tensions to evaporate from the relationship overnight.....

Chávez may be gone, but his supporters will still have their hands on the country's levers of power, Venezuela analysts say – and could keep them there for some time to come.

And the fiery-tongued leader's anti-American rhetoric won't lose its influence any faster than will suspicions about US intentions, some regional experts predict.

"Chávez conditioned much of Venezuela to think negatively of the US," says Eric Farnsworth, vice president of the Council of the Americas and Americas Society in Washington. Many Venezuelans won't forget quickly Chávez's claims, especially early in his rule, that the Central Intelligence Agency was trying to assassinate him or that the US was behind a 2002 military coup that briefly forced him from office.
The Middle East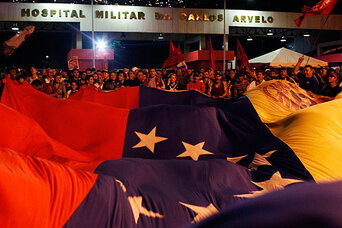 Iran's Mahmoud Ahmadinejad, who shared Chávez's anti-US discourse, declared a day of mourning and extolled the late president's dedication to "serve the people, especially the poor and those scarred by colonialism and imperialism."
In a message to Diosdado Cabello, the Venezuelan National Assembly president, who according to the constitution should serve as interim leader until emergency elections are called, Iranian Parliament Speaker Ali Larijani said:
[Chávez] opened a new chapter in the political life of the Latin American nations with his valuable efforts, and the path of independence-seeking and campaign against the bullying of the world powers has now turned into a new and dynamic discourse among Latino nations.
A blog in Israel's Haaretz notes that Israel is keeping quiet after the announcement of Chavez's death, "unlike the United States and other countries that have reached out to Caracas." Chávez was one of the world's biggest critics of Israel, and by far the most outspoken opponent in Latin America.
At this stage, Jerusalem is simply following developments in the Latin American country. Foreign Ministry officials hope Venezuelan-Israeli ties will improve but say the change won't happen in the short term. Still, the two main candidates to become Venezuela's next president are more favorable toward Israel....

"Ultimately there are wide-ranging grounds for cooperation between the two countries, and Venezuela will benefit much more from a relationship with Israel than one with Iran. There is no reason the relationship with Venezuela won't resemble [Israel's] with Ecuador – there is criticism and there are disputes, but there is also cooperation," said a source at the Foreign Ministry.
Asia and Africa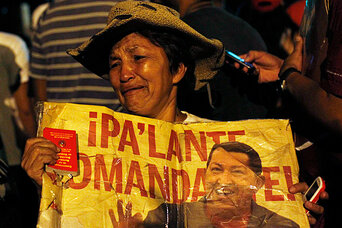 In Johannesburg, President Jacob Zuma extended his condolences, while the African National Congress released a statement calling Chávez "one of South America's political giants."
To the people of Venezuela we say their mourning is the mourning of all countries that are fighting to reclaim their place in the world economy.
China's Xinhua newswire said leaders Hu Jintao and Xi Jinping shared their condolences, while the foreign minister highlighted the friendship between the two countries.
"President Chávez was an outstanding leader of Venezuela and a good friend of the Chinese people," China Foreign Ministry spokeswoman Hua Chunying said, adding that Chávez made significant contributions to advancing the friendly and cooperative relations between China and Venezuela.
According to Bloomberg, Venezuela sells China nearly 19 percent of its oil output. (about 518,000 barrels a day in 2013).
Europe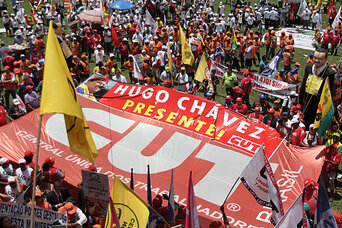 In Russia, which maintained warm relations with Venezuela, President Vladimir Putin called Chávez a "great friend" of his country. He is expected to send several close aides to attend the funeral.
Italy's Corriere della Sera newspaper dubbed Chavez Latin America's "last caudillo," while the Spanish daily El País dedicated dozens of articles Wednesday to the news of his death and its impact in Latin America and the world.
An editorial in El País predicted Venezuelan Vice President Nicholas Maduro could win the next election purely on the existing emotional support for his predecessor, but noted that "strongman regimes don't usually survive their icons for long."
The outsized personality of Hugo Chávez and his incomparable capacity to connect with many Venezuelans allowed him to weather the grave problems of his country without cracking politically. But it seems more than unlikely that his successor, whoever it is, will be able to assemble sufficient support to keep citizens tolerating for very long the enormous economic inequality, the everyday scarcity, the deep corruption or the rampant urban violence that afflicts the country...
Spain Prime Minister Mariano Rajoy, who maintained his distance from the late Venezuelan leader, called Chávez "one of the most influential figures in Venezuela's contemporary history."