1.1991-1995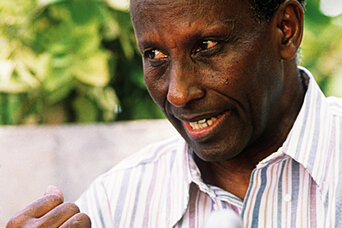 January 1991: Somali President Siad Barre's government is forced from power. By November, a struggle among clan warlords pushes Somalia into civil war. In the meantime, thousands of civilians die of starvation in a region-wide drought.
February 1992: Rival commanders sign a UN-sponsored cease-fire. And the UN deploys peacekeepers under a newly created United Nations Operation in Somalia (UNOSOM) to observe the cease-fire.
But fighting continues to escalate. In December, US Marines join UNOSOM.
1993: US forces target Somali warlord Mohammed Farah Aidid, who along with his rival warlord Ali Mahdi Mohamed are using food aid as a lever for power. About 2,000 people are killed in clashes between the US marines and Aidid's forces.
June 1993: 24 Pakistani peacekeepers with UNOSOM are killed by forces loyal to Somali warlord Aidid. This prompts nothing. The UN continues to operate as before.
October 1993: 17 US army rangers are killed in the famous "Black Hawk Down" incident, when US helicopters are shot down in Mogadishu, and the Rangers mount a rescue mission.
March 1994: The US ends its mission in Somalia. A year later, the UNOSOM mission ends in failure.
2005 - 2006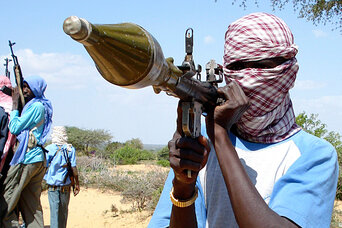 June 2005: Fighters loyal to the Union of Islamic Courts (UIC) defeat US and Ethiopian-backed leaders and take control of Mogadishu.
December 2006: A joint Ethiopian-Somali government offensive pushes Islamic Courts fighters from Mogadishu. The joint force captures the city.
2007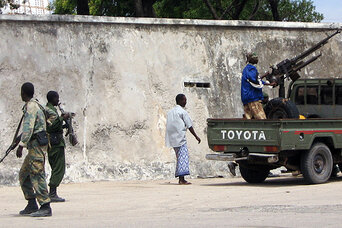 January: Government forces take Islamist stronghold of Kismayo.
April: More than 320,000 Somalis leave their homes in Mogadishu because of fighting. Many end up in the Kenyan refugee camp at Dadaab, making it the world's largest refugee camp. Others remain in displacement camps outside Mogadishu, living off foreign food aid.
Aug. 22: Al Shabab – an offshoot of the Union of Islamic Courts – seizes Kismayo. By November President Abdullahi Yusuf admits he has lost control over most of the country to insurgents.
Dec. 29: Yusuf resigns. By the end of January 2008, Ethiopian troops have withdrawn from Somalia. Al Shabab fighters take over the former transitional capital of Baidoa.
2009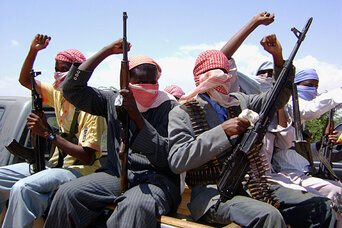 Jan. 30, 2009: Somali parliamentarians in neighboring Djibouti elect Sharif Ahmed as the new president of Somalia. He imposes sharia law, or Islamic law, in a bid to weaken support for Al Shabab. Shabab takes the majority of Mogadishu, and retains control over most of southern Somalia.
2011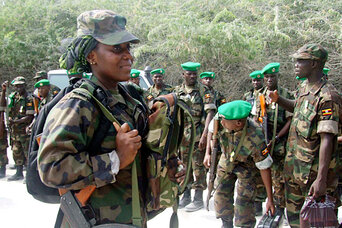 August 2011: African Union troops push Al Shabab out of Mogadishu in a coordinated offensive with Somali government troops.
Oct. 16, 2011: Kenyan troops enter Somalia, after a spate of Somali attacks against Western tourists and aid workers on Kenyan soil.
Dec. 31, 2011: Ethiopian troops enter Somalia, and take the town of Beledweyne from Al Shabab.