Tugboat cook survives for 72 hours in tiny air pocket under the Atlantic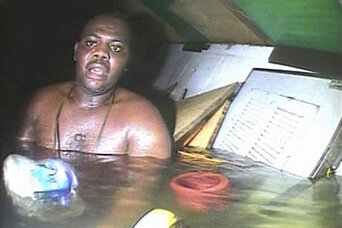 In May 2013 Harrison Okene, the cook aboard a tugboat which capsized while servicing an oil tanker off the coast of Nigeria, survived for 72 hours in a dwindling air pocket, before rescue divers found him.
Okene was the accident's sole survivor, and seven months later his ordeal touched viewers worldwide when a video of the rescue went viral. In the video, his hand grasps the hand of a diver underwater who at first shouts with alarm, having found only human remains until then.
Wearing only boxer shorts when the boat capsized, Okene managed to grab a life vest with two flashlights, and Associated Press reported that he kept himself out of the near-freezing water by piling mattresses on top of a platform, in the cabin's small dry space.
As he slowly depleted his limited oxygen supply, AP reported that he prayed, regretted not yet having fathered a child with his wife, and survived on a single bottle of Coke.
Stranded family of six survives sub-zero temperatures in Nevada's high desert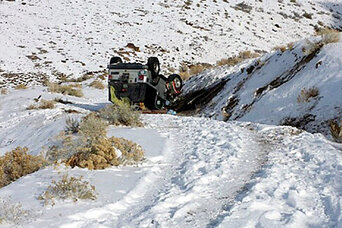 In December 2013, a couple and 4 children survived two nights of sub-zero temperatures in Nevada's high desert, after their Jeep rolled into a remote mountain ditch.
Rescuers say that a series of good choices enabled the group to survive without frostbite or injuries, despite temperatures which dropped to 21 degrees below zero.
Above all, the group stuck together and stayed by their overturned Jeep, which rescuers were looking for. Paul Burke, Nevada's search-and-rescue coordinator, told Associated Press that sticking together was key to their survival, and not all that common. Rather than strike out in search for help, the family started a fire which they kept burning throughout the ordeal.
CNN reported that rescuers were most impressed by the family's improvisation: they used the fire to heat up rocks, which they placed inside their spare tire to keep the children warm as they huddled inside the car at night. The kids ranged in age from three to ten years old.
The family also set out well-equipped for the weather, with thick winter clothes, plenty of water, and some food. And they had told relatives where they were going. This enabled rescuers to narrow the search area to a still-vast 6,000 square miles, combed over by 200 people.
Though the area had no cellphone reception, Associated Press reported that a cellphone forensics team was able to advise rescuers, by tracking the towers their phones had been in touch with along the way.
Snow cave helps teen survive 2 nights in Maine wilderness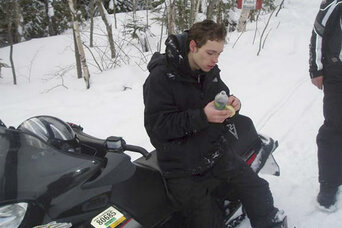 In early March 2013, 17-year-old Nicholas Joy of Medford, Mass., tried to find a shortcut through the woods while skiing and became lost west of Sugarloaf Mountain in Maine.
Nicholas's father, Adam Joy, knew his son was missing when he didn't meet him in the ski resort parking lot as planned. The Sugarloaf ski patrol, the Maine Forest Service, the US Border Patrol, and other area rescue squads and volunteers searched for Nicholas for two days and two nights, though weather conditions were bad enough at night that the search had to be suspended.
Nicholas, recalling survival reality TV shows he'd watched, made himself a shelter out of a mound of snow and tree branches. He also tried to start a fire by rubbing two sticks together. Nicholas had no food or cellphone with him.
A volunteer firefighter who was not part of the official search parties found the teenager the morning of the third day. Nicholas was hungry, tired, and cold – but unharmed.
"He did the right thing in building a snow cave," Mr. Joy told The Associated Press. "Obviously he's still alive to talk about it, so he made some good decisions."
Mother loses legs, but saves children in tornado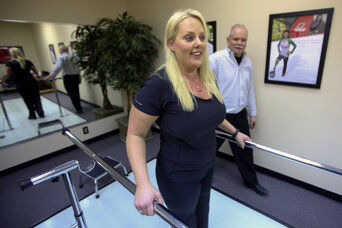 In March 2012, 37-year-old Stephanie Decker's home in Henryville, Ind., was destroyed in a tornado outbreak that included 140 reported twisters, 76 confirmed landings, and 39 deaths, according to ABC News.
Ms. Decker heard the storm coming and got her son, Dominic, age 8, and daughter Reese, 5, into the basement. As the storm touched down and the house began to fall apart around them, Decker covered her children with a comforter and her body, and tried to find words to calm them.
"My daughter said, 'Mommy, I don't like this,' and I said, 'I know honey,'" Decker told reporters. "I could see the wind. I could see the window blew out and the house burst."
Decker was crushed under the rubble of her home; both children were unscathed. Knowing something was wrong with her legs she tried to use the comforter as a tourniquet while Dominic went for help.
Decker lived, though both her legs had to be amputated. She was later fitted with prosthetics.
Snowbound student survives more than a week on two candy bars
In December 2011, Arizona State University student Lauren Weinberg, age 23, was driving in northern Arizona near Winslow when her car got stuck in more than 18 inches of snow.
She was found nine days later, when US Forest Service employees patrolling on snowmobiles found her car.
Ms. Weinberg was able to survive on two candy bars and by drinking melted snow. She had a cellphone with her, but the battery had died.
"I am so thankful to be alive and warm," Weinberg said in a statement released by the hospital. "Thank you, everyone, for your thoughts and prayers, because they worked. There were times I was afraid, but mostly I had faith I would be found."
Most survival experts recommend that if lost in the desert, people should stay with their car because it will provide shelter – and will be easier for searchers to spot. The only time people should try to hike out would be if they lack water.
Canadian woman survives 49 days in the Nevada woods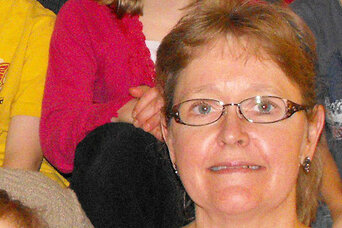 In March 2011, Canadian couple Al and Rita Chretien were driving to a trade show in Las Vegas, when their GPS led them astray.
Wanting a scenic route, they chose a road usually not used in the winter, but had no way of knowing the weather conditions. Their van became stuck in the mud in a remote area in Nevada.
The couple attempted to dig out, but the axles of their van were buried, and, according to The Globe and Mail, they had no cellphone reception. The pair set off for help, but returned to the van when Mrs. Chretien's knee swelled and made walking difficult. After several days, Mr. Chretien set off alone, leaving his wife behind.
Mrs. Chretien survived in the van on the few snacks the couple had brought with them and water from a nearby stream. She had a few books, including her Bible, to read. She also kept a journal.
After 49 days, so weak she couldn't walk, Mrs. Chretien heard the sound of ATVs and flagged them down. She eventually made a full recovery.
Mr. Chretien's whereabouts were unknown for 18 months until hunters found his remains intact, about seven miles away from the van.
Mrs. Chretien told The Globe and Mail she took comfort in knowing her husband died peacefully.
Two dogs help 6-year-old survive in cold Missouri woods
On Jan. 10, 6-year-old Ryle Smith followed his family dogs into the woods near his home in Seneca, Mo.
When Ryle's parents couldn't find him they called local authorities for help.
"I was nervous because it was getting dark and some of the areas in the woods can be really dangerous," the boy's father, Ryan Smith, told the Joplin Globe. "He was outside with the dogs, and we didn't see or hear from either of them."
Local police and search and rescue teams began their search for Ryle around 6 p.m., as temperatures dipped into the 20s. The boy was missing for more than four hours before he was found huddled in a ditch with the two dogs lying on top of him to keep him warm.
His clothes were torn and his shoes missing; but aside from some cuts, Ryle was unharmed.
His father credits the two dogs, Baxter, a boxer, and Bella, a mixed Labrador, with keeping his son warm and safe.
"They both were incredible in the way that they protected him," Mr. Smith said. "They wouldn't have left him for anything. You can't ask for more in a dog than that."
Superstorm Sandy survivor's near-death note goes viral
During superstorm Sandy in late October 2012, 28-year-old Mike Iann of Ridgefield, N.J., spent hours treading water when he was sucked into Barnegat Bay after waves tore off the back of his home.
Mr. Iann couldn't swim back to his house, but he was able to make it to a neighbor's home (the owners had evacuated before the storm). Exhausted, cold, thirsty, and thinking he was near death, Iann broke into the home.
He took blankets from the couch, and a black coat, and in the middle of the night wrote a desperate note to the homeowners apologizing for breaking in, telling them he had hypothermia and was dying, and asking them to call his father.
According to the Huffington Post he wrote, "I don't think I'm going to make it. The water outside is 10 feet deep at least. There's no res[c]ue. Tell my dad I love him and I tryed get[t]ing out." Iann also left his father's phone number.
The next morning Iann was rescued by a man on a jet-ski.
When homeowners Vick and Christine Treflia returned after the storm they found Iann's note, but had no idea what had happened to him. They posted the note on the Internet, where it went viral, and caught the eye of a local radio station host.
Justin Louis of WOBM called the number on the note and managed to connect with Iann's father, Tony Iann; he discovered that Iann had made it. Local reporters put together the rest of the pieces of the story.
"I would have done the same thing, had it been me," Mr. Treflia told WPVI, an ABC station in Philadelphia. "So if my house helped him to make it through this nightmare, so be it."
Narrow escapes after the 2011 Japanese earthquake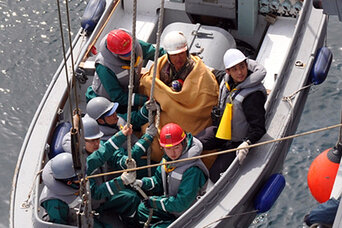 On March 11, 2011, a magnitude-9.0 earthquake hit Japan, killing more than 15,000 people, triggering a tsunami, and causing widespread damage – including the nuclear meltdowns at the Fukushima Daiichi nuclear power plant.
Some 30,000 people were rescued from the wreckage; two remarkable tales of survival and hope stand out.
Hiromitsu Shinkawa was rescued 10 miles out to sea two days after the earthquake, sitting on the roof of his house. According to the Kyodo news agency, after the earthquake he and his wife returned to their home in the city of Minamisoma to gather some belongings when the tsunami hit. He survived by holding onto the roof of their home, but his wife was swept out to sea.
In the coastal city of Ishinomaki in Miyagi Prefecture, 16-year-old Jin Abe, and his 80-year-old grandmother, Sumi Abe, survived being buried under the rubble of their two-story wooden home for almost 10 days. They were on the top floor of the house when the earthquake struck.
Though unable to stand or walk around, Jin was able to reach blankets, food, and drink. He and his grandmother huddled together to keep warm. Finally, he managed to dig out a bit from the rubble, and called out to rescue teams.
Woman survives 700-foot wide avalanche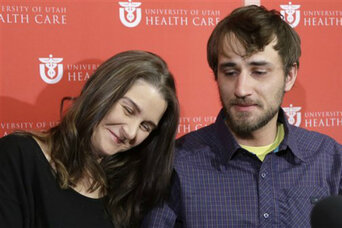 In January 2013, 43-year-old Elisabeth Malloy, from Utah, was skiing with her boyfriend, 30-year-old Adam Morrey, near Salt Lake City, when the two triggered an avalanche.
Ms. Malloy was swept downhill headfirst by the 700-foot avalanche. She later described the experience as similar to being on a waterslide.
Buried 18 inches under the snow, Malloy told Reuters she meditated, breathed slowly, and told herself she wasn't going to die before losing consciousness.
"It was surreal, as quiet and as embryonic without being in water that I could imagine," said Malloy, a pediatric nurse. "I had this feeling that I was going to be fine."
Mr. Morrey was only buried up to his chest and quickly dug himself out of the snow. He was able to locate his girlfriend using the avalanche rescue beacons they were both wearing.
How does an avalanche beacon work? When a skier heads down the mountain, the transceiver is activated and emits a low-power radio signal at 457kHz. If an avalanche occurs, survivors in the party – in this case Malloy's boyfriend – can switch their avalanche beacons from transmit to receive. The beacon becomes a radio direction finding device and can be used to find the other skier's transmitter.
After he found her, Morrey used an avalanche shovel he was carrying to dig her out, and performed CPR on her. Malloy regained consciousness, but was missing her ski boots and gloves. Another skier helped the two make their way down the mountain and called for help. A rescue helicopter spotted them about 2-1/2 hours later.
Morrey was unharmed; Malloy suffered frostbite on her toes and fingers. Despite the harrowing experience, Malloy, an experienced backcountry skier, told reporters she would return to the mountains.
"It's who I am," she said. "It's not about the powder turns, it's about the mountains. It's about the hiking It's about the experience for me. I enjoy being in the mountains; I love snow. I've always considered myself a mountain goat."
After 16 days in attic, 76-year-old man asks for Taco Bell
At 76 years old Gerald Martin survived for 18 days after hurricane Katrina on only a gallon and a half of water.
In September 2005, Mr. Martin's family complied with evacuation orders, but he stayed behind. He told NBC that on the day the storm hit he went to church, took a nap, and then woke to find his home filling with water.
Martin fled to the attic, where he stayed for 16 days, living with just a small supply of water in 90-degree heat. After 16 days the water began to drain and Martin was able to return to the lower floors of the house, though water still surrounded the building. He had run out of drinking water at that point.
The Federal Emergency Management Agency rescue squad that found Martin had given up hope of finding survivors. He was the first living person they had found in 12 days.
The team heard Martin yelling for help, and broke into his house using a sledgehammer. Though very weak and thirsty, he was able to walk out of the house with only a little assistance, and jokingly asked if the medical helicopter could stop off at Taco Bell before airlifting him to the hospital.
Seattle skier survives 160-foot fall unscathed
In May 2012, Seattle resident Nikolai Popov was backcountry skiing on Decker Mountain, near Whistler, British Columbia.
Skiing alone, Mr. Popov knew to watch for crevasses, and tried to locate them with his pole.
"I saw that there was a little crack and started probing with a pole to see where the crevasse is," Popov told CTV News. "Just as I was doing that, the whole thing collapsed under me and I found myself in a very nasty hole. It was quite deep."
Popov fell into a 164-foot deep crevasse. Unhurt, he waited two hours before rescuers arrived. An observant skier who was in front of Popov noticed he wasn't following, and skied to where he could alert a rescue team.
Popov was pulled out of the crevasse by a helicopter.
33 miners in Chile survive more than two months
The rescue of 33 Chilean miners in 2010 may be one of the greatest survival stories in recent history.
On Oct. 13, 2010, the last of the miners was lifted to safety. The group of mine workers was trapped when a tunnel collapsed in the San Jose gold and copper mine Aug. 5. For the first 17 days, rescue workers drilled repeatedly attempting to reach them, but failed seven times.
When they finally reached the miners and found all 33 were still alive, the world celebrated. Next came the difficult task of getting the men out.
For more than two weeks the miners survived on emergency food supplies they had with them at the time of the collapse, eating only spoonfuls of tuna fish and a few crackers every 48 hours. Rescue crews were eventually able to bore fist-sized holes and provide the men with food and medicine.
When it was announced it could take months for engineers to safely dig a rescue shaft and extract the men, an outpouring of support and assistance came from around the world. The National Aeronautics and Space Administration and the US State Department provided the Chilean government with advice on how to keep the men mentally healthy underground for such an extended amount of time. They encouraged the miners to develop a daily routine of work, exercise, recreation, and rest.
The men were also able to communicate with their families with written notes, and eventually verbal and video contact. The miners' families built a makeshift town outside the gates of the mine, and lived at "Camp Hope" throughout the ordeal to be closer to the men.
Finally, the rescue team completed a chute nearly 2,040 feet long and reached the miners' living space. The men were hauled out in a cage one by one. They recuperated at the local hospital and were reunited with their families.
Several books have been written about this event. "Hope Underground: The 33 Chilean Miners – A Story of Faith and Miracles" is by a local Chilean minister who bonded with the families of the miners and, later, the miners themselves. One of the miners insisted there were 34 in the mine, not 33 because, as he explained in the book, "God never abandoned" them.