1912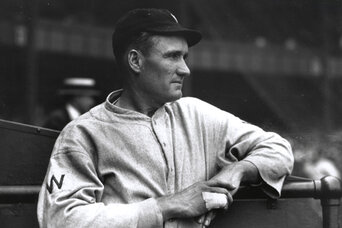 Top hitter: Ty Cobb (Detroit Tigers), .409 avg.
Top slugger: Heinie Zimmerman (Chicago Cubs), 14 HRs
Top pitcher: Smokey Joe Wood (Boston Red Sox), 34 wins
NL MVP: Larry Doyle (NY New Giants), 2B
AL MVP: Tris Speaker (Boston, Red Sox), OF
World Series: Boston Red Sox defeat the New York Giants, 4-3, with one tie.
Three cities opened brand-new ballparks: Boston (Fenway), Detroit (Navin Field, which became Tiger Stadium), and Cincinnati (Redland Field, which became Crosley Field). Fenway is the only one still standing. Its 100th anniversary will officially be celebrated on April 20.
The Fraternity of Professional Baseball Players of America formed with 288 members. Although an early incarnation of today's players' union, it was hardly the first. That was begun in 1885.
Washington's Walter Johnson and Boston's Smokey Joe Wood engaged in a historic, season-long pitching duel. Johnson set a record with 16 consecutive victories, but later the same season, Wood won his 14th staight by outpitching Johnson in a 1-0 shutout of the Senators. Wood went on to tie Johnson's mark of 16 straight wins. (The all-time longest pitching winning streak belongs to Carl Hubbell of the New York Giants, with 24, recorded over two seasons, with 16 wins in 1936 and eight more in 1937.)
To protest the indefinite suspension of teammate Ty Cobb for attacking a heckling fan, his Detroit Tiger teammates refused to play their next game. Rather than forfeit, the club cobbled together a makeshift lineup that included some fans. It lost 24-2 and Cobb was promptly reinstated.
The Red Sox won the World Series against the New York Giants in a dramatic eighth game, necessitated when Game 2 (check) was called on account of darkness with the score knotted 1-1. Unlike the Bill Buckner's famous 1986 World Series error, this time Boston was the beneficiary of a famous blunder that became known as the "the $30,000 muff." Giants outfielder Fred Snodgrass dropped a fly ball in the 10th inning that ultimately led to Boston's series-clinching rally. Thirty thousand dollars was the winning team's share.
1922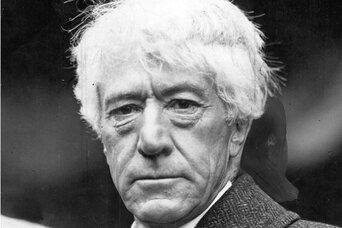 Top hitter: George Sisler (St.L. Browns), .420 avg.
Top slugger: Rogers Hornsby (St.L. Cardinals), 42 HRs
Top pitcher: Eddie Rommel (Philadelphia A's), 27 wins
NL MVP: none selected
AL MVP: George Sisler (St.L. Browns), 1B
World Series: New York Giants defeat the New York Yankees, 4-0, with one tie.
Pitcher Charlie Robertson of the Chicago White Sox became the first major leaguer in the 20th century to toss a perfect game, shutting down the Ty Cobb-led Tigers in Detroit. It was also just the fifth perfect game ever, and the last until Don Larsen turned the trick for the Yankees in the 1956 World Series. Oddly, Robertson never had a season with a winning record, but the perfect game, in only his fifth career start, flashed his unrealized potential. Arm troubles hindered his career thereafter until he finally bowed out of the game in 1928 with an overall mark of 49-80.
The Philadelphia Phillies and the Chicago Cubs played the highest-scoring game in major-league history on Aug. 25, with the Cubs finally prevailing in nine innings, 26-23. Given the 49 runs, there weren't all that many hits (51), but 23 walks and 10 errors contributed to the scoring. The Phillies decided not to waste their bullpen when they fell way behind early and only used only two pitchers in the game. The score actually could have been considerably higher, since a total of 25 runners were left on base.
The National League was without a player-manager for the first time since 1900. By 1930 player-managers had disappeared from both leagues, but a scattering of them have been hired in the postwar era, the last being Pete Rose, who did double duty with Cincinnati from 1984 to 1986.
Despite compiling a .401 batting average, Ty Cobb was not the American League batting champion. That honor went to George Sisler of the St. Louis Browns who easily surpassed Cobb with a .420 average. That was the highest average ever achieved by a left-handed hitter in the AL.
Major league baseball's long-held antitrust exemption was conferred in 1922 when the US Supreme Court ruled in favor of the National and American Leagues in a lawsuit brought seven years earlier by the rival Federal League. Before reaching the Supreme Court, US District Judge Kenesaw Mountain Landis had ruled for the defendants, who were accused of monopolizing star players. Landis, a Cubs fan, was named the sport's commissioner in 1920, after the Federal League had gone out of business. The high court did not consider baseball in violation of interstate commerce statutes and it remains the only professional team sport in the US with an antitrust exemption.
1932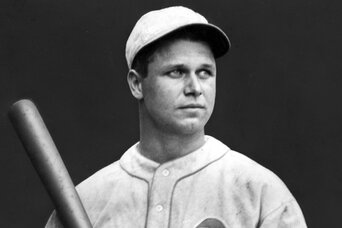 Top hitter: Lefty O'Doul (Brooklyn Dodgers), 368 avg.
Top slugger: Jimmie Foxx (Philadelphia A's), 58 HRs
Top pitcher: Alvin Crowder (Washington Senators), 26 wins
NL MVP: Chuck Klein (Philadelphia Phillies), OF
AL MVP: Jimmie Foxx (Philadelphia A's), 1B
World Series: New York Yankees defeat the Chicago Cubs, 4-0.
Dale Alexander won the American League batting championship with a .367 average. Oddly, he was traded by the Red Sox after getting off to a slow start, and finished the season with Detroit. Nicknamed "Moose," Alexander was one of the larger players of his era, standing 6 ft. 3 in. and weighing 210 pounds. Although he turned in a couple of 20-home run seasons earlier in his career, in 1932 his home run total (eight) and RBI production (56) was well below his career highs. His budding career was cut short by a leg injury after just one more season.
The Yankees' Lou Gehrig became the first player in the 20th century to hit four home runs in a single game, a feat accomplished a dozen times since then, including by such greats as Willie Mays and Mike Schmidt. Gehrig's slugging outburst occurred on June 3 during a 20-13 win over the Philadelphia Athletics. He nearly hit a fifth homer, but the drive was caught at the wall in deepest center field in his sixth and final trip to the plate. Only 7,300 witnessed the game in Philadelphia's Shibe Park.
Jimmie Foxx of the Philadelphia Athletics nearly tied Babe Ruth's single-season record of 60 home runs set five years earlier, but finished with 58 because two of his homers were erased by rain-outs. Foxx also nearly won the Triple Crown. He led the American League in homers and runs batted in (169), and his .364 batting average was just three points behind that of Dale Alexander, the AL champion.
Jack Quinn of the Brooklyn Dodgers became the oldest pitcher to ever win a major-league game and the only one to do so after his 49th birthday (by 70 days). Jamie Moyer, who is has ?? big-league wins, could surpass that feat this season if the veteran, signed to a minor-league contract by the Colorado Rockies, were to pitch and win for the Rockies.
1942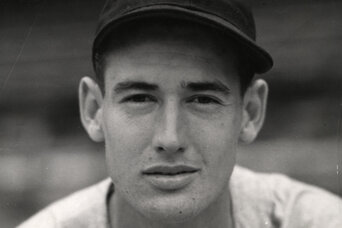 Top hitter: Ted Williams (Boston Red Sox) .356 avg.
Top slugger: Ted Williams (Boston Red Sox) 36 HRs
Top pitcher: Mort Cooper (St.L. Cardinals) and Tex Hughson (Boston Red Sox), 22 wins
NL MVP: Mort Cooper (St.L. Cardinals) P
AL MVP: Joe Gordon (NY Yankees) 2B
World Series: St. Louis Cardinals defeat the New York Yankees, 4-1.
Boston manager Joe Cronin fined Ted Williams $250 for his half-hearted batting efforts in a game on July 22 and warned that any further loafing would result in an indefinite suspension. Williams apologized for giving less than his best after fans booed him. "Joe did the right thing in taking me out of the game," Williams said of Cronin's response. "I'm just childish enough and thick-headed enough and screwy enough to let those wolves in left field get under my skin." Despite this tantrum, Williams was generally a picture of total concentration at the plate and won the first of his two batting Triple Crowns this season.
Boston Braves pitcher Jim Tobin, who had received poor run support in his recent starts, hit three consecutive home runs to aid his own cause on May 13 and earn a 6-5 win over the Chicago Cubs. No pitcher since the 1800s had ever produced such a slugging display. What's more, he belted a pinch-hit homer in Boston's previous game. Tobin also factored into another of the season's headline moments, drawing a third-inning walk that was the only thing to mar Cincinnati pitcher Clyde Shoun's otherwise perfect game.
The New York Yankees turned seven double plays in one game, a major league record, in a 11-2 win over the Philadelphia Athletics. Two of the DPs were credited to catcher Bill Dickey, who threw out runners attempting to steal after the batter struck out.
Lennie Merullo, the shortstop for the Chicago Cubs, had a nightmarish inning against the Boston Braves in which he committed four fielding errors, the most-ever in a single frame. It's conceivable that his miscues may have stemmed from a major mental distraction, namely news that his wife had gone into labor with the couple's first child. The son was nicknamed "Boots" because of his dad's botched plays. Boots wound up playing in the Pittsburgh Pirates' organization. Grandson Matt Merullo was a catcher in the majors between 1989 and 1995. Lennie Merullo is one of only two former Cubs still living who played in the 1945 World Series, the other being Andy Pafko.
Little more than a month after President Roosevelt declared war on Japan, he sent what has come to be known as the "green light letter" to Baseball Commissioner Kenesaw Landis. In what FDR said was a "personal and not an official point of view," he said it would be best for the country to keep baseball going. The president felt baseball could provided welcome recreation for hard-working Americans and encouraged more night games because "it gives an opportunity to the day shift to see a game occasionally." The owners decided that each team could play 14 night games, with the exception that the Washington Senators could play 21 games under the lights.
1952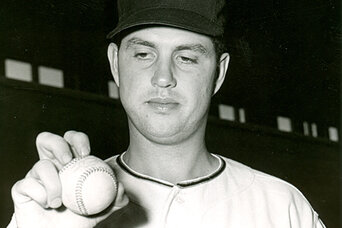 Top hitter: Stan Musial (St.L. Cardinals), .336 avg.
Top slugger: Ralph Kiner (Pittsburgh Pirates) and Hank Sauer (Chicago Cubs), 37 HRs
Top pitcher: Robin Roberts (Philadelphia Phillies), 28 wins
NL MVP: Hank Sauer, Chicago Cubs, OF
AL MVP: Bobby Shantz, Philadelphia A's, P
World Series: New York Yankees defeat the Brooklyn Dodgers, 4-3.
The Braves played their last game in Boston before moving to Milwaukee.
Hoyt Wilhelm began his Hall of Fame pitching career, at age 28, in a most unlikely manner – by hitting a home run in his first at bat for the New York Giants. It would be the only home run he would ever hit in 1,069 games. A masterful knuckleballer, he gained a reputation as a premier relief pitcher who remained effective long after most players retired, as he eventually did at age 49.
Ted Williams played only six games before heading off to active duty as a Marine Corps pilot in the Korean War. Before leaving, however, he hit a two-run homer that propelled the Red Sox to a 5-3 victory on "Ted Williams Day" at Fenway Park. The mayor of Boston and governor of Massachusetts attended the game, at which a sendoff ceremony concluded with everybody in the ballpark holding hands and singing "Auld Lang Syne." Williams capped his return to baseball in 1953 by hitting an eighth-inning homer in his first game.
Satchel Paige, who began his professional career in the Negro Leagues in the mid 1920s and saw mostly bullpen duty until finally gaining entry into the major leagues in 1948, was handed a starting assignment in 1952 for the St. Louis Browns against Detroit that wound up a pitching classic. The 45-year-old Paige outdueled the Tigers' starter, Virgil Trucks, in 12 innings, with both hurlers going the distance in St. Louis's 1-0 victory.
Roger Hornsby, who was one of the greatest hitters of all time, made a return to managing in the majors after an absence of 16 years (he had been the player-manager of the St. Louis Cardinals during the team's first championship in 1926). But the return was short-lived because St. Louis Browns owner Bill Veeck fired him on June 9 over a disagreement. The players were so pleased to see Hornsby go that they reportedly presented Veeck with a trophy as a thank you. Hornsby completed the year in Cincinnati and managed one more season with the Reds in 1953, before ending his managing career with a mark of 701-812.
On May 21, the Brooklyn Dodgers set a first-inning scoring record unsurpassed except once in 1894. The Dodgers sent 19 straight batters to the plate before Cincinnati was able to retire anyone en route to scoring 15 runs. Three batters at the top of the order had three turns each at the plate.
1962
Top hitter: Tommy Davis (LA Dodgers), .346 avg.
Top slugger: Willie Mays (SF Giants), 49 HRs
Top pitcher: Don Drysdale (LA Dodgers), 25
NL MVP: Maury Wills, (LA Dodgers) SS
AL MVP: Mickey Mantle (NY Yankees) OF
World Series: New York Yankees defeat the San Francisco Giants, 4-3.
National League baseball returned to New York, with the expansion New York Mets taking up residence in the Polo Grounds for their inaugural season. Casey Stengel managed the club, which was one of the worst in baseball history. Its 40-120 record put it 60-1/2 games behind the San Francisco Giants, the team that had left the Polo Grounds for California in 1958. Despite finishing even 18 games behind the ninth-place Cubs, the Mets drew nearly 1 million fans.
Stan Musial was truly "the Man" in 1962, turning in one of his best seasons ever at age 41. After failing to bat .300 in his three previous seasons, he compiled a .330 average, became the oldest player to ever hit three home runs in a game, and silenced rumors that he was over the hill.
Major league baseball made its debut in Texas with the first team ever named for a gun: The Houston Colt .45s became the Astros when the team moved into the Astrodome three years later.
The Dodgers moved out of the L.A. Coliseum into a brand new ballpark in Chavez Ravine, where they drew a major-league-leading 2.7 million fans. Ironically the first no-hitter at Dodger Stadium was tossed by rookie Bo Belinsky of the Los Angeles Angels, who shared the stadium for four years until permanently locating to their own new ballpark in Anaheim in 1966.
Dodger speedster Maury Wills became the first player to ever steal more than 100 bases in a season, with 104 thefts. He also was named MVP for both the season and one of the two All-Star Games played that season, an arrangement used for four years to build the players' pension fund, but terminated after 1962.
The Giants and Dodgers wound up deadlocked at the end of the regular season, just as they had in 1951, and once again they squared off in a three-game playoff to determine the National League pennant winner. As in 1951, the outcome wasn't decided until the ninth inning of the third game, when the Giants scored four runs in the top of the frame in their come-from-behind 6-4 victory.
In the World Series, the Yankees defeated the Giants in a seventh-game pitching duel, 1-0, that was especially sweet for Ralph Terry, who was credited with the win. Two years earlier, he was tagged with the loss after giving up the dramatic ninth-inning, seventh-game homer to Bill Mazeroski that gave the Pittsburgh Pirates the championship. It remains the only walk-off, Game 7 home run in World Series history.
1972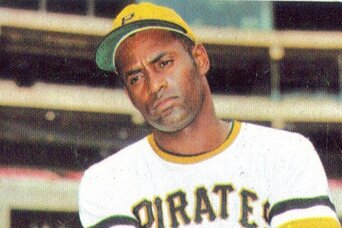 Top hitter: Billy Williams (Chicago Cubs), .333 avg.
Top slugger: Johnny Bench (Cincinnati Reds), 40 HRs
Top pitcher: Steve Carlton (Philadelphia Phillies), 27 wins
NL MVP: Johnny Bench (Cincinnati Reds) C
AL MVP: Dick Allen (Chicago White Sox), 1B
World Series: Oakland A's defeat the Cincinnati Reds, 4-3.
Baseball's first general strike, centered on pension issues, began on April 6 and was resolved just seven days later.
After 21 years in a Giants uniform, Willie Mays returned to the city where his career began, but this time as a 41-year-old member of the New York Mets. In the first game after being acquired from San Francisco, Mays homered against his former teammates to give his new team a 5-4 win. In June, when the Mets traveled to San Francisco, Mays did it again, hitting a solo shot that proved to be the game winner. As Mets manager Yogi Berra tried to fit Mays into his young lineup, he had him play 11 of 69 games at first base rather than his familiar center field.
In his fifth big-league season, Reggie Jackson stirred things up with the Oakland A's by becoming the first major leaguer with a mustache since Wally Shang sported one with the old Philadelphia A's in 1914. Rather than make facial hair a disruptive issue, A's owner Charlie Finley acted counterintuitively and declared June 18 Mustache Day and offered to pay any Oakland player $300 if he grew a mustache by Father's Day.
In the last at-bat of his 18-year major-league career, Pittsburgh's Roberto Clemente collected his 3,000th hit with a double off the Mets' Jon Matlack. After the season, on Dec. 31, he was killed in a plane crash that was attempting to deliver earthquake aid to Nicaragua. The Baseball Hall of Fame waived its eligibility requirement that a player must be retired five years in posthumously inducting Clemente in 1973, making him the first Latin American player ever enshrined.
The Supreme Court voted 5-to-3 to dismiss Curt Flood's lawsuit challenging baseball's antitrust exemption and its use of the reserve clause, which kept players from becoming free agents. The lawsuit grew out of Flood's objection in 1969 to report to the Philadelphia Phillies after St. Louis traded him along with three other players. As a 12-year veteran, Flood claimed he should have had some control over where he played, and rather than report to the Phillies, he sat out the 1970 season. After a year out of baseball he was able to sign a contract with the Washington Senators, but only played 13 games for them before retiring in 1971. Despite the Supreme Court decision against him, Flood broke the ground that led to free agency in 1975.
Nolan Ryan struck out 16 batters twice in games only eight days apart. In the second game, on July 9, he one-hit the Red Sox, fanned eight in a row at one point, and in the second inning struck out three batters on just nine pitches.
1982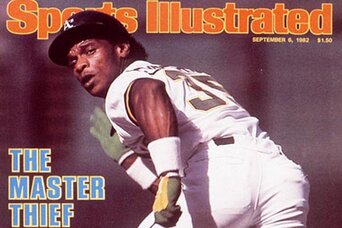 Top hitter: Wade Boggs (Boston Red Sox), .349 avg.
Top slugger: Reggie Jackson (California Angels) and Gorman Thomas (Milwaukee Brewers), 39 HRs
Top pitcher: Steve Carlton (Philadelphia Phillies), 23 wins
NL MVP: Dale Murphy (Atlanta Braves), OF
AL MVP: Robin Yount (Milwaukee Brewers), SS
World Series: St. Louis Cardinals defeat the Milwaukee Brewers, 4-3.
If there were a record for the best attendance on a cold day, fans of the Cleveland Indians may have set it on April 10, when 63,443 showed up an Opening Day game at Municipal Stadium. Game time temperature was 38 degrees F., but the wind show made it seem like 17 degrees.
Rickey Henderson shattered Lou Brock's stolen base record, set in 1974 with 118, with 130 steals. Oakland manager Billy Martin called Henderson the most exciting player since his former Yankee teammate Mickey Mantle. The A's "Man of Steal" set the record at age 23, but went on to play 21 more seasons, also overtaking Brock's record for career steals with 1,406 compared with Brock's total of 938.
For the first time, the All-Star Game was played outside the United States, at Olympic Stadium in Montreal. Four Expos were in the National League starting lineup: outfielders Tim Raines and Andre Dawson, catcher Gary Carter, and pitcher Steve Rogers. The National League won, 4-1. The only other All-Star Game played in Canada occurred in Toronto in 1991.
Making it another noteworthy season for Canada, Chicago Cubs pitcher Ferguson Jenkins, the first and only Canadian ever elected to the Baseball Hall of Fame, reached 3,000 career strikeouts. In 2010, he was honored with his own Canadian postage stamp.
Pitcher Gaylord Perry, who had long been suspected of throwing illegal spitballs, was for the first time ejected from a game after being caught with a "foreign substance" on the ball (spitballs were outlawed in 1920). Despite the cloud that hung over Perry's pitching practices, he managed to make the Hall of Fame in 1991 and reached the 300-win milestone in 1982 with the Seattle Mariners.
On Aug. 4, outfielder Joel Youngblood became the only player in major league history to play on two different teams on the same day and get hits off a pair of future Hall of Fame pitchers. As a New York Met in the afternoon, he singled off the Cubs' Ferguson Jenkins at Wrigley Field. Before the game was over he was traded to Montreal. Youngblood joined the Expos that night in Philadelphia, where he collected a hit off Steve Carlton.
The Cincinnati Reds went from having the best record in baseball in 1981 to being the game's second worst team in 1982, when they finished 28 games behind the Atlanta Braves in the National League's Western Division. It was the team's first last-place finish since the 1930s. Perhaps the Reds were still in a funk over what happened in 1981, when they didn't even make the playoffs despite having the league's best overall record. That's because they didn't win their division in either half of a split season-format, created when a players strike interrupted play in mid-season.
Atlanta slugger Dale Murphy won the first of two straight National League MVP honors. Oddly, however, he never has been elected to the Hall of Fame, making him the only multiple MVP winner in either league besides Roger Maris never enshrined.
Milwaukee won its first World Series since 1957, and the only one as an American League team playing in the so-called Suds Series against St. Louis, matching cities associated with the beer industry.
1992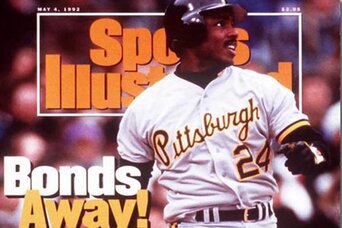 Top hitter: Edgar Martinez (Seattle Mariners), .343
Top slugger: Juan Gonzalez (Texas Rangers), 43 HRs
Top pitcher: Jack Morris (Minnesota Twins) and Kevin Brown (Texas Rangers), 21 wins
NL MVP: Barry Bonds (Pittsburgh Pirates), OF
AL MVP: Dennis Eckersley (Oakland A's), P
World Series: Toronto Blue Jays defeat the Atlanta Braves, 4-2.
Baltimore opened its trendsetting new stadium, Oriole Park at Camden Yards, which has led to a whole new generation of ballparks that fuse modern amenities with retro-style architecture. The popularity of this new/old approach spelled the end of characterless multipurpose stadiums.
Boston pitchers Roger Clemens and Matt Young set a major-league record by giving up only two hits in a doubleheader in Cleveland on April 12. Clemens got the win in the first game, but Young was saddled with a loss in the nightcap despite also pitching a one-hitter. He ran into problems in the 2-1 defeat by giving up seven walks.
While playing for the New York Mets, Eddie Murray surpassed Mickey Mantle as the switch-hitter with the most-ever RBIs. Many of his 1,917 career RBIs came from hitting home runs, which he did somewhat quietly during 21 years. Steady Eddie never had more than 33 home runs in a season.
Descendants of Daniel Boone became the first family to produce three generations of major leaguers as Bret Boone joins the Seattle Mariners as a second baseman. Before him, Ray Boone, his grandfather, was an infielder, and his dad, Ray, a catcher. Subsequently, three other families – the Bells, the Hairstons, and the Colemans – have joined this exclusive club.
Fay Vincent was sacked as Major League Baseball's commissioner and replaced on an interim basis by Bud Selig, the former president and owner of the Milwaukee Brewers. After six years as acting commissioner, the owners finally named Selig to the role permanently in 1998. In January of this year, the 30 club owners unanimously voted to extend Selig's contract two years, with an annual salary of more than $22 million. By serving until 2016, he could surpass Kenesaw Landis as the game's longest-serving boss.
An agreement in principle to sell the Giants to a group in Tampa, Fla., and move the team to St. Petersburg was vetoed by other team owners. Peter Magowan, an executive with the California-based Safeway supermarket chain, led a different group of investors who kept the franchise in San Francisco. Within a year, the club improved its record from 72-90 to 103-59, and by 2000 it had a new ballpark with a spectacular view of San Francisco Bay. AT&T Park became the first privately financed major-league baseball stadium built since Dodger Stadium in the early 1960s.
2002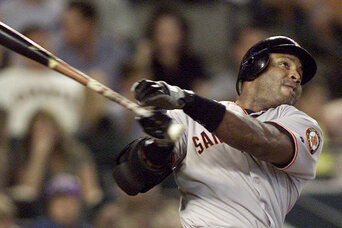 Top hitter: Barry Bonds (SF Giants), .370 avg.
Top slugger: Alex Rodriguez (Texas Rangers), 57 HRs
Top pitcher: Randy Johnson (Arizona Diamondbacks), 24 wins
NL MVP: Barry Bonds (SF Giants), OF
AL MVP: Miguel Tejada (Oakland A's), SS
World Series: Anaheim Angels defeat the San Francisco Giants, 4-3.
The Anaheim Angels, who began their existence as the Los Angeles Angels in 1961 and later became the California Angels, played in and won the World Series for the first time in their 42nd season. To secure the title, the team had to beat the San Francisco Giants, who themselves were looking for the team's first championship in 69 years. The series went seven games, and in Game 6 the Angels rallied from a 5-0 deficit in the seventh inning to win 6-5.
In the 16th year of his 19-year career, New York Mets pitcher Al Leiter notched a historic win over the Arizona Diamondbacks, making him the first hurler to record a win against all 30 big-league teams. In a somewhat similar feat, Fred McGriff became the first player to homer in 42 different ballparks. He did so while playing for the Chicago Cubs, one of five teams with which he collected 30 or more home runs.
The annual All-Star Game was called with the game tied, 7-7, after 11 innings because both leagues had used all their pitchers (a total of 19). Fans at Milwaukee's Miller Park booed the decision made by Commissioner Bud Selig, who used to own the Milwaukee Brewers. It was the first time the midsummer classic did not produce a winner since 1961, when rain forced a premature ending.
Outfielder Shawn Green of the Dodgers turned in one of the greatest three-game hitting performances ever. It began with a 6-for-6 outing in which he hit four home runs and established an all-time single-game mark for total bases (19). He followed with a homer and a pair of singles in the next game, and hit two home runs and collected six RBIs in the third game. No other player has ever hit seven homers in a three-game span.
Major league players and owners managed to avert a possible ninth play stoppage in 30 years by agreeing on Aug. 30 to a new collective bargaining agreement only minutes before a potential disruption. Two factors may have facilitated the negotiations: 1) several weeks earlier the players accepted steroid testing, to begin in 1993, and 2) with the playoffs on the horizon neither side wanted to see a strike like that which wiped out the World Series in 1994.
While with the Atlanta Braves, Greg Maddux joined Cy Young as the only other pitcher to record 15 consecutive seasons with 15 or more wins. He eventually ran the streak to 17 seasons.