1.Nika riot, 532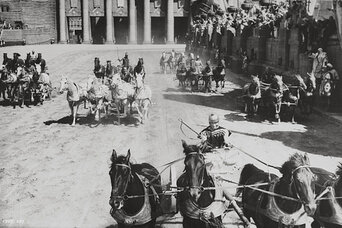 More than 30,000 citizens of ancient Constantinople (now Istanbul) died in January after a chariot race in the Hippodrome between the Blues and the Greens, two of the four prominent factions in the empire. After the race, Emperor Justinian accused some faction members of murder and sentenced them to death. Citizens reacted by invading the emperor's palace after a second chariot race in the Hippodrome, where thousands of faction members died in the five-day riot. Throughout the rioting, people yelled, "nika," Greek for victory or conquest.
Richard Ginsburg, a professor of psychology at Harvard Medical School and author of "Whose Game Is It, Anyway?" says such actions mimic primal and tribal behavior. "When your tribe gets beaten by another tribe, it can be very threatening," he says.
Heysel disaster, 1985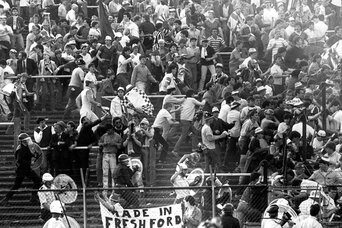 During the European Cup Final in May 1985, Liverpool (of England) played Juventus (of Italy) at the Heysel Stadium in Brussels. A stadium wall collapsed after Liverpool fans charged through police toward Juventus fans. Thirty-nine fans died and more than 350 were injured. The incident led British Prime Minister Margaret Thatcher to ban all English football teams from competing for two years in Europe.
Large crowds inspire fans to be more daring and to take part in group activities they would not normally engage in, says Adam Naylor, sports psychology director at the Boston University Athletic Enhancement Center.
"Once we're in groups and crowds, we tend to get a little more stupid. There's less individual identification," Dr. Naylor says.
NBA championship, 1990
Seven people died amid rioting in Detroit after the Detroit Pistons, playing in Portland, Ore., against the Trail Blazers, won the NBA championship in Game 5.
Fans' emotional investment, whether the game is at home or away, leads to people's radical behavior, says Naylor.
"We know that most passionate fans identify with a certain team," Naylor says. "Your emotions kind of go with your team quite a bit, and there's a sense of investment – time, emotion, and money."
World Cup qualifier between South Africa and Zimbabwe, 2000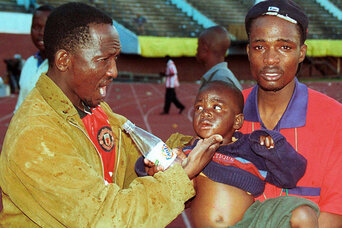 Angered by a second goal scored by South Africa, which brought the score to 2-0 against Zimbabwe, fans became rough and restless in the stands. Police responded by launching tear gas into the crowds. As rioting continued, herds of fans attempted to flee the stadium in Harare, creating a stampede that killed 13 people.
"We've seen many examples in war and in concerts and in political rallies where groups can bring out the best and worst in people," says Ginsburg. "The sort of mob mentality – once that gets going, people can get pulled into it."
MLB American League championship, 2004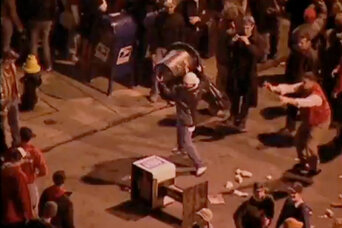 The Red Sox's win over archrival New York Yankees in Game 7 of the league championship series turned ugly outside Boston's Fenway Park. Rowdy celebrants climbed trees and poles, and lit cars on fire. Police used pellet guns with rubber bullets to try to force crowds out of the area, one of which struck and killed Victoria Snelgrove, a 21-year-old college student.
In many cases of spectator-related violence, alcohol is the trigger that alters behaviors and actions, says Naylor. "You already have groups and crowds and emotion," he says. "Throw in alcohol, and you're not so bright."
Boston Mayor Tom Menino implied as much after the melee, when he said: "We're going to have to take some drastic measures since people won't act responsibly. I as mayor will take it into my own hands, and probably ban liquor being sold in bars and, once the game starts, bar TV cameras in the bars during the games – try to do everything we can to keep the peace."