1.Ryan Smith of Cape Coral, Fla.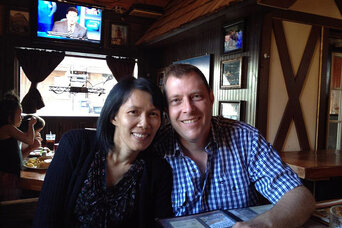 At the end of October, Ryan Smith received a letter from Florida Blue, the state's largest health insurer, informing him that his policy would be canceled after it expires next June.
Mr. Smith is one of 300,000 members of Florida Blue to receive such cancellation notices, as the insurer began to revamp its plans to comply with requirements of the Affordable Care Act, which goes into effect starting January 2014.
That letter prompted Smith, who runs a metal and plastic parts business out of his home, to begin shopping for a new policy. What he found was that he and his wife, Ning, a cook who specializes in Thai cuisine, would most likely pay double for their health insurance, from the $260 a month they pay now to something around $500, Smith says.
The uproar that ensued as canceled policies multiplied – to at least 4 million, by some counts – led President Obama on Nov. 14 to concede that an Obamacare fix was needed. Now, insurers such as Florida Blue will be able to offer people such as Smith their old plans for another year, the president said.
"If I can keep my current plan, then I probably will keep it," Smith said by e-mail the day after the announcement. "Not sure what Florida Blue will do though. It may be too late for them to reverse course."
That puts Smith in a holding pattern. And with all the snafus at HealthCare.gov, the federal online exchange where people from 37 states are supposed to be able to shop for health plans, he wonders if more changes lie ahead.
He has been on the Obamacare exchange, but says he didn't find a suitable plan. The open market plans are a little cheaper, he found, because they have a more stable pool of nongroup members – at least for now. And, frustratingly, his income from his small business was 406 percent of the federal poverty level in 2012 – or just about $1,000 too much to qualify for a federal subsidy to help defray costs of health coverage.
Still, given his past experience with "individual" health plans – a market pool notoriously volatile for insurers – he's not altogether upset by the changes that have come with Obamacare.
"In some ways, I feel better, because I can't get rejected," he says. "That makes me feel a lot better, actually. Yeah, I'm paying more money – maybe $200 a month plus – and I don't like that. But I'm more confident I'll have insurance – companies won't be able to drop me for some little rule or something."
When Smith and his wife, who are both in their early forties and who do not have children, relocated to Cape Coral from West Des Moines, Iowa, in 2012, they say they were refused coverage by Golden Rule, a division of UnitedHealthcare, which serves 27 million members. Smith takes lisinopril for high blood pressure and pravastatin for high cholesterol, so when a broker then hooked him up with a Humana policy, the Kentucky-based insurer serving more than 11 million customers said no to him, too.
Despite these preexisting medical conditions, after a few months in their new home the Smiths were approved for a bare-bones, high-deductible policy by Florida Blue. Now, just a year later, he has to go through this process again.
"It's all myself – no employees," Smith says. "So if I do get sick or anything – I mean, if I'm down, I'm in trouble."
But he and his wife are happy to be in Florida. They even hope to open a Thai restaurant in the near future. And although they'll be paying more for insurance, they feel a bit more secure.
Smith is shopping for a "bronze plan" now, the cheapest of the metallurgically-labeled coverage levels that many private insurers are using, echoing the labels of Obamacare. With the cheapest plan, Smith and his wife will each have a $6,350 deductible, or a $12,700 yearly out-of-pocket cost for health services they use. Until they cross that threshold, this type of plan pays only for a few primary-care visits and a basic drug benefit.
"I have more confidence that I'll have real insurance now," he says. "You know, I don't like to pay more, but I have more confidence that I'm going to have some coverage that won't get yanked from underneath me."
– Harry Bruinius, staff writer
Jon Gault of Seattle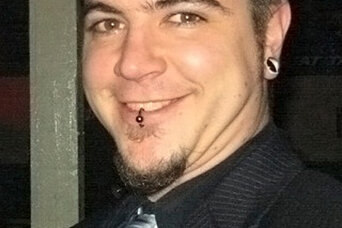 [Updated Jan. 7, 2014.] Some nights, when Jon Gault felt his worst, he wondered if he would live long enough to see his 17-year-old son go to college or to walk his daughter, now 8, down the aisle.
So when the Seattle resident signed up for Washington's state-run Obamacare exchange in October, he was jubilant. Mr. Gault, 35, had worked as a civilian contractor, but he was laid off in 2001 and has not had health insurance since. He now owns a body modification shop, Piercing by Jon, but diabetes has been a constant concern for him, often spiraling out of control. As his stack of hospital bills grew, his hope dimmed.
Media outlets estimate that more than 7,300 people signed up for coverage on Washington State's exchange between Oct. 1, when President Obama's healthcare marketplace was opened to the public, and Nov. 10. Although many have reported problems with the federal HealthCare.gov site, Gault says Washington's site was surprisingly easy to navigate and he was quickly approved. The price came as a pleasant surprise also. Thanks to federal subsidies, Gault will not have to pay for his coverage.
It's a relief, he says. Last year, he went to the hospital emergency room twice, but he expects those visits to become a thing of the past now that he is able to afford a more-expensive kind of insulin that is more effective for his type of diabetes.
"I went from being denied health insurance several years ago to actually having it now," Gault says. "It's kind of nice."
But his decision has not come without detractors. Many of his Republican friends have dismissed his newfound hope, and he has stopped trying to argue with them. They are not seeing the bigger picture, he says. It's not about how much it will cost; it's about those it will help. Everyone will benefit at least indirectly, because people they love and care about will benefit.
As for him, he says he no longer has to choose between providing for his family or taking care of himself. His fiancée is covered by her employer, and his daughter is covered by Medicaid. He feels everyone should at least explore their possibilities.
"Instead of looking at the money, look at the lives," he says. "There's a lot of people who at one point were going die but now have a chance."
– Carmen K. Sisson, correspondent
Stacie Clary of Capitola, Calif.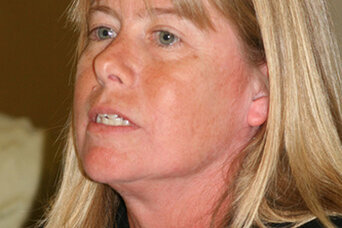 Stacie Clary is a consultant for nonprofit groups and a career coach who lives in the small coastal city of Capitola, Calif., about an hour south of the San Francisco Bay. Her husband, Herb Walker, is a website developer. They're both self-employed and have bought health insurance on the individual market for years.
Their current policy is a high-deductible plan from Anthem that costs $268 per month. It requires them to spend $10,000 to $12,000 out of their own pockets on health care before coverage kicks in. It also allows one annual preventive-care doctor visit apiece each year.
Ms. Clary says she and Mr. Walker have been happy with the plan, despite its limits.
"We knew that we were taking a risk that if one of us got very sick we would be paying a lot out of pocket," she says. "But we're both healthy and we wanted something so we wouldn't go bankrupt" if either of them became seriously ill.
But Anthem has notified them their plan is being canceled at the end of the year, as it does not meet Affordable Care Act standards. So Clary has begun looking into the purchase of a new policy from Covered California, the state's new ACA health insurance marketplace.
She can't find anything comparable to what they have now, she says. Even the cheapest plans available on the exchange cost much more than their current plan. A Covered California navigator said the least-expensive "bronze" level insurance coverage in their area is priced at about $650 a month, according to Clary. A private insurance broker told her the same thing.
A search on HealthSherpa.com, an unofficial website that allows Californians to comparison shop for Obamacare insurance, indicates that "bronze plans" in Capitola for a nonsmoking couple range from $525 to $550 a month.
"Bronze plans" are more extensive than the couple's current insurance, says Clary, but she and her husband can't afford the extra $300 or $400 per month that they cost.
"We really don't know what we're going to do," she says.
Their annual income is 450 percent of poverty, so they are just over the threshold of eligibility for federal subsidies to help buy insurance.
Ironically, Clary and Walker may be exempt from the Obamacare mandate that Americans purchase health coverage. The "bronze plans" available to them would cost more than 8 percent of their annual income. That means they qualify as a hardship case and would not have to pay a tax penalty if they chose to forego coverage for the first time in decades.
Their insurance outlook might be different if they lived in one of California's major metropolitan areas, where there is more competition between health-care providers and between insurers eager to gain new customers from large urban populations.
For instance, in the posh Nob Hill section of San Francisco, the cheapest "bronze plan" for two adults costs $450 a month, about $100 less than in Capitola. And in the famous Beverly Hills ZIP Code of 90210, comparable coverage costs between $360 and $390, according to HealthSherpa.com.
On Nov. 14, President Obama changed course and said that health insurers could temporarily continue to offer health plans that don't meet ACA standards. If Anthem decides to keep offering the plan Clary and Walker now have, at or near its current price, they'd "certainly keep it," she says.
If the plan's price rises to near that of Obamacare "bronze" polices, they might opt for the latter.
"We're just waiting to see what Anthem does," she says.
Clary says she supports health-care reform and is not motivated by political opposition to the Obama administration.
"I'm just tired of hearing how we're not really being hurt, when we are," she says.
– Peter Grier, staff writer
Powell Latimer of Tallahassee, Fla.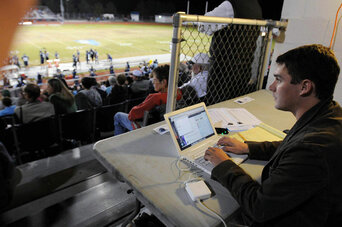 When sportswriter Powell Latimer left the Wilmington (N.C.) StarNews this past summer to take a job in Florida, he boosted his pay by $6,500 a year but lost his health-care benefits.
"They throw in an extra $2,000 stipend for health care," he says of his new employer. But "$2,000 – I'm not sure it's going to cover all the health-care that I want to buy."
Like many young people, he has bare-bones medical needs. "I'm 25," he says. "I don't have any pressing health concerns." Even when he had benefits, he visited a doctor only once in the past three years.
While the stipend wouldn't cover all the costs, the prospect of paying for health insurance isn't overwhelming, at this point. Technically, under the Affordable Care Act Mr. Latimer could still be covered by his parents' plan until March, when he turns 26. In his new hometown of Tallahassee, Fla., the available plans for a single 26-year-old on the HealthCare.gov exchange range from $181 (for a "catastrophic" plan that covers less than 60 percent of medical costs) to $325 a month (for a "platinum plan" that would cover 90 percent of costs).
The catastrophic option is generally available only to people under 30 or those with limited incomes. After reaching age 30, Latimer would have to sign up for the "bronze plan," currently $210 a month. (With a $40,000-a-year salary, he might qualify for a lower price because the Obamacare law includes discounts for individuals who make less than $46,000 a year.)
Latimer hasn't signed up yet – he has been too busy covering the college football season for Rivals.com. He did go online recently to set up an account at HealthCare.gov, but he has yet to finish the application. "Once I got into it, it worked fine," he says of the federal website, whose early glitches are now infamous. "It didn't kick me off or anything."
Health care has been the subject of a political tug of war among groups representing young people. Young Invincibles, a Washington-based group allied with minority, union, and other left-leaning groups, is urging young people to sign up. Generation Opportunity, a conservative group in Arlington, Va., has been running "Creepy Uncle Sam" videos online. The message: Young Americans shouldn't shoulder the burden of subsidizing Obamacare for seniors. The group urges young people to opt out of the program by paying the penalty and buying cheaper health insurance on the open market instead.
But the political back-and-forth in Washington has not permeated Latimer's social circles. Colleagues without employer-provided health benefits occasionally grouse about not having benefits through their company and having to buy insurance themselves. But the discussion ends there.
"It hasn't come up in social settings much," he says. "It's hard to get through the spin on each side. Some people say it's the greatest; some people think it's the Great Satan."
The effect of the Affordable Care Act would be more pronounced if he got married, Latimer says. "It would definitely make other jobs that offer health benefits vastly more appealing…. A full heatlh-care plan is insanely expensive. You're going to pay $800 a month for health care. How does that jibe with people my age making my salary?"
– Laurent Belsie, staff writer