1.Head Start scales back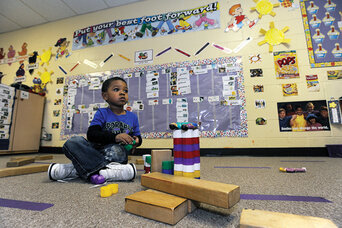 Pam Bernstein can already see the domino effect that the "sequester" is having on low-income children.
The federal cuts that kicked in March 1 required her to cut 5.27 percent of her budget as Head Start director for Lakes & Prairies Community Action Partnership in Moorhead, Minn., which serves Clay and Wilkin Counties.
The most immediate cuts amounted to $89,000. After consulting with a governing council that includes parents, she ended Head Start classes May 9, three weeks early. That meant 258 children lost out on preschool, meals, and other supports, and parents scrambled for alternative child care.
To absorb another cut of nearly $88,000 for the coming school year, she eliminated one program altogether – the only Head Start classroom in rural Breckenridge, Minn., which served 17 children and had a waiting list.
That closure is "very hard on the community," Ms. Bernstein says. "The social services director in the county is very concerned because he anticipates that child out-of-home placements will increase and social services caseloads will increase." And many of the kindergarten classrooms will see children who aren't as ready to start school.
Eliminating the classroom also meant letting go of a lead teacher, an assistant teacher, and a clerical support person.
Since the Head Start programs wrapped up early, Bernstein has heard from parents who say, "We're having to access the food pantries more often, because kids are home and they're hungry." She adds, "They're seeing some behavior problems; some mental-health issues are starting to arise."
Such scenarios will repeat across the United States, with the federal Office of Head Start estimating that the first year of the sequester could eliminate services for 70,000 children.
President Obama's proposal to better support early-childhood development gave her hope, Bernstein says, but with across-the-board cuts "it's very hard to stay positive."
– Stacy Teicher Khadaroo, staff writer
Youth corps: Funds dry up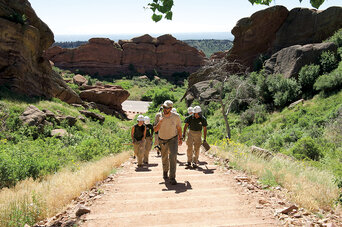 In gauging the effects of sequestration, there's been much talk about furloughs or layoffs. But for 400 or so young people in Colorado, the cuts mean they were never even hired.
Every year, the Colorado Youth Corps Association (CYCA) puts together crews of young people – generally between the ages of 14 and 25 – who spend weeks or months working on public lands: improving trails and campgrounds, helping reduce wildfire danger by removing fuels, felling trees affected by beetle kill, and removing the nonnative tamarisk trees that clog riverways.
The jobs the crews do are vital, says Jennifer Freeman, executive director of the CYCA. But just as important are the skills and work experience the corps members gain, as well as the AmeriCorps scholarship money that most earn for furthering their education.
"There's a great demand," Ms. Freeman says. In the past two years the CYCA has had nine applications for each available slot. For the past few years, it has employed about 1,600 young people.
This year, Freeman has seen most of the funds for crews dry up from the Bureau of Land Management – formerly one of its best supporters – because of the "sequester." Whereas last year the BLM funded 43 crew weeks (a crew week is a week of work for eight to 10 crew members), this year it is funding four.
Overall, Freeman estimates about $500,000 in federal funding cuts this year for Colorado youth corps, and she's worried that next year there will be even more cuts, especially from the US Forest Service.
"When sequestration hit, we were in full hiring mode," Freeman says. "It was hard to be in full-on recruitment and then have those funding sources be unsure and then fall off completely.... With unemployment at 16 percent for youths and young adults, there are no jobs to spare."
The Colorado office of the BLM has been a great partner in the past, Freeman says – in part because it needs the work done, but also because it believes in grooming the next generation of workers and engaging young people in the outdoors.
"The fact that youths and young adults seem disproportionately affected by these cuts is challenging to watch," she says.
– Amanda Paulson, staff writer
Less research money going to PhDs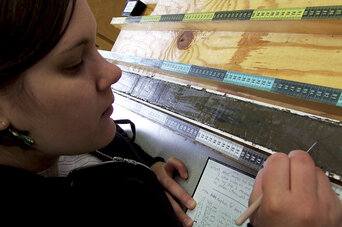 With a freshly minted PhD in hand and her first year of postgraduate research under her belt, Jacquelyn Gill would seem to be a fast-track, "sequester"-resistant scientist.
In September, she begins a full-time faculty position at the University of Maine in Orono – unusually quick, even in good economic times.
"It was good news in dire circumstances, given the job market right now for any academic," she acknowledges.
At the university, Dr. Gill will be judged primarily by the quality of her science research and the pod of graduate students – future scientists – she attracts and trains. While she relishes the idea of teaching undergraduates, "I'm already being told: Don't try anything too ambitious; you need to worry about grants and [research] papers."
The main source of money for her kind of research – the study of changes to plant and animal communities through time and the factors triggering those changes – comes from the National Science Foundation. In late February, however, the NSF announced that because of sequestration, it would fund some 1,000 fewer grants during fiscal year 2013 than in previous years – roughly a 10 percent cut in the average number approved.
Last winter, with the sequester in mind, Gill put her research project on hold and devoted two months to writing her first grant proposals, something postdoctoral researchers typically don't do. If funded, these would allow her to hit the ground running at the University of Maine.
Hers were "pre-proposals" – teasers by design. They would either get rejected outright or lead to an invitation to submit a full-scale proposal – for virtually certain funding, or funding if money is available. One of her pre-proposals fell into the "if money is available" category. But the money wasn't available, so it didn't advance.
At this stage, she says, it's hard to know if her proposal would have gone forward had the NSF not had to incorporate sequestration into its funding calculus.
Typically, she says, scientists just starting out may be doing good work, but they lack the deep record of high-quality research that a 25-year veteran might accumulate. It's not unusual for a beginning university scientist to go three or four years before the first grant rolls in.
In recent years, however, the NSF also has reduced the number of times scientists can apply for a grant in a given year. Now, they can apply only once a year, instead of every six months. The number of times a scientist can submit a proposal as a lead scientist also has been cut.
It's possible Gill may receive her first grant with only three years remaining before she faces a tenure committee. No tenure means another job hunt. "I get fewer opportunities to submit proposals, and the odds of getting a funded proposal are declining," even as demands that she produce good science are increasing, she says.
This is leading some still working on their PhDs to consider other lines of work, researchers say, who note that US budget woes are eating into research at a time when the nation also is placing increased emphasis on science, technology, engineering, and math education.
– Pete Spotts, staff writer