1.Jefferson County, Ala.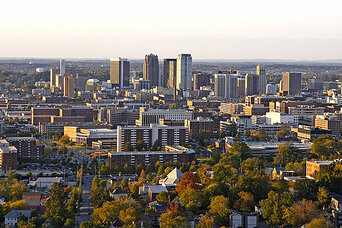 Home to Birmingham, Alabama's largest city, Jefferson County sought to reorganize its finances in fall 2011 under Chapter 9 of the federal bankruptcy code. A failed overhaul of its sewer system and other bad decisions left the county reeling under more $4 billion of debt and unable to raise taxes, fees, or payments for bonds issued by Wall Street banks. An earlier decision by the state Supreme Court striking down a local income tax has forced county officials to try to persuade the state Legislature to authorize another tax or warn of new budget cutbacks.
Orange County, Calif.
Officials in Orange County, which is sandwiched between Los Angeles and San Diego, discovered in 1994 that ill-advised investments in complicated financial instruments by its treasurer had left the county $1.5 billion in the hole. The county declared Chapter 9 bankruptcy, sweeping budget cuts were enacted, and as many as 3,000 municipal employees were laid off. The treasurer, Robert Citron, was convicted of multiple felonies. The county emerged from bankruptcy in 1995.
Cleveland
In 1978, the combination of a shrinking property tax, a reluctance to raise tax rates, and increased city expenditures made Cleveland the first major US city to default on its debt obligations since the Depression. Even after the mayor negotiated a refinancing deal with local banks, the city struggled to eliminate some $30 million in debts for years. It took until 1987 for the city to emerge from default.
New York City
The nation's largest city had run repeated budget deficits for a decade because of declining tax revenues, generous labor contracts, and increased welfare rolls. By 1975, creditors and potential lenders had forced a premium on new debt, and the city was close to running out of money altogether. The situation stabilized after the state effectively took over the city's finances and Congress agreed to give the city $2.3 billion in short-term loans. But it wasn't until 1981 that the city could again borrow money from the bond market.
Harrisburg, Pa.
Officials in Pennsylvania's capital had long hoped that an electricity-generating trash incinerator built in 1969 would yield a reliable revenue stream. But years of upgrades and repairs had put the city on the hook for more than $300 million in debt – more than three times the overall budget. Faced with strong opposition to tax hikes, the city council sought Chapter 9 protection in October 2011, but Gov. Tom Corbett (R) blocked the filing under state law and put a receiver in place to renegotiate the debts with creditors.