Washington
1.Short-term fix, long-term deal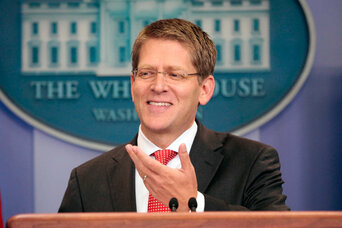 This is the president's new line in the sand: He'll back a short-term fix only to buy time for longer-term reform.
The new framework requires first that both sides "agree to something significant, then take the time needed to finalize details," Mr. Carney said on Wednesday. But there can be no extension without "a firm, committed agreement on something big," he added.
By short term, the White House means days, not weeks or months.
'Gang of Six' lite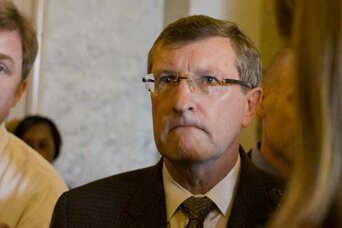 The draft plan released on Tuesday by the "Gang of Six" senators revived hopes that a bipartisan "grand bargain" was still possible. The draft plan aims to cut $3.7 trillion over the next decade, including cuts to Medicare and Medicaid and more than $1 trillion in increased tax revenues.
The plan will take months to fully implement, but elements could be lifted for a short-term fix, says Sen. Kent Conrad (D) of North Dakota, chair of the Senate Budget Committee and a member of the Gang of Six. These include a $500 billion "downpayment" on spending cuts that could be grafted on a short-term fix to raise the debt limit.
"The complete plan that we've put forward could not be finished in just a matter of weeks, because you are not going to reform the entire tax system of the United States in a matter of weeks, that's going to take months and months and months," he told reporters on Wednesday.
Fast track the McConnell plan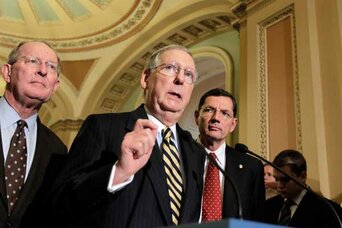 Senate leaders are continuing work on a plan proposed last week by Senate minority leader Mitch McConnell (R) of Kentucky.
In the short term, his plan allows the president to request a $2.5 trillion hike in the debt limit in three stages, each requiring a list of spending cuts at least as high as the requested increase in the debt limit. In the short term, that means that the debt limit would be raised $100 billion the day the president makes his request.
Senate majority leader Harry Reid (D) of Nevada is working with Senator McConnell to enhance the plan to make it more acceptable to Democrats, including $1.5 trillion in spending cuts and a bipartisan, bicameral panel to propose tax and entitlement reforms to further reduce deficits.
The increase in the debt limit automatically becomes law in 15 days, unless Congress passes a resolution of disapproval. On Tuesday, Senator Reid gave the Gang of Six 24 hours to come up with proposals from their plan to add to this measure.
On Wednesday, however, Carney said the president would veto the McConnell plan, at least as initially proposed.
"The president will not sign just a temporary measure that requires a repetitive process where we cast doubt on the capacity of Washington to deal with raising its debt ceiling, cast doubt on whether or not it's going to honor its obligations in a repetitive way," Carney said.
The 60-day hike
In a surprise move, Rep. Darrell Issa (R) of California, who chairs the House Oversight and Government Reform Committee, on Wednesday proposed approving a short-term increase in the debt limit until Oct. 1, the start of the new fiscal year.
A businessman would not write a check without making sure there were funds to cover it, he says, and in April, Congress passed a $1.055 trillion spending bill for the remainder of fiscal year 2011. Lawmakers now have an obligation to cover it, he says.
"Many of the [GOP] freshmen are businessmen and they want a principled way to go forward," he says. "The president is entitled to be able to cash checks we've written for him."
Mr. Issa says that he has consulted widely with the GOP caucus on this proposal and that six of the 59 Republicans who voted against the FY 2011 spending bill say they could support this proposal. House leaders have not commented on this proposal.
The problem is already solved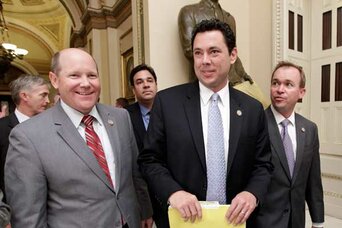 House Republican leaders say the talk of needing a short-term deal is premature. On Tuesday the House passed its "cut, cap, and balance" bill, which solves the problem, they say.
"The House has already voted to raise the debt limit, it's called the cut, cap, and balance," says Michael Steele, a spokesman for Speaker John Boehner.
The bill, which passed the House on a nearly party-line vote, 234 to 190, proposes cutting $111 billion in 2012, capping government spending at less than 20 percent of the nation's gross domestic product, and passing a balanced budget amendment to the Constitution.
The Democrat-controlled Senate takes up the measure in an unusual Saturday debate, but the president has pledged to veto it