New York
1.Would happen: Gay couples can marry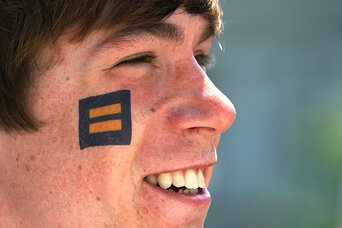 Today, same-sex couples can't marry in New York – though the state government does recognize gay marriages performed in other states, due to a 2008 executive order issued by then-Gov. David Paterson.
If the law passes, gay couples in New York would be able to tie the knot 30 days later.
Would happen: Marriage benefits for same-sex spouses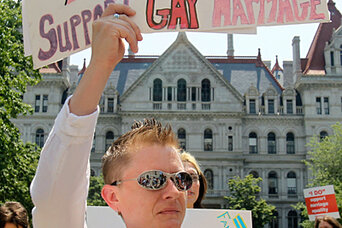 Though same-sex couples have some benefits in New York, including state employee benefits and hospital and nursing-home visitation rights, married couples are entitled to hundreds of additional legal benefits.
This discrepancy has been one reason New York Gov. Andrew Cuomo has vigorously supported the same-sex marriage bill since he was elected last November.
"For too long, same-sex couples have been denied the freedom to marry, as well as hundreds of rights that other New Yorkers take for granted," Governor Cuomo said last Tuesday at the introduction of the same-sex marriage bill in the state legislature.
Marriage benefits include pensions, inheritance, adoption and parenting rights, and spousal tax rates. Obligations include certain financial disclosures and the duty to pay child support.
Advocates say that without marriage protections gay couples face a range of practical and financial complications.
"This is something that's not only wrenching to the heart," says Christian Berle, deputy executive director of the Log Cabin Republicans, who lobbied in favor of the gay-marriage law. "It's also wrenching to the pocketbook."
Could happen: Impact on economy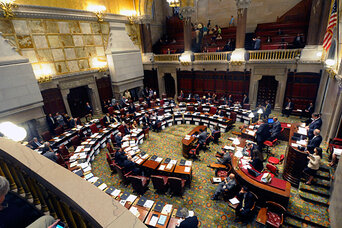 Thousands of same-sex couples from New York and surrounding states could head to the Empire State to be married – bringing millions of dollars with them.
Wedding parties pour money into private businesses, such as restaurants, hotels and wedding venues, and into the government, by way of sales taxes and marriage-license fees.
Gay marriages in New York could generate up to $210 million for the state's economy, according to a 2009 analysis by New York City Comptroller Bill Thompson. That would represent 0.02 percent of New York's roughly $1.1 trillion annual economic output.
The same analysis also notes that private employers who do not already offer benefits to domestic partners could face $69 million in new costs statewide if the law is passed.
Massachusetts experienced a gay-wedding boom after it became the first state to legalize same-sex marriages in 2004.
In the first four years after the law was passed, more than 12,000 same-sex couples living in Massachusetts were married there, according to a 2009 study by the Williams Institute at the University of California at Los Angeles School of Law. The couples spent an average of $7,400 on their weddings and, along with out-of-state gay couples, pumped more than $100 million into the state economy.
That same pent-up demand might not exist in New York, since three bordering states – Connecticut, Massachusetts, and Vermont – have had legal gay marriage since at least 2009. But New York's sheer size means even a small percentage of the gay population could have a measurable economic effect.
Could happen: Conservative political backlash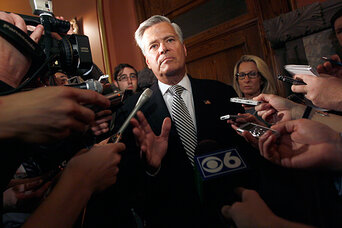 Conservative groups around the state have fiercely opposed the same-sex marriage bill, and some have promised to attack or support state lawmakers based on their vote.
The National Organization for Marriage vowed last month to spend $1 million in primary elections to support Democrats who vote against New York's gay-marriage bill and to challenge Republicans who vote for it.
"We want to be sure those courageous Democrats and Republicans who cast their vote of conscience in favor of traditional marriage will have a strong supporter if the radical gay activists come after them in their next election," said Brian Brown, president of the nationwide anti-gay marriage group, in a statement on May 10.
The state's Conservative Party, whose endorsements can prove critical to candidates in swing districts, threatened to withhold support for any Republicans who vote for the bill.
"You can't tell the people of the state of New York that you're on the Conservative Party line," says Shaun Marie, the party's executive director, "then not support what those values are."
Wouldn't happen: Federal benefits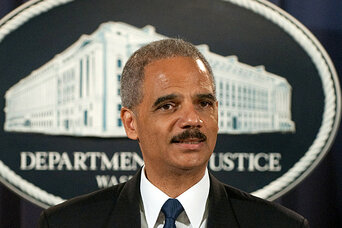 The 1996 Defense of Marriage Act (DOMA) bars the federal government from recognizing same-sex marriages, regardless of what states decide. As a result, same-sex spouses can't receive Social Security survivor payments, insurance coverage under a spouse's federal employee plan, or any other federal benefits that flow to married couples.
DOMA is currently facing a court challenge, and the Obama administration has said it will no longer defend the statute. Republicans in Congress have taken up the defense of DOMA through a private law firm.
Wouldn't happen: Churches forced to conduct gay marriage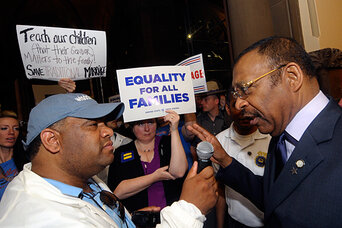 The law specifically exempts religious institutions and benevolent societies from solemnizing or hosting same-sex marriages, though Senate majority leader Dean Skelos (R) on Monday cited continuing concerns over the language of this part of the bill. He suggested the bill was being amended.
The bill shields churches, synagogues, and groups such as the Knights of Columbus from civil lawsuits should they deny gay couples the right to use their facilities for marriage ceremonies, advocates say. The stronger protections sought by Republicans are not necessary, they say.
"Clergy have never been forced to marry couples that they don't want to marry," says Sarah Warbelow, state legislative director for the Human Rights Campaign, a major proponent of the gay marriage law. The exemption, she says, is "just a restatement, so there are no questions and it's 100 percent clear."