1.'Fundamental tax reform'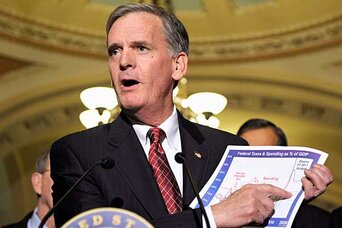 A sweeping overhaul of the tax code can boost economic growth and help solve the deficits.
Both Republicans and Democrats lauded the general idea known as "fundamental tax reform," which would simplify the tax code and broaden the base for tax revenues (by eliminating many credits and deductions). This would allow the government to collect more tax revenue without raising official tax rates on households and businesses.
Making the tax code more efficient would help to ensure that an effort to reduce federal deficits doesn't backfire by choking economic growth. Sen. Judd Gregg (R) of New Hampshire said the proposal "takes us out of this box" of debating unpopular tax-rate hikes as a deficit fix. The two sides still spar over details, with Republicans wary of using reforms to grab a lot of new revenue from taxpayers.
Keeping Social Security separate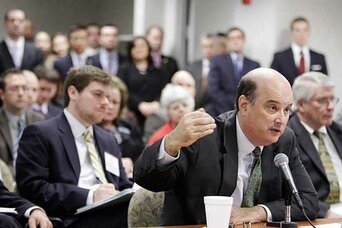 Social Security can be cordoned off as a separate problem. The plan orchestrated by commission chairmen Erskine Bowles (D) and Alan Simpson (R) proposes ways to make Social Security solvent for the next 75 years, but keeps these fixes separate from the panel's larger plans for reducing federal deficits. This is important, since Social Security often shows up in government accounts as part of a "unified" federal budget.
The approach could help defuse a volatile issue. It counters any temptation to overdo a fix for Social Security (such as through payroll-tax increases) as a backdoor way to improve the broader budget picture. And it means critics of Social Security can't blame it as part of the nation's general budget problem.
In listing their concerns about the commission's plan, some panel members said they'd tinker with the specific Social Security fixes that Bowles and Simpson offered, but the idea of treating the program separately drew little comment.
Defense cuts on the table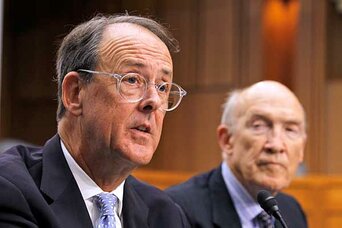 Defense can't be excluded from spending cuts. The commission's plan, which is set for a Friday vote by the panel's 18 members, calls for dividing discretionary spending into "security" (including homeland security) and "non-security" segments, and cutting both by equal percentages.
It's not clear if all panel members agree on that concept, but both Democrats and Republicans on the commission agreed that the nation's fiscal challenge is so big that no part of the budget can be off limits. That includes "mandatory" spending programs like Medicare, as well as the military component of discretionary spending.
During public discussion on Wednesday, the most vocal concern raised regarding military spending came from Rep. Xavier Becerra (D) of California, who worried that scrutiny of the Department of Defense spending wouldn't be tough enough under the plan.
Don't penalize the poor
Budgets shouldn't be balanced on the backs of America's least fortunate.
Republicans aren't exactly known for boosting social welfare programs. But panel members of both parties have voiced at least general support for the idea that fixing government finances shouldn't harm the poor. The commission plan, in which former Republican Sen. Alan Simpson played a key role, underscores this point in its proposals for Social Security.
Even while urging measures to close a projected shortfall in Social Security, the plan calls for an expanded benefit for low-income workers. It would also "bump up" benefits for people who have received Social Security benefits for more than 20 years, who may have outlived their retirement savings.
Panel member Tom Coburn (R), a senator from Oklahoma, said the government should help the truly needy, even as he called for a revival of self reliance as an American virtue. Meanwhile, Democratic panel member Alice Rivlin spoke up for fiscal prudence as an anti-poverty plan – saying the best thing that can be done for low-income Americans is to have a high-growth economy rather than a "catastrophe."