Washington
Winner No. 1: the Navy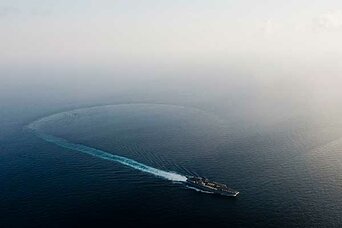 The Pentagon has made no secret of its plan to shift its attention toward the Pacific (read China) in the years to come. This is a boon for the US Navy, whose aircraft carriers and submarines will be key in any US military maneuvering that involves China, senior military officials stress. It is a change of fortune for a service branch that often felt marginalized amid the decade's two large counterinsurgency wars in Iraq and Afghanistan.
Indeed, despite some robust calls to reduce just one of the 11 aircraft carriers in the Navy's fleet, Defense Secretary Leon Panetta announced Thursday that this would not be happening. He cited the need for a Navy "that maintains forward presence and is able to penetrate enemy defenses."
What's more, the Pentagon will be putting money into developing, for example, "a new afloat forward staging base" and "a design that will allow new Virginia-class submarines to be modified to carry more cruise missiles."
The Pentagon is also currently working to develop an "undersea conventional prompt global strike option" – essentially arming submarine-based missiles with conventional warheads – despite a Bush administration decision to scrap it amid concerns that they would be mistaken for nuclear missile strikes.
"Modernizing our submarine fleet will be critical to our efforts to maintain maritime access in these vital regions of the world," Mr. Panetta said. One senior military official pointed to the Navy's "particularly useful role" in the seas around China, "for the things we want to do in the future."
Winner No. 2: Special Operations Forces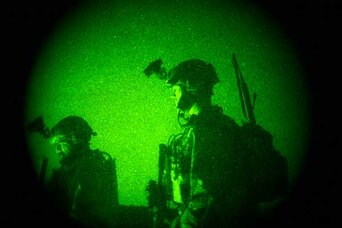 Even as the Pentagon shrinks the size of the Army and Marine Corps, it will be expanding the use of its Special Operations Forces (SOF) troops. Though the military will be "smaller and leaner," Panetta says, it will also be "agile, flexible, ready, and more technologically advanced."
The small teams of SOF forces that targeted Osama bin Laden and rescued an American hostage from Somali pirates will be increasingly operating from what US military officials describe as small "lily pad" bases around the globe.
The chairman of the Joint Chiefs of Staff, Gen. Martin Dempsey, cited the new capabilities of SOF forces as some of the US military's most significant achievements of the past decade.
Even as the wars in Iraq and Afghanistan come to an end, "Elsewhere in the world, the gradual drawdown of post-9/11 wars will provide more opportunities for Special Operations Forces to advise and assist partners in other regions," Panetta told reporters.
By elsewhere in the world, US officials tend to stress places like Yemen, the federal administered tribal areas of Pakistan, and Somalia.
Winner No. 3: unmanned aerial vehicles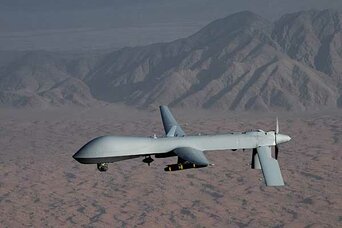 Pentagon officials who worry about the impact of cuts on the military are openly celebrating the proliferation of Predator and Reaper drones in US battlefields throughout the world.
Indeed, unmanned aerial vehicles (UAVs) – or "remotely piloted aircraft," as the Air Force prefers to call them – will see perhaps one of the largest proportional leaps in funding. The Pentagon will call for a nearly one-third increase in its UAV fleet in the years ahead.
The US military sees opportunities for UAVs not only in its current wars, but also in patrolling the seas, through what defense officials call a "sea-based unmanned intelligence, surveillance, and reconnaissance (ISR) systems," such as the Navy Fire Scout, an unmanned helicopter that can be outfitted with laser-guided rockets.
The Pentagon also declared its intent to "acquire advanced new ISR capabilities."
Loser No. 1: the Army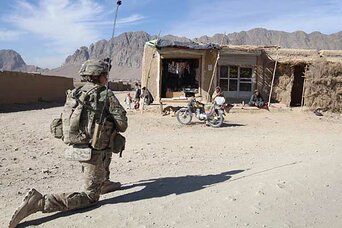 The Pentagon will be reducing the size of the active duty Army by some 80,000 troops over the next several years, from approximately 570,000 today to 490,000.
Even then, the force will still be slightly larger than it was before the 9/11 attacks, military officials point out.
It is easier to grow the ranks of foot soldiers than it is to create a new weapon system, senior US military officials tend to point out. And, these officials add, they feel more comfortable cutting the size of the service when troops have been "fundamentally reshaped by a decade of war," as Panetta puts it.
This means that the troops who remain are "far more lethal, battle-hardened, and ready," he added in remarks to reporters.
General Dempsey, for his part, endeavored to put a positive spin on the decreasing size of the Army, and the growing emphasis on Special Operations. "The Special Operations Forces can only be 'special' if there's a conventional force that allows them to conduct their operations and shape the environment, so we've got to do this all in balance, and I'm confident we've done that."
Loser No. 2: enemy hackers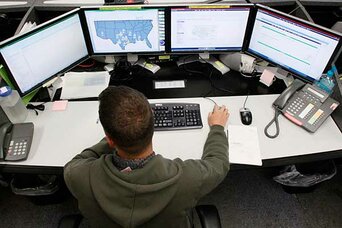 In Panetta's remarks and in Pentagon budget preview documents, one common theme involved warnings of the threat of cyberwarfare – and questions about whether the Pentagon can handle sophisticated cyberattacks.
As a result, the Pentagon is pumping more money into cyberoperations. In a rare disclosure about what is considered a highly secretive endeavor, Pentagon officials emphasized that this would include "both defensive and offensive capabilities."
Indeed, Panetta has warned frequently of a cyber "Pearl Harbor" and Thursday he called the threat of cyberattack one of "the most lethal and disruptive threats of the future."
The Defense secretary cited the perils, too, involved in not pioneering cutting-edge technological advances. "We're depending a great deal on being at the technological edge of the future," Panetta said. "We even have to leap forward if we're going to deal with the kind of challenges we're going to face. We've got to be smart enough, innovative enough, creative enough to be able to leap forward. Can we do that? Can we develop the kind of technology we're going to need to confront the future?"
That remains to be seen, say many analysts, who add that the answer depends on America's ability to fight off cyberattacks that may face America's electrical grid, its banking system, and the communications systems of US military assets on the battlefield.
Loser No. 3: future troops
Panetta emphasized that "the most fundamental element of our strategy" is "our people" and that "they, far more than any weapons system, far more than any technology, are the great strength of our United States military."
That said, US military personnel costs are skyrocketing: When taken together, military pay, health care, and retirement benefits have grown nearly 90 percent since 2001.
The Pentagon's budget allows for "full pay raises" for troops in 2013 and 2014 that will "keep pace with increases in private-sector pay." After that, though, "We will achieve some cost savings by providing more limited pay raises beginning in 2015," Panetta said. "This will give troops and their families fair notice and lead time before these proposed changes take effect."
Panetta emphasized that "nobody's pay will be cut." But there will be more costs to troops in the area of, say, health care. "We decided that to help control the growth of health-care costs, we are recommending increases in health-care fees, co-pays, and deductibles." This involves only current retirees, since senior military officials have emphasized the need to "keep faith" with the soldiers who have fought two wars in the past decade and have been promised certain benefits.
Current US forces will be grandfathered in, but future troops may be looking at reduced benefits as they begin to enter the US military. Panetta told reporters that he will ask Congress to establish a commission with authority to conduct a comprehensive review of military retirement benefits. It is a review that former Defense Secretary Robert Gates championed as well, as he warned that the current military retirement system – with generous benefits for troops who have served 20 years, for example – all but encourages service members to leave the military after that time.