Washington
1.Abu Ghraib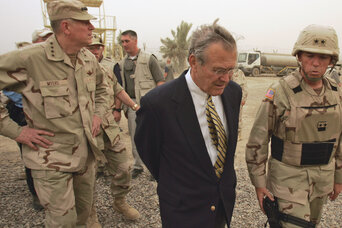 Digital photos that revealed the abuses at Abu Ghraib prison in Iraq were "taken by soldiers in acts of pornographic self-indulgence," Rumsfeld writes.
That said, he adds that he regrets not resigning as secretary of Defense in the wake of the scandal. "I now believe that this was a misjudgment on my part," he writes. "Abu Ghraib and its follow-on effects, including the continued drumbeat of 'torture' maintained by partisan critics of the war and the President, became a damaging distraction."
That does not mean, however, that Rumsfeld believes the administration bears any responsibility for these "inexcusable" acts. "Rather, they were the senseless crimes of a small group of prison guards who ran amok in the absence of supervision. To my knowledge, no one in the Pentagon had forewarning of the issues that gave rise to the abuses at Abu Ghraib."
He does take a moment to single out some Democrats who particularly displeased him during this period, however, including the late Sen. Edward Kennedy. "For a senior senator to equate the perverted escapades of a handful of guards on the midnight shift with the routine practices of rape, torture, and murder in Saddam's prisons was appalling, even by the low standards of a political season."
Rumsfeld also takes a number of swipes at former Army Chief of Staff and current Secretary of Veterans Affairs Gen. Eric Shinseki, who angered the Bush administration when he told Congress that America had needed more troops in Iraq.
Shinseki "had been in charge," he writes, "when the original deficiencies in training, selection of senior personnel and establishing [command] headquarters occurred." He also expresses his displeasure with Hillary Rodham Clinton, "the junior senator from New York, who was castigating the administration over the scandal."
Troop strength in Iraq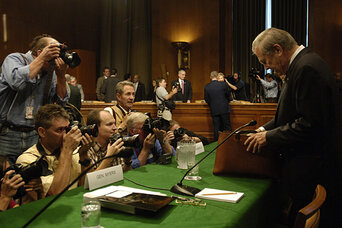 Rumsfeld responds to the frequent criticism that there were too few US troops in Iraq by noting that he was repeatedly assured that troop levels on the ground were just fine.
He acknowledges that he received a letter from Ambassador Paul Bremer recommending a review of troop levels in Iraq in May 2004. "Two years later, Bremer cited his letter as proof that he always thought US troop levels in Iraq were too low to enable the [Coalition Provisional Authority]'s mission to succeed," writes an annoyed Rumsfeld.
"As head of the CPA, Bremer had had ample opportunity to express his opinions, and he had commented favorably on existing troop-level decisions on several occasions," he adds. "I was not pleased that Bremer was recommending more troops for the first time as he was on his way out of Baghdad and not in person to provide his reasoning."
He says his decision to hold off on adding troops was logical for some time, though he concedes that "it is conceivable that several thousand more troops in Baghdad, where most of the media was located, might have at least kept the capital from appearing so chaotic, a perception that proved damaging throughout our country and the world."
Guantánamo Bay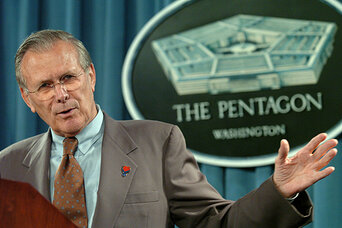 "One of my biggest disappointments as secretary of defense was my inability to marshal the resources within our government to help persuade America and the world of the truth about Gitmo," he writes. "The most heavily scrutinized detention facility in the world was also one of the most professionally run in history."
He calls critics of the prison "gullible people" who were duped by the terrorists trained to lie about their mistreatment in captivity for the purpose of discrediting America.
'The Army you have'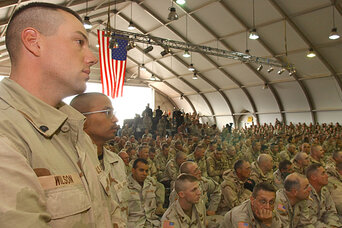 While Rumsfeld was visiting US troops headed to Iraq in 2004, a soldier pleaded for more armored vehicles. Rumfeld's response – "You go to war with the Army you have, not the Army you might want or wish to have at a later time" – was widely considered flip.
This is clearly a sore point for Rumsfeld, who notes that his answer was more complex than was quoted in the media. That said, he adds, "My response also told a simple truth about warfare." Rumsfeld further explains, "I later was told that the soldier's question had been planted by a Tennessee news reporter who had been embedded with the unit."
On this point, he offers no corroboration. "The source of the question was of little importance – it was a critical issue regarding the safety of our troops, and I did my best to answer it fully."
Treatment of detainees
Rumsfeld argues that he did not approve of the harsh techniques that US military officials initially requested to use against suspected terrorist captives.
"If you ask most Americans how many detainees were waterboarded at Guantanamo, the likely answers range from three to hundreds," he writes. "The correct answer is zero. When military interrogators at Guantanamo Bay sent up their chain of command a request to use waterboarding in late 2002, I rejected it. To my knowledge, no US military personnel involved in interrogations waterboarded any detainees – not at Guantanamo Bay, or anywhere else in the world."
He lists the US commanders who requested the use of techniques that also included "making the detainee believe that he, or a family member, might suffer death or severe pain if he failed to cooperate, exposure to the cold, and the use of mild, non-injurious physical contact such as grabbing, poking in the chest with the finger, and light pushing."
Rumsfeld writes that he later approved "only twenty four of the thirty-five techniques" that officials recommended. He does not detail these techniques, but he does cover his bases on accountability, noting that "each of the techniques I approved, I was told, had been unanimously supported by the members of the legal review team, as well as by each of the service secretaries and each of the members of the Joint Chiefs of Staff involved in the process."
He does accept criticism on one point, however: scrawling a note on a memo outlining a technique that could require a detainee to stand for up to four hours while interrogators questioned him. " 'I stand for 8-10 hours a day,' I wrote, 'Why is standing limited to four hours?' My offhand comment was a statement of fact. I used a stand-up desk and spent much of the day on my feet," he points out. But Rumsfeld concedes, "It was a mistake to make that personal observation to my general counsel. It certainly was not a signal to the Department that it would be okay to stretch the rules, as some have suggested."