1.The challenge to Prop. 8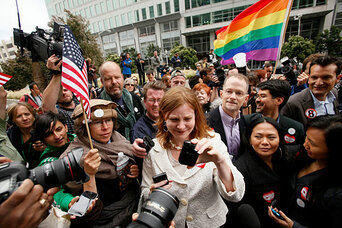 (Updated June 5, 2012)
A federal judge and a federal appeals court have invalidated California's statewide referendum that banned same-sex marriages.
Supporters of the referendum and ban had asked the full Ninth US Circuit Court of Appeals to rehear the case, Perry v. Brown (Case No.11-16577), but the court on June 5 declined to do so.
An appeal directly to the US Supreme Court is expected.
The challenge to DOMA: Federal appeals court in Boston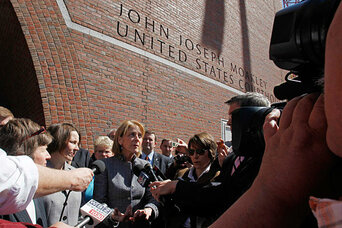 (Updated June 1, 2012)
The federal appeals court in Boston struck down the Defense of Marriage Act on May 31, 2012, ruling that the federal statute violates the constitutional rights of gay and lesbian married couples to equal treatment under the law.
The action by a unanimous three-judge panel of the First US Circuit Court of Appeals sets the stage for a much-anticipated showdown at the US Supreme Court over same-sex marriage. The First Circuit panel stayed its ruling pending further appeals. Appellate lawyers may either ask all active judges on the First Circuit to re-hear the case, or file an appeal directly to the US Supreme Court.
The decision came three weeks after President Obama announced his support of gay marriage. The Justice Department had initially worked to defend DOMA against the Massachusetts-based legal challenges, but last year announced it would no longer argue for the statute's constitutionality.
The panel ruled on three consolidated cases, Gill v. Office of Personnel Management (OPM) (10-2207), Massachusetts v. US Department of HHS (10-2204), and Hara v. OPM (10-2214).
The appeals court concurred with a July 2010 ruling by a federal judge in Boston declaring DOMA unconstitutional.
The challenge to DOMA: Federal appeals court in San Francisco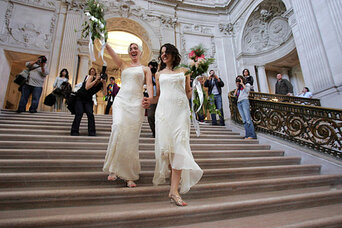 At the Ninth US Circuit Court of Appeals in San Francisco, a three-judge panel is set to hear a California-based challenge to DOMA. The case, Karen Golinski v. USOPM, stems from a federal judge's ruling in February that DOMA is unconstitutional. The appeals court case is docketed as 12-15388 and 12-15409. Briefing is set for this summer.
The case is expected to be appealed to the US Supreme Court.
Other challenges to DOMA in federal court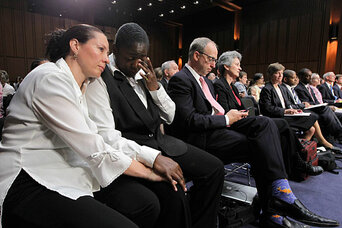 • Dragovich v. US Department of Treasury (10cv1564): In a challenge in Oakland, Calif., involving federal tax benefits offered for medical insurance for opposite-sex spouses, but not same-sex spouses, US District Judge Claudia Wilken struck down DOMA on May 25, saying it was based on "moral condemnation" of same-sex couples and violated constitutional standards in denying benefits to same-sex couples married under California law.
• McLaughlin v. Panetta (11cv11905) is a class action suit in federal court in Boston challenging DOMA on behalf of US military service members and their same-sex spouses who are denied the same federal benefits awarded to opposite-sex spouses.
• Joanne Pedersen v. OPM (10cv1750) is a DOMA challenge before a federal judge in New Haven, Conn. Ms. Pedersen is seeking access to the same benefits with her same-sex spouse as are offered to opposite-sex married spouses.
• Edith Windsor v. US (10cv8435) is a DOMA case before a federal judge in Manhattan. The suit challenges an Internal Revenue Service requirement that Ms. Windsor pay federal inheritance tax on her same-sex spouse's estate. Heterosexual married couples at the same income level are not subject to the estate tax under current law.