1.Sen. Saxby Chambliss (R) of Georgia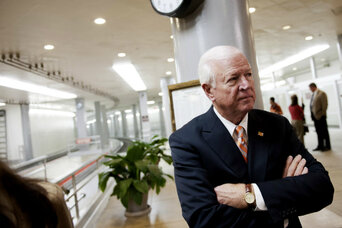 [Updated May 21, 2014, 5:00 p.m. EDT]
Sen. Saxby Chambliss (R) of Georgia, the top Republican on the Senate Intelligence Committee, announced that he will not seek a third term on Jan. 25, citing "frustration" with Washington gridlock.
Tea party activists in Georgia and beyond had been spoiling for a chance to knock out Senator Chambliss, who is best known for his efforts to work across the aisle with Democrats to find middle ground on issues like curbing deficits and debt. Only 38 percent of likely voters in the GOP primary backed Chambliss, compared with 43 percent who favored a more conservative, unnamed candidate, according to a December poll, although in a hypothetical head-to-head race in which both candidates were named, Chambliss defeated all likely GOP rivals.
"Many people in the tea party movement here in Georgia felt Chambliss was tired and unwilling to fight the difficult battles to control government spending in Washington without increasing our nation's tax burden," said Tea Party Express chairman Amy Kremer in a statement after Chambliss announced his decision not to run for reelection.
But the two leading tea party candidates, US Reps. Paul Broun and Phil Gingrey, both known for provocative statements, fell short in Georgia's May 20 Republican primary. Businessman David Perdue and Rep. Jack Kingston (R) of Georgia, both viewed as establishment Republicans, finished No. 1 and No. 2 and will face each other in a July 22 runoff. Mr. Perdue, the former CEO of Dollar General, won 30.6 percent of the vote; 11-term Congressman Kingston, known for his work on the powerful House Appropriations Committee, finished at 25.8 percent.
The GOP outcome marked a setback for Democrats, who had speculated that the crowded Republican primary would produce a candidate so far to the right as to be unacceptable to general election voters. With Chambliss out of the race, Georgia had been viewed as the No. 1 prospect for a Democratic takeover in the 2014 Senate campaign cycle. The demographics of the state are shifting, with more black and Hispanic voters as well as younger voters in the electorate and likely to support Democrats.
As expected, Democrats rallied behind Michelle Nunn, daughter of former Sen. Sam Nunn (D), a popular centrist and, until his vote against the Gulf War, a likely presidential contender. Ms. Nunn, a former CEO of President George H. W. Bush's Points of Light Foundation, is new to politics but recent polls had her either tied with or leading potential GOP opponents.
Sen. Tom Harkin (D) of Iowa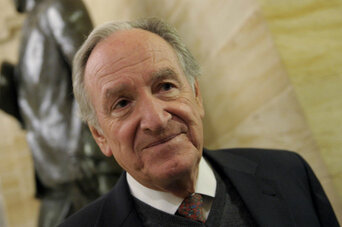 No Iowa Democrat has ever served longer in the US Senate than five-term Sen.Tom Harkin, an old-school, liberal progressive best known for his early and sustained support for the landmark Americans With Disability Act. His decision to not seek reelection, announced on Jan. 26, gives Iowans their first open Senate race since 1974.
To Republicans, it's also a more likely shot at a turnover, and, perhaps, an early test of whether national Republican groups, such as Mr. Rove's Conservative Victory Project, can dissuade conservatives deemed unelectable from getting into the race or can diminish their prospects.
Iowa is a classic swing state, with a Republican governor and a split congressional delegation: two Republicans and two Democrats in the House, a six-term Republican and a five-term Democrat in the Senate. The state backed George W. Bush, narrowly, in 2004 and Barack Obama in 2008 and 2012.
The high stakes of the 2014 Senate election have put pressure on potential candidates to come to a decision quickly. Four-term US Rep. Bruce Braley, the most likely Democratic nominee, announced on Feb. 7 that he will run for Senator Harkin's seat. He's raised nearly $2.3 million for the Senate race, well ahead of his GOP rivals, according to the Center for Responsive Politics. He also enjoys higher name recognition that all Republican contenders, all but one of whom he leads by double digits.
The Republican primary is more crowded, including David Young, former chief of staff for Iowa Sen. Chuck Grassley; former US attorney Matt Whitaker; state Sen. Joni Ernst; and Sam Clovis, a radio talk show host.
The GOP field is also notable for the absence of Rep. Steve King (R) of Iowa, a leading tea party activist who had been favored to become the nominee. Early on, establishment Republicans tried to ensure that Congressman King would not be the nominee.
"We're all concerned about Steve King's Todd Akin problem," said Steven Law, co-founder of the Conservative Victory Project, in comments to The New York Times. On Feb. 7, Representative King responded in an e-mail to supporters: "Nobody can bully me out of running for the US Senate, not even Karl Rove and his hefty war chest." But in a tweet to followers on May 3, King announced that he would not be running for the Senate in 2014. "A Senate race takes me out of urgent battles in Congress that can't wait until 2015," he wrote.
Tea party groups call the new Rove super PAC a bid to trump conservative grass-roots opinion with a Washington centrist viewpoint that also loses elections. "It's not a war on the tea party," countered Jonathan Collegio, spokesman for another Rove-founded super PAC, American Crossroads, in an e-mail. "Republicans have lost four to seven Senate seats not because of ideas but because of the candidates expressing the ideas," he added. "We're out to find and pick the best candidate."
Sen. John Rockefeller (D) of West Virginia
Five-term Sen. John Rockefeller's decision to step down after 2014 gives Republicans a strong shot at winning one of the six seats they'll need to take back control of the Senate.
Until the death of West Virginia Sen. Robert Byrd, the longest-serving member of Congress of all time, an open seat in West Virginia hadn't existed for more than a generation. Together, Senators Rockefeller and Byrd held US Senate seats in Democratic hands for nearly 80 years, even as the state was trending increasingly to the right. West Virginia has voted Republican in every presidential election since 2000.
Now, the leading Republican prospect is seven-term Rep. Shelley Moore Capito, who announced her intention to run in November and has nearly $2.9 million to spend on her race. She won reelection in 2012 with 70 percent of the vote.
Some conservative groups say her voting record on federal spending is too liberal, fueling speculation that Representative Caputo would face a tea-party primary challenge. Former Sen. Jim DeMint (R) of South Carolina, viewed by many as the godfather of the tea-party movement, and the antitax Club for Growth have criticized Capito's voting record in support of bailouts and big government. But tea-party recruiting efforts to find a credible primary challenger have, so far, fallen short.
However, West Virginia Secretary of State Natalie Tennant's decision to enter the race on Sept. 17 gives Democrats a big-name recruit. Still, Capito is leading her likely Democratic challenger by 14 points, according to a new survey by Public Policy Polling. enjoys a 14-point lead in a new survey by Public Policy Polling, but another 14 percent of West Virginia voters say they are undecided in this race.
Tennant's biggest challenge is the deep-seated animosity in the state toward President Obama, especially his so-called war on coal. In her first campaign video, Tennant tried to distance herself from the president. "When Washington Democrats take the wrong course, hurting our coal industry, I will do everything in my power to stop them, including standing up to President Obama," she said.
Sen. Mike Johanns (R) of Nebraska
The decision of freshman Sen. Mike Johanns to retire at the end of his first term took Senate colleagues by surprise. But with Nebraska solidly in Republican hands both at the state and congressional level, his departure isn't likely to revise the odds for a GOP takeover of the Senate in 2014.
Still, the Republican primary gave the tea party a lift, as Midland University President Ben Sasse, with strong support from outside conservative groups, defeated former state Treasurer Shane Osborn, a Navy war hero, in a race that highlighted sharp divisions in GOP ranks.
On March 28, FreedomWorks, a national conservative group that backs tea-party candidates, flipped its endorsement from Mr. Osborn to Mr. Sasse, citing Osborn's ties to national establishment Republicans. "At this point, it is clear that Shane Osborn formed allegiances with Mitch McConnell and the K Street lobbying class. For us, that progression away from the grassroots has tipped the balance," said Matt Kibbe, president of FreedomWorks, in a statement.
Mr. Sasse, who won 48 percent of the vote in a five-person field, is a former assistant secretary at the Department of Health and Human Services in the George W. Bush administration. He also worked with GOP presidential nominee Mitt Romney on his transition team. He was also backed by tea party Sen. Ted Cruz (R) of Texas and former GOP vice presidential nominee Sarah Palin.
Sid Dinsdale, the president of Pinnacle Bank, ran a surprise second in the May 13 primary and Mr. Osborn finished third.
Democrats, who currently hold no major statewide office, had difficulty recruiting candidates for this race. When Sen. Ben Nelson (D) of Nebraska announced his retirement in 2012, Democrats persuaded former Sen. Bob Kerrey, also a former governor, to return to Nebraska and get into the race. He lost to two-term state Sen. Deb Fisher by 16 percentage points. Sasse is heavily favored to defeat Democratic nominee Dave Domina, an Omaha attorney.
Sen. Carl Levin (D) of Michigan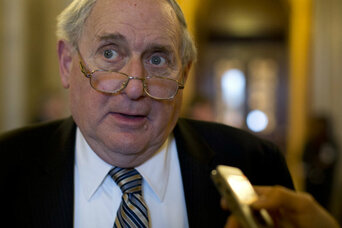 In a surprise move, six-term Sen. Carl Levin (D) of Michigan, the respected and famously hard-working chairman of the Senate Armed Services Committee, announced on March 7 that he will not seek reelection in 2014.
He is most likely to be replaced by Rep Gary Peters (D) of Michigan, who has solid party support and a war chest of some $1.7 million for the campaign.
But Senator Levin's decision to pass on a reelection bid also gives Republicans an unexpected pick-up opportunity in a state Democrats had been expected to win. The question is: Will Senate Republicans be able to recruit a top-tier candidate to compete with Peters in a state that rarely sends Republicans to the Senate. Until mid-August, that effort focused on Rep. Dave Camp (R), the chair of the tax-writing House Ways and Means Committee.
Congressman Camp initially declined to run, saying that he wanted to focus on Washington's fiscal woes and the sweeping tax reform plan he has been developing with Senate Finance chair Max Baucus. But by GOP House rules, Camp is term-limited as Ways and Means chair and will lose his gavel at the end of the current Congress in 2014, unless House leaders give him a waiver. (Camp is close to House Speaker John Boehner.) Early in August, Camp signaled that he was reconsidering that decision. But on Aug. 16, he again shut the door on a run.
"I will continue to put my full focus and effort on serving my constituents in mid- and northern-Michigan as their representative and as chairman of the Ways and Means Committee, he said in a statement.
Former two-term Michigan secretary of state Terry Land has announced her candidacy for the open Senate seat, but state Republicans – and campaign donors – have stayed largely in a holding pattern, waiting to see whether Camp would get into the race. With Camp's second exit, the issue becomes whether support will be forthcoming for the Republican what did get into the race.
Senate Democrats say they expect to hold the state. "We fully expect to keep Michigan blue in November 2014," said Sen. Michael Bennet (D) of Colorado, who chairs the Democratic Senatorial Campaign Committee.
So far, many analysts agree. "Michigan's fundamentals still pose major problems for Republicans," says Stuart Rothenberg of the Rothenberg Political Report. "Democrats have won the past six presidential elections and 11 of the past 12 Senate elections."
As chairman of the Senate Permanent Subcommittee on Investigations, Levin led probes of the Wall Street financial crisis, the Enron debacle, the credit card industry, and offshore tax havens.
After 34 years in the Senate, he says that wants to spend his last two years in office focused on "fighting for the things I believe in," including reviving manufacturing, ending the war in Afghanistan, and adequately funding education, infrastructure, and veterans' care, without the distraction of a campaign.
Sen. Tim Johnson (D) of South Dakota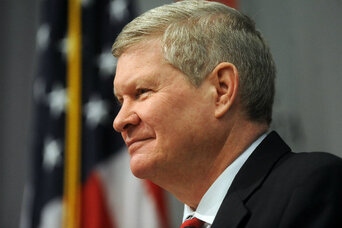 Facing a tough race in 2014, three-term Sen. Tim Johnson (D) of South Dakota announced his decision to retire at the end of 2014, giving Republicans another shot at one of six seats they need to take back control of the Senate.
"You have supported me in multiple elections, and, more importantly, your patience and prayers enabled me to recover from a life-threatening brain injury," said Senator Johnson, in a statement. "I will be 68 years old at the end of this term and it is time for me to say good-bye," he added, pledging to use the balance of his term to "find a bipartisan solution" to the nation's challenges.
South Dakota, with its largely conservative electorate, was a top target for Republicans well before Senator Johnson made his decision public on March 26. Former Gov. Mike Rounds, a popular Republican, announced his intention to run for the seat in December and become the instant frontrunner.
State Senate majority whip Larry Rhoden, who is running to the right of Rounds, and physician Annette Bosworth are in the race, and, as of Aug. 18, State Rep. Stace Nelson is expected to join them.
But national conservative groups have pushed hard to find an alternative to Rounds, whose record they see as too moderate. Two-term Rep. Kristie Noem, elected with strong tea party backing, was their dream pick, but she declined to run. The search continues.
State Democrats are also still scrambling for a top-tier candidate. Rep. Stephanie Herseth Sandlin, who was defeated by Ms. Noem in 2010 but remains popular in the state, declined to run. That leaves Rick Weiland, a former congressional staffer who lost a House bid in 1996, as the Democratic candidate left standing.
GOP officials say they are confident of a win in South Dakota, regardless of who emerges as the Democratic candidate.
"South Dakota voters rejected the progressive agenda by nearly 20 points in 2012 and it's a prime pick up opportunity for Republicans regardless of whose name ends up on the ballot," said Sen. Jerry Moran (R) of Kansas, who chairs the National Republican Senatorial Committee, in a statement.
Sen. Max Baucus (D) of Montana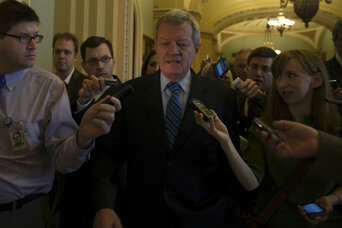 Famously independent, six-term Sen. Max Baucus (D) of Montana has survived and even thrived in an age of intense partisan gridlock, playing key negotiating roles on issues ranging from taxes and trade policy to Medicare, health-care reform, and farm bills.
But with Montana's record of voting Republican in each of the last five presidential races – Obama lost Montana by 13 points in 2012 – Senator Baucus still faced a potentially tough race, likely to include getting hammered over his role in the health-care reform, just as the costs of that program are surfacing.
Still, his decision to retire came as a surprise to colleagues on Capitol Hill. Baucus had amassed a $5 million campaign war chest with, as yet, no announced opponent. Although targeted by Republicans for ouster, he won his last reelection with 73 percent of the vote.
With Baucus out of the race, political analysts ranked the contest a tossup. But with the decision of popular former Gov. Brian Schweitzer (D) to opt out of the race, announced July 13, Republicans have a stronger shot at picking up one of the six seats they are expected to need to take back the Senate . Following the Schweitzer announcement, the Cook Political Report changed its rating for this race from tossup to lean Republican.
"Democrats are now perusing a long list of potential candidates ... but none pack the electoral punch that Schweitzer would have," wrote Charlie Cook.
The field of candidates in both parties is still in flux. On the GOP side, former state Senate minority leader Corey Stapleton and state Rep. Champ Edmunds are in the race, but Republicans are also trying to recruit Rep. Steve Daines, who is the state's at-large representative in Congress.
So far, all the leading Democratic prospects have declined to run. "Suddenly, Republican prospects look much brighter here than they did when the cycle first started," concludes the Rothenberg Political Report, which now rates the race "Definitely a race to watch – but put a finger on the scale for the GOP."