Washington
1.Hillary Rodham Clinton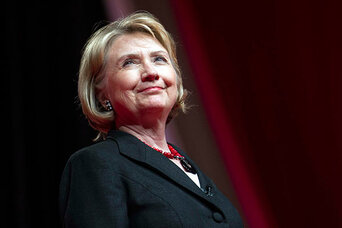 The close runner-up for the Democratic nomination four years ago, former Secretary of State Hillary Rodham Clinton, would enter the 2016 cycle as her party's instant front-runner. If anything, Secretary Clinton has boosted her stock since 2008, when she buried the hatchet with Barack Obama and took on the tough portfolio at State.
She earned high marks for her energetic performance. And for 10 straight years, she has topped the Gallup poll as America's most admired woman. Now Clinton acknowledges she may run for president again, after insisting that after 20 years as first lady, senator, presidential candidate, and the US's top diplomat she wanted to put her feet up.
"She's running, but she doesn't know it yet," a Clinton confidant authorized to talk told New York magazine. "It's just like a force of history. It's inexorable, it's gravitational. I think she actually believes she has more say in it than she actually does."
For now, she fills her time giving speeches, writing a book, and working on an early-childhood initiative through her family's foundation – now called the Bill, Hillary, and Chelsea Clinton Foundation.
In addition, a high-powered political-action committee called Ready for Hillary is going gang-busters, raising money and setting the table for a campaign. Several former top Clinton White House aides, such as James Carville, Harold Ickes, and Craig Smith, are advising the group. Mrs. Clinton herself is not involved.
A big majority of rank-and-file Democrats are also ready for Hillary. Some 65 percent of Democratic primary voters want Clinton as their party's nominee, according to a CNN/ORC poll released in September. Vice President Joe Biden came in second with 10 percent.
Joe Biden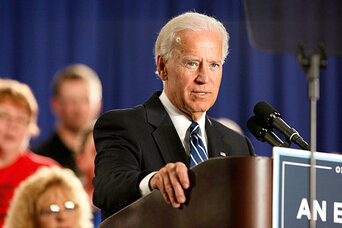 If Mr. Obama heads into his final stretch in office with a decent economy, a functioning health-care system, and no major liabilities abroad, then Vice President Joe Biden could be in a position to claim Obama's "third term."
For well over a year, Mr. Biden has dropped hints about 2016. On Election Day 2012, while waiting in line to vote in his home state of Delaware, he was asked if this was the last time he'll vote for himself. He smiled: "No, I don't think so." At another point he joked about running for "county council or something."
In July, Biden told GQ magazine: "I can die a happy man never having been president of the United States of America. But it doesn't mean I won't run."

Age might be an issue. Biden will be in his mid-70s in 2016. If he runs, he'd be angling to be the oldest person ever elected president.
Biden has been a Washington fixture since his first election to the Senate in 1972 – and he's run for president twice before. By 2015, when the field starts to form, Democrats may be looking to their next generation for presidential candidates.
Andrew Cuomo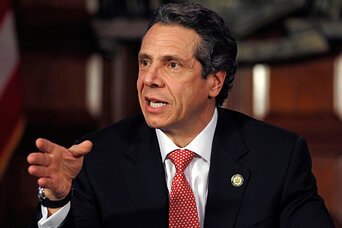 Gov. Andrew Cuomo of New York took office in January 2011 and quickly established a national reputation as a leader. He pleased liberals by fighting successfully for the passage of gay marriage, despite a balky state legislature. But he also satisfied centrists by passing a budget that cut spending and didn't raise taxes, by taking on the state's big public-sector union, and by achieving tax reform. Governor Cuomo has polled comfortably above 50 percent for most of his tenure, though polled below 50 at the end of 2013.
His job approval took a hit after he signed tough new gun control laws. Still, some liberals say Cuomo isn't a slam dunk for them, saying other policies (such as cuts to union pensions) are more aimed at the 1 percent than working people.
Cuomo also has Washington experience, having served as secretary of Housing and Urban Development in Mr. Clinton's second term. Critics say Cuomo's promotion of homeownership for lower-income people helped lead to the subprime mortgage crisis.
As the son of former New York Gov. Mario Cuomo, the junior Cuomo has a long history in politics. He worked both on his father's campaign and in his administration. The question is whether he has more presidential fire in the belly than his father, who once famously kept a plane waiting on the tarmac while he decided whether to fly to New Hampshire to launch a presidential campaign.
Cuomo has stated repeatedly that he's not running for president – standard rhetoric for any politician this early in the process – but early-state activists have come to believe him, according to press reports. Still, HarperCollins will publish a memoir by Cuomo in 2014 – just as his reelection campaign is heating up … and in time for any other campaign he may wish to launch.
Martin O'Malley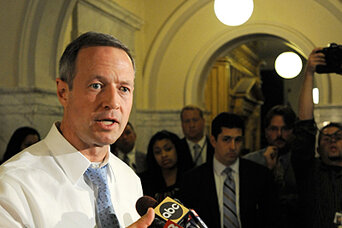 Of everyone on the list, Gov. Martin O'Malley of Maryland is the most open about his intentions.
"By the end of this year, I think we're on course to have a body of work that lays the framework of a candidacy for 2016," Governor O'Malley reporters at a National Governors Association meeting last August.
On July 31, O'Malley reported raising almost $500,000 so far this year for his political action committee, the O'Say Can You See PAC.
Since taking office in January 2007, Governor O'Malley has worked his way up the ranks of the Democratic Governors Association (DGA), serving as chairman in 2011 and 2012 – a position that allows him to build connections, and goodwill, with Democrats around the country.
Now O'Malley is the DGA's finance chairman, a fundraising position that keeps him connected to the party's major donors. He's also a regular on national cable news and a speaker at Democratic fundraising dinners – including those in the early nominating states of Iowa and New Hampshire.
In 2009, Governing magazine named O'Malley one of its "Public Officials of the Year." The magazine cited his data-driven approach, both as governor and as a two-term mayor of Baltimore before that. He has signed legislation legalizing gay marriage and in-state college tuition for illegal immigrants in Maryland, and both measures were supported by Maryland voters on Election Day.
Mark Warner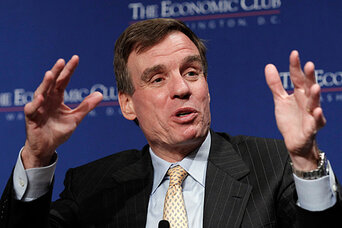 Sen. Mark Warner of Virginia was considered a top-tier prospect for the 2008 presidential race, until he took himself out of contention, citing family concerns. Now the talk is back for 2016.
Warner, a wealthy former businessman, was a popular Virginia governor from 2002 to 2006, then easily won a seat in the Senate in 2008. Now he's running for reelection and faces former Republican National Committee chairman Ed Gillespie as his likely fall opponent.
Some Democrats doubt he'll run for president, because his centrist approach in the Senate could make it hard for him to excite liberals, making it difficult to win a presidential primary. Warner was a member of the Senate's bipartisan Gang of Six – three Democrats, three Republicans – who tried unsuccessfully in 2011 to work out a deficit reduction deal. In 2012, the group expanded into a Gang of Eight, with Warner at its heart, but it was also unsuccessful.
Elizabeth Warren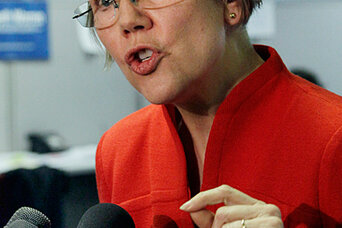 A darling of the left, Professor Warren was the subject of presidential talk long before she beat Sen. Scott Brown (R) of Massachusetts in 2012.
Now that she is Senator Warren, the drumbeat is getting louder. A January 2014 Quinnipiac poll shows her trailing only New Jersey Gov. Chris Christie (R) and former Arkansas Gov. Mike Huckabee (R) in a gauge of how warmly voters feel toward major American politicians.
Warren shot to public prominence when she conceptualized and promoted the idea for the new Consumer Financial Protection Bureau, which protects consumers from unfair lending practices. In the process, she became a liberal lightning rod, and thus unconfirmable in the Senate as the bureau's first head – so Obama made her a special adviser to help set up the bureau. She served in that post from September 2010 to August 2011, when she returned to her faculty job at Harvard Law School.
Warren brought to her Senate campaign a long record as an expert on bankruptcy law – and a populist passion for defending the lower and middle classes. She grew up in Oklahoma City, the daughter of a janitor.
During her Senate campaign, she raised a whopping $42 million - much of it from outside Massachusetts. Websites promoting Warren for president have sprung up on the web, but Warren insists she won't run.
Kirsten Gillibrand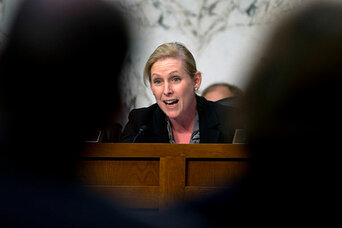 Without Clinton (or Elizabeth Warren) in the race, Senator Gillibrand could satisfy Democratic yearning to put the first woman in the White House. Though little known outside New York, she is popular at home. She's also good at fundraising, and has been helping fellow Democrats through her two political action committees.
Gillibrand will publish a memoir in fall 2014 that will encourage women "to make their voices heard," she said in statement in 2013. Aspiring presidents often publish books before a campaign launch.
At the Democratic National Convention in Charlotte, N.C., in 2012, Gillibrand gave a well-received address to the delegates from Iowa – home of the first nominating contest. When asked, she insists she's not running for president, and has already thrown her support behind Clinton.
"I am personally urging Secretary Clinton to run," Gillibrand said during an event at the Third Way think tank in June 2013. "I've told her I plan to support her in any way I can."
As a New Yorker, Gillibrand would in fact be third in line to run for president from her state, after Clinton and Governor Cuomo. But if the other two opt out, she would have an opening.
Amy Klobuchar
The two-term senior senator from Minnesota is hardly a household name outside, well, Minnesota – but Sen. Amy Klobuchar has long been on politicos' radar as an up-and-coming Democrat.
She solidified her spot on this list by heading to Iowa, the first nominating state, in August 2013 to speak at the Democrats'10th annual North Iowa Wing Ding fundraiser. She was the first potential Democratic 2016-er to appear in Iowa since the 2012 election.
"I think a lot of work I'm doing in the Senate obviously has national implications," Senator Klobuchar told reporters.
Last year, Klobuchar also spoke to the Iowa delegation at the Democratic convention. And during Obama's second inaugural, she dropped in on the Iowa ball. But she insists she's not seriously considering a run, noting that the Wing Ding is only a two-hour drive from her house in Minnesota.
This 50-something graduate of Yale University and the University of Chicago Law School wins kudos for being both affable – "Call me Amy," she tells people – and politically shrewd. She's also a former prosecutor.
"Amy Klobuchar has got 'Minnesota nice' down to a T – she's ready for Garrison Keillor's 'A Prairie Home Companion,' " Minnesota political analyst Larry Jacobs tells Real Clear Politics. "But don't be fooled. This is a very ambitious, very skilled, very successful politician who has her sights set very high, and she's been thinking about the next step for some time."