1.Ron Paul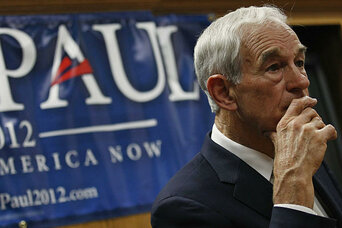 China
Is neither China basher nor meddler: was lone "nay" vote on House resolution honoring Chinese dissident Liu Xiaobo on grounds US should stay out of other countries' internal affairs. Calls China "more capitalistic than we are." Says overall US-China relations have been on right track since Nixon.
Middle East
Would eliminate all US foreign aid, including to Israel. Opposes a US-led peace process, saying US should not dictate to Israel, a sovereign nation. Opposes sanctions on Iran, which he says only encourage hostilities and Iran's desire to go nuclear.
Terrorism
Blasts war on terror as a major threat to Americans' freedoms. Says all troops should come home from antiterror wars.
Defense spending
Says US spends a trillion dollars a year maintaining its "empire" and should stop. Would balance federal budget by 2015 in part by cutting military spending by $832 billion.
Rick Perry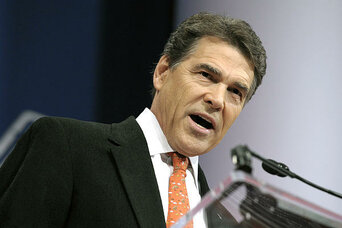 China
Considers China America's single greatest national security threat but believes communist China is "destined for the ash heap of history because it is not a country of virtues."
Middle East
Lambasts Obama for "undermining" US-Israel relations and cites that as Exhibit A of "President Obama's failed foreign policy." Says Israel shouldn't be forced into compromises for reaching peace with the Palestinians, but believes the Palestinians must meet key preconditions before being eligible for statehood.
Terrorism
Claims Iran, Hamas, and Hezbollah operate in Mexico with the United States as their target, making border security a top terrorism priority.
Defense spending
Opposes major cuts in military spending, saying it would endanger US troops.
Mitt Romney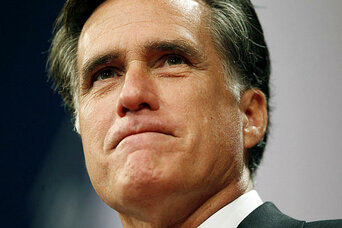 China
Says Obama has "let China run all over us," would slap tariffs on Chinese goods and pledges to declare China a currency manipulator on his first day in the White House.
Middle East
Would cement America's commitment to Israel by making Jerusalem his first foreign destination as president. Uses Secretary Clinton's terminology by calling for "crippling sanctions" on Iran and says that "ultimately regime change is necessary."
Terrorism
Would expand the legal authority of US officials battling terrorism, and, like Perry, warns of radical Islamists seeking to infiltrate the US from south of the border. Says he would keep troops in Afghanistan longer than Obama envisions.
Defense spending
Would increase defense spending over Obama levels, accelerating the rate of the Navy's ship delivery and building a national missile shield system.
Rick Santorum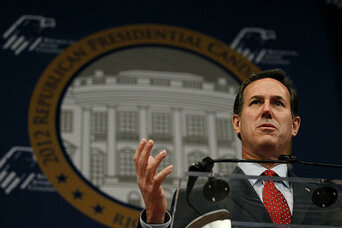 China
Says the US has a moral obligation to defeat China's "godless socialism" and would start with a tougher military stance toward China in the South China Sea.
Middle East
Would implement "the toughest sanctions to date" on Iran by cutting off the oil-producing country's oil supply. Advocates greater US support for Iran's pro-
democracy forces, claiming the Arab Spring could have started in (non-Arab) Iran if Obama had sided with Iranian protesters in 2009.
Terrorism
Supports the concept of the "long war" against global terrorism, insisting that like the cold war it is winnable. Says the rise of "militant socialists" in South America is the sleeper threat he would address. Supports ethnic and religious profiling at airport security.
Defense spending
Would not cut "one penny" of the defense budget, but would direct more military spending to the US-Mexican border.
Newt Gingrich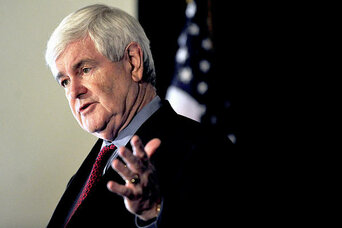 China
As speaker, strongly supported increased US trade with China. Now warns of consequences for US independence of China holding trillions of dollars of US debt.
Middle East
Supports "regime replacement" in Iran and calls country's nuclear program only a symptom of a bigger problem of ruling ayatollahs. Insists he could topple regime in a year by "overtly sabotaging" it but only using military intervention as a last resort.
Terrorism
Says US is losing war on terror. Blasts Obama administration notion that Al Qaeda is on the ropes. Would grant FBI "extraordinary" tools to take on growing domestic terrorism but says that should not worry law-abiding citizens. Considers counterinsurgency doctrine ill-suited to Afghanistan, but opposes Obama's withdrawal timetable as too rapid.
Defense spending
Calls himself a "cheap hawk," would target "bureaucratic waste" at the Pentagon, and does not rule out defense cuts.
Jon Huntsman Jr.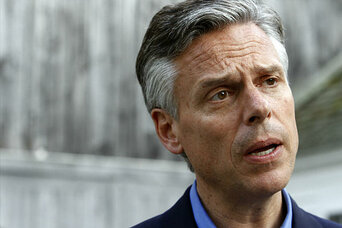 China
As former ambassador to China under Obama, says it's time to get tough with China on trade. But says Romney's approach would spark trade war that would hurt US economy.
Middle East
Wouldn't push US-led peace process at "time of uncertainty in the region" but would focus on Israel's security – in part to show "what it means to be the friend and ally of the US." Says sanctions won't stop Iran from going nuclear; US and Israel will have to consider military option.
Terrorism
Says threat has spread beyond Al Qaeda to other groups and home-grown elements; US intelligence and military must adapt. Favors counterterrorism (pinpoint strikes) over counterinsurgency (boots on the ground) measures; would accelerate Afghanistan withdrawal.
Defense spending
Says current budget reflects cold-war era. Advocates "right sizing" of spending to deliver more "agile" military. Would reduce active-duty Army and close 50 overseas bases.
[Has withdrawn from the race]
Michele Bachmann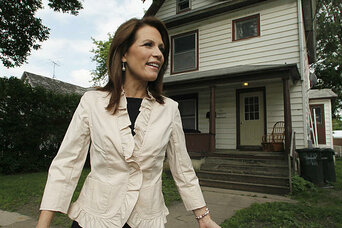 China
As a House Intelligence Committee member, says China uses lasers to blind US satellites and is a "bad actor" in the international trading system. But also says she'd emulate the Chinese social model by ridding the US of the "modern welfare state."
Middle East
Dismisses the Arab Spring as allowing "the rise of radical elements" and says the end result will be "nuclear war against Israel." Decries Obama's call for negotiating a Palestinian state based largely on 1967 borders as showing "contempt" for Israel.
Terrorism
Claims the CIA no longer interrogates suspected terrorists and says she'd authorize waterboarding to extract information. Says the US can't afford to lose Pakistan since it is the "epicenter of dealing with terrorism."
Defense spending
Says defense cuts should be "on the table" but through "modernizing" procurement and not by shortchanging troops.
[Has withdrawn from the race]