1.Who is Rick Perry?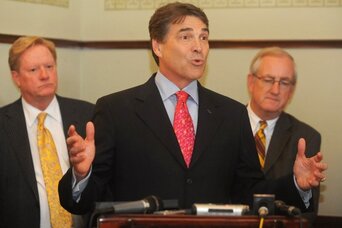 A fifth generation Texan from the tiny West Texas town of Paint Creek, Perry is the Eagle Scout son of Democratic tenant farmers.
After majoring in animal science at Texas A&M, Perry joined the US Air Force, where he completed pilot training and flew C-130 transports. He left with the rank of captain, joined his father's cotton farm, married his childhood sweetheart, and was elected to the Texas House of Representatives.
In 1989, Perry became a Republican ("I made both parties happy"), then won successive roles as Texas agriculture commissioner, lieutenant governor, and, in late 2000, governor.
Perry is the longest-serving Texas governor. He is known as much for his stellar record creating private-sector jobs in Texas as for his syrupy accent and cufflinks-and-cowboy boots style.
Why is he running?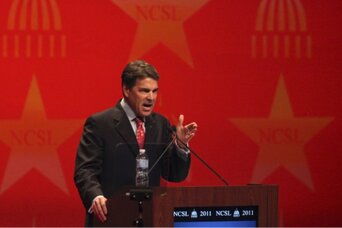 Until recently, Perry wasn't even considering running. What changed?
His posture has shifted since observing what has been called an uninspiring GOP field and a party electorate dissatisfied with its choices. Given Perry's credentials – including his executive experience as governor of one of the largest, reddest states in the union – he may feel almost obligated to run. He's also received encouragement from across the country, including, most importantly, from his wife.
"The GOP electorate is signaling it's still open to a new candidate that excites them," says Ford O'Connell, director of the Virginia-based Civic Forum PAC. "Here we have a guy from a booming red state – why not? It's a great match."
Who is his base?
"Romney has the backing of the establishment, country club Republicans. Bachmann has right-wing populist backing. Perry has a foot in both camps," says Allan Lichtman, history professor at American University in Washington, D.C.
Perry is poised to successfully court both the GOP establishment as well as the tea party, and as a lifelong Texan, can capture the growing Sunbelt vote.
"He has true crossover appeal," says Mr. O'Connell.
What are his strengths?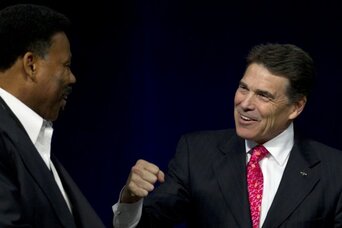 "Well, he certainly has the hair," says James Riddlesperger, a political scientist at Texas Christian University in Fort Worth. "Rick Perry is someone who you can underestimate very easily," says Professor Riddlesperger. "What really stands out is his primary asset – he's a darn good politician."
His record bears testament. Under Perry, Texas created more private-sector jobs than all other 49 states combined over the past decade, a huge asset in an election that will center on jobs. He also closed a $15 billion-plus budget deficit without raising taxes, refused $555 million in federal stimulus money from the Obama administration, has a strong border security record, and is a fervent supporter of states' rights, all stances a Republican electorate will appreciate.
He's also a fund-raising dynamo with a fat Rolodex from a strong Republican state who likes to campaign and effectively uses three Twitter accounts, text messaging, Facebook, and e-mail to build a grassroots base.
No wonder he's drawing raves from the likes of Rush Limbaugh, who told his radio audience that if Perry joined the race, "it's a brand-new day, and it starts all over again."
What are his weaknesses?
In a word, Bush.
"The last thing anyone wants is a reminder of the Bush administration," says Lichtman.
The big question: Is Rick Perry more Texas than the nation can handle? Will the country accept another Texan as president so soon after the unpopular George W. Bush?
Though his background is anything but Ivy League political establishment, the Texas governor who many swear sounds just like Mr. Bush will be hard-pressed to distance himself from his predecessor as Texas governor.
Adds O'Connell, "To be a successful candidate, he has to cut back on volatile rhetoric."
Indeed, if GOP frontrunner Mitt Romney is by the book, Perry sometimes appears to be off the reservation, such as with a 2009 comment that Texas could secede from the union. He pushed into controversial terrain when he signed a bill mandating that women view sonogram images of the unborn child and hear its heartbeat before an abortion can be administered.
What are his chances?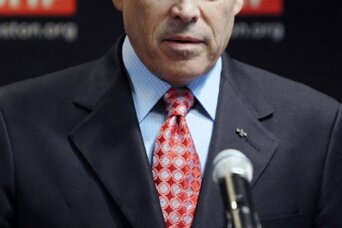 Still, if anyone could overcome his weaknesses, it's Perry, says O'Connell. "I'm not sure that America's ready for another cowboy president, but Rick Perry could certainly change that," he says.
How are his finances?
Perry has yet to form an official campaign committee, so his finances remain unknown. However, an outside group called Americans for Rick Perry recently raised $400,000 in three weeks.
Perry's extensive networks (he is chair of the Republican Governor's Association and has received endorsements from Haley Barbour, as well as the Texas delegation) should make Perry immediately competitive on the fund-raising front.
What is his political experience?
Perry began his career as a (Democratic) member of the Texas House of Representatives (1985-1991).
He then went on to become Texas's commissioner of agriculture (1991-1999) and lieutenant governor (1999-2000) before succeeding George W. Bush as governor, a role he's held for more than 10 years.
He is currently the longest-serving Texas governor.
What is his family and religious background?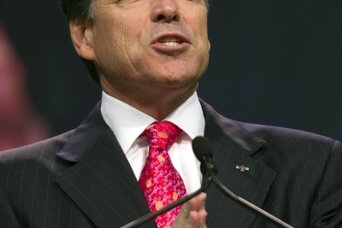 Perry is married to childhood sweetheart Anita Thigpen, with whom he has two children, Griffin and Sydney.
A Methodist, Perry is a self-described social conservative who opposes gay rights, same-sex marriage, and abortion.
What books has he written?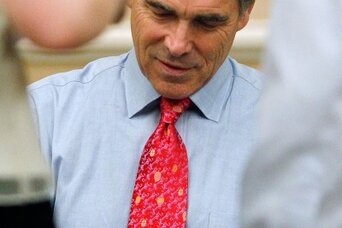 His most recent book, "Fed Up! Our Fight to Save America from Washington," is a dig at the current administration and a proposal for more limited government.
"On My Honor: Why the American Values of the Boy Scouts are Worth Fighting For," celebrates the Boy Scouts and criticizes the ACLU.
In his own words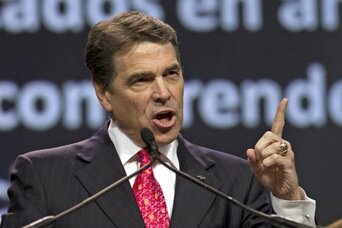 "To use a football analogy – I mean, we're talking about Texas – it's not who hands you the football and it's not where the ball is handed to you, it's what you do with the ball after you have it."