1.What is a super PAC and how is it different from an ordinary PAC?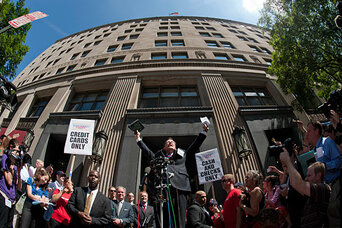 First things first. Political-action committees, or PACs, are organized by business, labor, or special interest groups to raise money and help elect political candidates or advance a political cause. They've been around since 1944, when a federation of trade unions raised money to reelect then-President Franklin D. Roosevelt. Any group that receives contributions or has expenditures in excess of $1,000 in order to influence a federal or state election is categorized as a PAC. But PACs can't accept or give more than $5,000 from or to any individual.
Enter the super PAC. Officially known as independent expenditure-only committees, they are like PACs on steroids, says Michael Beckel, with the nonpartisan Center for Responsive Politics in Washington.
"Super PACs are groups that are allowed to raise unlimited amounts of money to express and fund advocacy," says Mr. Beckel.
The caveat? These new fundraising tools cannot coordinate directly with candidates or parties and cannot contribute directly to campaigns, though that hasn't stopped former top aides for several candidates from leaving campaigns to start "independent" super PACs. They must also disclose their donors, though that hasn't stopped donors from funneling money anonymously via nonprofits.
Why have super PACs suddenly burst onto the campaign scene?
These new fundraising tools are the result of two 2010 Supreme Court decisions that have transformed the campaign-finance landscape. The first, Citizens United v. Federal Election Commission, overturned a century-old ban on corporate and union treasury funds being used in politics, freeing these monies to be used for political advertisements. The second, SpeechNow.org v. Federal Election Commission, ruled that capping donations to political committees was unconstitutional.
This is the first presidential election in which super PACs will play a role, says Beckel, who adds that they are "expected to raise incredible amounts of money this election cycle."
What do super PACs aim to do? How might that influence the 2012 vote?
First, raise money. Lots of it.
"The spending is expected to be staggering," says Beckel, adding that many super PACs have already stated their intention to raise tens and even hundreds of millions of dollars. They will likely "serve as [a candidate's] cavalry, [allowing him or her] to use a loud and big megaphone to get additional messages out," he says.
Super PACs are primarily used to buy ads on television, radio, the Web, billboards, etc. So expect more political ads and more attack ads, and expect to hear the most from the candidate – and the interests that support him or her – with the deepest pockets.
"Super PACs are another vehicle for the wealthiest of interests to have their voice heard in the political conversation," says Beckel. "They will be force-multipliers for candidates, helping them get their message out to voters and increase their name recognition."
Is this good or bad for democracy?
Campaign finance experts worry that super PACs will further open the floodgates to corporate money in politics, allowing wealthy individuals or corporations to have an even bigger voice in the political process.
"The worst-case scenario is [super PACs] will continue to magnify the political power of a smaller group of very-well-off individuals or corporations, and continue to diminish the relative power of any one individual American," says Melody Crowder-Meyer, a political scientist at the University of the South, in Sewanee, Tenn.
Super PACs "make it more difficult for outsider candidates not already established with insiders and fundraisers ... to get their voice heard through all of this superspending that more well-connected candidates will have.... If they don't have multimillionaires willing to spend money on getting their message out, it's going to be a lot harder for them" to be heard.
Professor Crowder-Meyer holds out some hope, however, that super PACs could also have a positive impact. "One good thing that can come from this: Increased advertising gets more people to see information about campaigns that increase interest in the political system," she says. "We have fairly low voter participation. The influence of super PACs may be that they get more people to pay attention to an election."
What are some of the prominent new super PACs?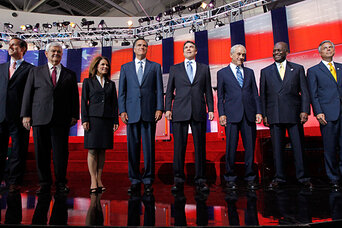 More than 150 groups had registered as super PACs. Thus far, liberal-leaning groups have raised $7.72 million and conservative-leaning super PACs have raised some $21.09 million. Among the most powerful is the Karl Rove-linked American Crossroads, a well-funded conservative group that played a crucial role in GOP successes in the 2010 midterms. It raised $21.5 million for the 2010 election cycle and is poised to raise vast amounts this time as well.
All of the major presidential candidates in the 2012 race have the support of a super PAC – or two or three:
•Currently leading the pack with $12.2 million is Restore Our Future, a conservative group founded by several former Mitt Romney aides.
•With a $2 million donation from DreamWorks chief executive officer Jeffrey Katzenberg (plus another $1.2 million from other donors), Priorities USA Action is a liberal group focused on reelecting President Obama.
•Rick Perry has a whopping six super PACs supporting his bid, including Americans for Rick Perry, Veterans for Rick Perry, Jobs for Iowa, Jobs for South Carolina, Jobs for Florida, and Make Us Great Again.
•Ron Paul has Revolution PAC in his corner, Jon Huntsman Jr. has Our Destiny PAC, and Michele Bachmann has Keep Conservatives United and Citizens for a Working America.
For comedic value, however, Americans for a Better Tomorrow, Tomorrow has them all topped. Stephen Colbert's super PAC aims to skewer the candidates, political ads in general, and voters influenced by them. His second ad criticizes "outside groups like Jobs for Iowa" for using "cheap cornography" to promote Texas Governor Perry.