1.Who is he, anyway?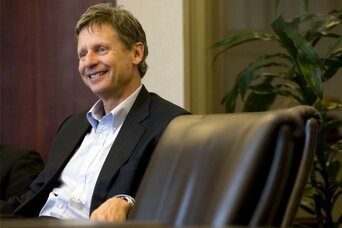 Johnson's tenacity and determination have taken him far. As a student, Johnson worked as a handyman, leading him to start his own business, Big J Enterprises, which he grew into a multimillion-dollar plumbing corporation.
Johnson ran for governor of New Mexico on a low-tax, law-and-order platform. He won – twice – leaving his state with a $1 billion budget surplus and becoming the highest-ranking elected official in the US to advocate legalizing marijuana. Johnson is a Libertarian Party darling and an avid athlete who abstains from alcohol but talks openly about using marijuana.
Why is he running?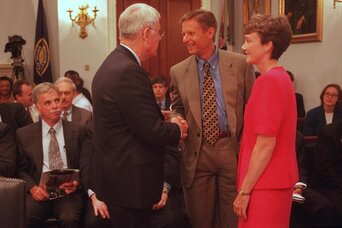 "Because he's got things he wants to say and he doesn't think anybody else in the race is going to say them," says David Boaz, executive vice president of the libertarian Cato Institute in Washington, D.C.
As a candidate most analysts describe as a long shot at best, Johnson is running to bring attention to issues he deems important, adds Wes Benedict, executive director of the Libertarian National Committee.
"I wouldn't bet he has a chance to win the Republican nomination in 2012, but I think he has a chance to make a change in public policy," says Mr. Benedict.
Where does he stand on the issues?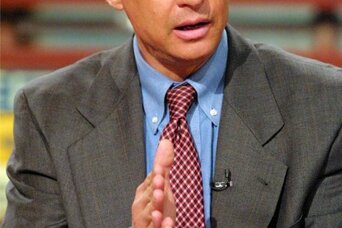 Johnson has fiscally-conservative but socially-progressive views. He champions smaller government, lower taxes, looser business regulations, marijuana legalization, gay unions, and pro-choice politics. He's often said his highest priority is balancing America's federal budget. Johnson is also a staunch opponent of US involvement in Afghanistan and Iraq, and has called for an end to military exercises in those countries.
Who is his base?
Johnson has a surprisingly broad appeal, pitching to a potential base of Independents, fiscal conservatives, Libertarians and libertarian-leaning Republicans, even crossover Democrats and those disillusioned with Obama. He is an admirer, albeit cautious, of the tea party, and could attract some of the fiscally-conservative tea party core.
"He can appeal to voters from the left with his views on the war on drugs and foreign policy," says Benedict. "He can appeal with his fiscal conservative message to the right."
What are his strengths?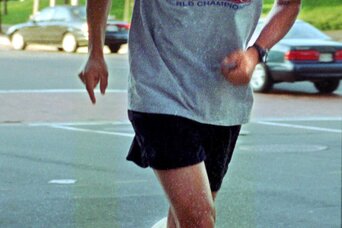 "Anybody who has been a governor and a fairly successful governor has obvious administrative and executive skills and frankly the skills to be a good governor are more likely to be helpful in being president than any other office," says Steve Roberts, a former member of the RNC.
Indeed, Johnson's performance as a two-term governor of mostly-blue New Mexico is his strongest card. And his legacy of vetoing a record 750 spending bills and leaving the state budget with a $1 billion surplus could be a strong selling point in a race where soaring government spending are likely to be front and center.
And in a race where most GOP platforms are cookie-cutter replicas, the telegenic Johnson's strong, unique message will attract attention and could capture a relatively untapped segment of the electorate.
… And weaknesses?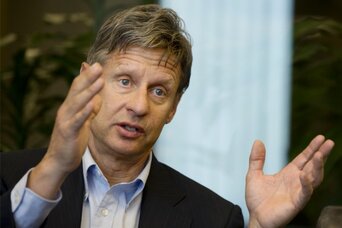 "People have to know you to support you," says Mr. Roberts. "No one knows [Johnson] and he's got to cover a lot of ground in a short time."
Even then, says Mr. Boaz of the Cato Institute, he doesn't have the fundraising potential of many of his peers.
"He won't have the fundraising network of a McCain, Romney, Barbour, even a Pawlenty," says Boaz. "That's going to be a handicap."
Then there are his views on marijuana. And gay marriage. And abortion.
"It's hard to win the Republican primary unless you're pro-war, pro-war on drugs, pro-life, anti-gay marriage," says Benedict.
Does he have a chance?
"Yes," says Boaz, "at this point you'd have to call him a long shot. But, he's a long shot in a primary with no frontrunner and a Republican electorate who's looking for somebody different."
What does his war chest look like?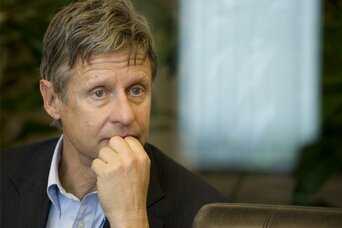 Little is known so far about his finances. In 2009, Johnson founded the Our America Initiative, a conservative nonprofit organization. Money from the nonprofit cannot be used to directly fund his campaign, but it can be used for related expenses like travel. Johnson's company, which he sold in 1999, made him a millionaire, and he spent $500,000 of his own wealth on his gubernatorial campaign in New Mexico. Johnson gubernatorial campaign supporters included AT&T and Phillip Morris.
What is his political experience?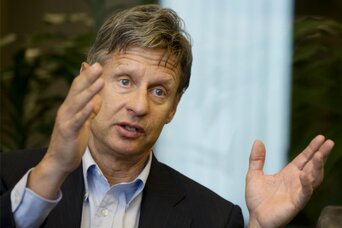 Johnson's only political experience was serving as New Mexico's 29th governor (1995-2003). The former businessman ran on a low-tax, small-government, anti-crime platform and was reelected governor in the mostly-blue state. He set a gubernatorial record of 750 vetoes, earning him the nickname "Gov. No."
What is his family and religious background?
Johnson was married for 28 years to Denise "Dee" Simms, before he divorced her in 2005. She died in 2006. He had two children with Simms, daughter Seah and son Erik. Raised Lutheran, Johnson speaks little about his faith.
In his own words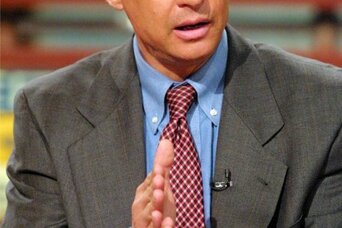 "The world would be a better place if all drugs were legalized overnight."