Washington
Christine O'Donnell's 'I am not a Witch' ad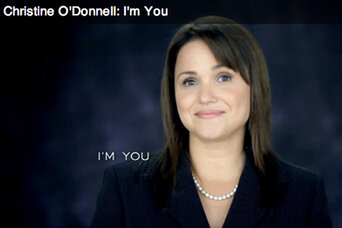 When Ms. O'Donnell unexpectedly won the Delaware GOP Senate primary, her past came flooding back – including an old TV appearance in which she talked about youthful dabbling in witchcraft. Cable TV had a field day with that, prompting her first post-primary ad in which she declares, "I am not a witch."
She says she now regrets the ad. Indeed, it only inflamed the whole witchcraft theme, and kept her from trying to establish herself as a serious candidate.
This early mistake wouldn't matter if she truly had no shot at winning. Pundits have uniformly written off the tea party favorite. But a recent poll (Monmouth University) shows her down by only 10 points, and in this cycle, you never know.
Jack Conway's 'Aqua Buddha' ad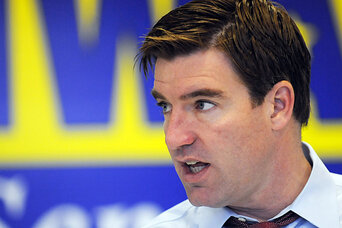 The Democratic Senate nominee from Kentucky still seemed to have a fighting chance against Republican Rand Paul when he ran an attack ad questioning Mr. Paul's religious convictions. The ad references Paul's membership in a secret society while at Baylor University that lampooned Christianity and the school's strong Baptist identity.
It also referred to a college prank in which Paul and some friends kidnapped a woman and made her worship an "Aqua Buddha." Paul reacted with outrage, and state Attorney General Conway's disapproval ratings shot up.
Conway backers say his numbers were slipping and they needed a Hail Mary to pull off a victory, but it appears to have backfired. The race now seems to be over.
Meg Whitman's handling of illegal-immigrant housekeeper flap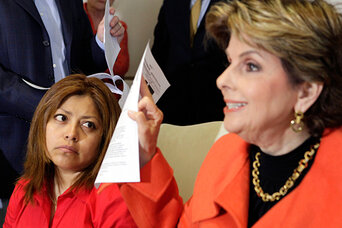 In September, California GOP gubernatorial nominee Meg Whitman was revealed to have employed an undocumented worker in her household for nine years, though she says she was unaware of the maid's immigration status at the time. When Ms. Whitman learned the truth in June 2009, she fired the maid.
Latino voters have reacted in particular to maid Nicky Diaz's statement that Whitman had refused to help her, and threw her away "like a piece of garbage." Since then, Latino voters have flocked to Democratic nominee Jerry Brown, who now has a comfortable lead.
Could Whitman have overcome this flap with more deft handling? Hard to say, but her hard-line position on immigration made it difficult for her to change her tune.
So far, Whitman has spent $163 million of her own money on the race, an all-time record for any US candidate. Given her lack of political experience, that may have been a mistake, too.
Frank Caprio telling Obama to 'shove it'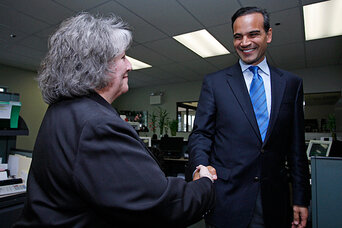 The Democratic gubernatorial nominee in Rhode Island was, um, frustrated by President Obama's decision not to endorse anyone in the race. The White House explains that it was out of deference to the independent candidate, former Sen. Lincoln Chafee, a former Republican who had endorsed Obama for president in 2008. Upon hearing the news, state treasurer Frank Caprio told a talk radio host that Obama "can take his endorsement and really shove it as far as I'm concerned."
Caprio's numbers, which were already sliding, have kept heading south. Mr. Chafee leads.
Rand Paul's decision to appear on the Rachel Maddow show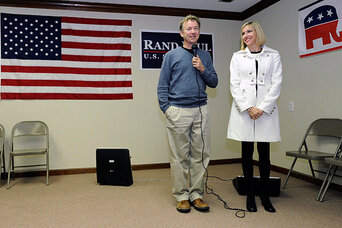 The tea party-backed Kentucky Republican won the Republican primary in an upset back in May, then nearly blew the general election the very next day by appearing on the liberal MSNBC talk-mistress's show.
Ms. Maddow backed Rand Paul into a verbal corner over his views of the Civil Rights Act (CRA) and Americans with Disabilities Act, appearing to suggest he did not support them. On the CRA, the libertarian Mr. Paul said that while he opposes discrimination, he didn't agree that it should be against the law for businesses to discriminate against customers based on race, and that he would have tried to change the legislation had he been in office at the time.
The next day, on conservative talker Laura Ingraham's radio show, Paul said it was "a poor political decision" to appear on Maddow's show. Later he put out a statement saying he would not support any effort to repeal the CRA.

Alex Sink's 'cheating' episode during debate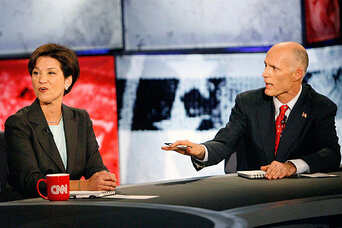 In the Oct. 25 debate between Florida's gubernatorial candidates, Democrat Alex Sink looked at a text message on a smart phone handed to her during a commercial break – a violation of debate rules. Cheating! cried her Republican opponent, Rick Scott.
The next night, Ms. Sink told MSNBC's Chris Matthews that she looked at the text because her daughter is in Europe, and she thought it might be from her. CNN went to the videotape, turned up the audio, and learned that she was clearly told it was a message from "Brian" – the aide whom she had fired for sending the message.
Seems like small potatoes, compared with the $1.7 billion fine Mr. Scott's former health-care company had to pay in the '90s for Medicare fraud. But Sink has been running as the squeaky clean candidate, so any blemish is magnified. And it's the tightest governor's race in the country: The latest Pollster.com average shows them 0.1 percent apart. Every blip matters.
Joe Miller's handling of his recent past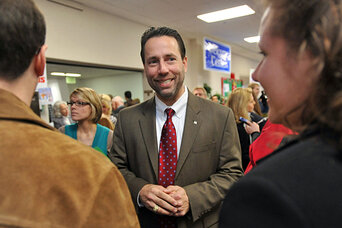 In an anti-establishment cycle, attorney Joe Miller seemed to pick a good moment to run for the Senate from Alaska. The Palins and the tea party backed him, and boom, he defeated incumbent Sen. Lisa Murkowski in the Republican primary. He seemed set to win in November.
Then things got fishy. Mr. Miller announced he would no longer answer questions about his background and personal life. Then his private security detail handcuffed a reporter trying to ask questions.
Turns out in 2008 Miller had been disciplined in his government job for using colleagues' computers to vote in an online political poll and then lying about it, according to just-released court records. Miller's candidacy is in trouble, and Murkowski – running as a write-in – now has an excellent shot. Even the Democrat has a chance.
Bottom line: Knowing what was in the records, one wonders why Miller ran in the first place. But having decided to run, perhaps he should have come clean at the outset and asked for forgiveness. In this climate, he may have won the primary anyway.
Alan Grayson's 'Taliban Dan' ad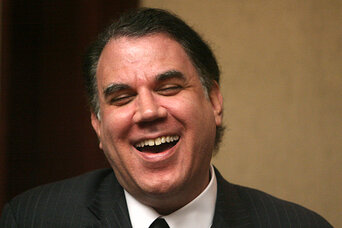 Rep. Alan Grayson (D) of Florida is one of the House's more bombastic members. Last year the Democrat warned in a floor speech that the Republican health care plan is to "die quickly."
If the freshman rep's political career wasn't to die quickly, he needed to dial back the rhetoric. But an ad he released in September didn't exactly reassure moderates in his Orlando district: It equated Republican challenger Daniel Webster with the Taliban, calling him a "religious fanatic" who believes wives should "submit" to their husbands.
The problem is, the ad wasn't true. The comments from Mr. Webster, former speaker of the Florida House, had been edited to make him appear to say the opposite of what he actually said. Representative Grayson was reprimanded in the Orlando media, and now his chances of reelection appear slim to none.
Bill White's refusal to release old tax returns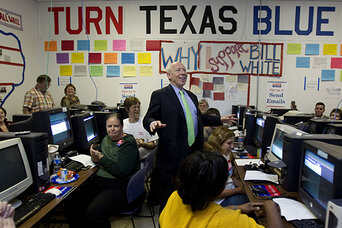 There was a time when analysts thought Democrat Bill White, former mayor of Houston, had a shot at beating longtime Texas Gov. Rick Perry (R). The trick was getting Governor Perry to agree to a debate, which could boost White's stature and shake things loose if Perry made a mistake.
In September, Perry said he'd debate, but with a condition: if Mayor White would release his tax returns for three years in the 1990s, before his time as mayor.
White refused on principle; Perry insinuated that White had something to hide. Texas political analysts say White made a mistake in not accepting the deal. He never got his debate, and Perry looks set to get another four years.
Meg Whitman's refusal to end negative ads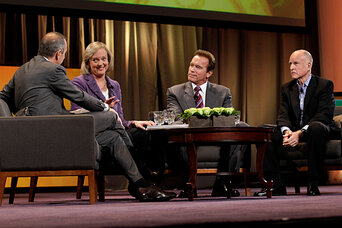 At a joint appearance last week, California's two major gubernatorial candidates were asked if they would each agree to take down their negative ads. Democrat Jerry Brown immediately said he would if Republican Meg Whitman did. Ms. Whitman declined – twice. The audience booed.
Ms. Whitman, former CEO of eBay, is already down in the race, and a handshake with former Governor Brown might not have made a difference, but it couldn't have hurt. Instead, she looked determined to remain negative, which didn't help her on likability.
Bottom line: Few voters will remember the content of negative ads she ran in the final week, but they might have remembered a photo of her and Brown looking collegial. Whitman's multiple miscues in the race demonstrate the risk of having a political novice run for such a high profile office.