1.Stephen Colbert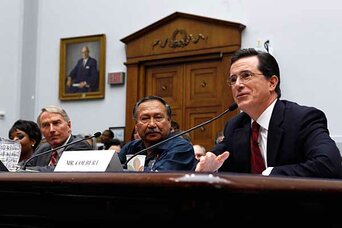 Stephen Colbert loves the political spotlight. Bowing to pressure from fans, the Comedy Central funnyman officially declared his candidacy for the presidency in October 2007. At first promising to appear on both the Republican and Democratic ballots in South Carolina, his home state, he changed his plans after discovering the $35,000 fee to appear on the Republican ballot. His application to appear on the Democratic ballot met an official smackdown from the South Carolina Democratic Party executive council, ending his run for president almost as soon as it began.
Mr. Colbert, who famously got a crew cut in Iraq while performing for US soldiers in 2009, again flirted with official Washington last week, when he appeared before the House Judiciary Committee to testify on the plight of migrant workers. House majority leader Steny Hoyer wasn't amused at the ruse, calling Colbert's appearance "not appropriate."
Colbert and Comedy Central buddy Jon Stewart are making more political machinations next month, with competing events on Washington's National Mall: Mr. Stewart's "Rally to Restore Sanity" will battle Colbert's "March to Keep Fear Alive."
Pat Paulsen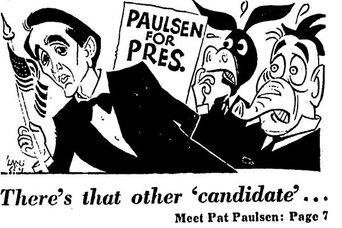 Pat Paulsen roiled the political establishment with his run for the presidency in 1968. His "STAG Party" – that's "Straight Talking American Government – was backed by the "Smothers Brothers Comedy Hour," where he was a regular commentator on serious issues. Though his original election bid never got off the ground – "I campaigned two weeks in Canada," he said, "not realizing they couldn't vote" – his name has become a favorite write-in protest vote. In 1996, he garnered 961 votes in New Hampshire's Democratic presidential primary, finishing second to Bill Clinton.
"I admit I do have some drawbacks and limitations as a candidate," he said in 1968. "Although I am a professional comedian, some of my critics maintain that this is not enough. I cannot deny that I stand before you untested and inexperienced – I only spent two years in television, never as a romantic lead or a song and dance man."
Kinky Friedman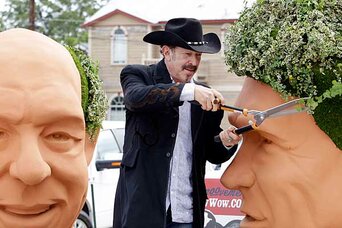 Texas comedian Kinky Friedman – once the lead singer for the Texas Jewboys, who performed offbeat country songs with Willie Nelson and Bob Dylan – ran for real-life political office in 2004.
In his campaign to challenge incumbent Republican Gov. Rick Perry in 2006, Mr. Friedman, running as an independent, promised to eradicate the "wussification" of Texas and steered clear of controversial issues such as abortion and gun control: "I'm not pro-choice. I'm not pro-life. I'm pro-football," he told a Monitor reporter.
Though he managed to raise more funds than the Democratic nominee, his 12.4 percent of the vote in the the general election was only good enough for fourth place.
Al Franken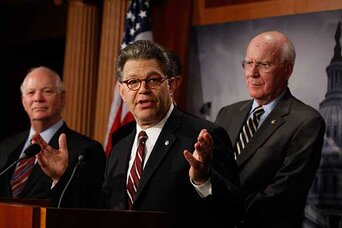 Al Franken made people laugh for years on "Saturday Night Live" with goofy characters such as motivational speaker Stuart Smalley, but his inclinations turned more serious in 2004, when he helped give rise to Air America, a liberal political radio network.
Mr. Franken's show, originally called "The O'Franken Factor," ran as the centerpiece of Air America for nearly three years, until Franken left radio to campaign for a seat in the US Senate from his home state of Minnesota. Franken defeated incumbent Republican Sen. Norm Coleman by the narrowest of margins in the 2008 election – a manual statewide recount found he won by just 312 votes – and Senator Coleman disputed the result in court, only to have it upheld in June 2009.
In just over a year in the Senate, Franken has championed campaign finance reform and presided over the confirmation vote for Supreme Court Justice Elena Kagan. He has also spoken out against the merger of NBC/Universal and Comcast.
Jesse Ventura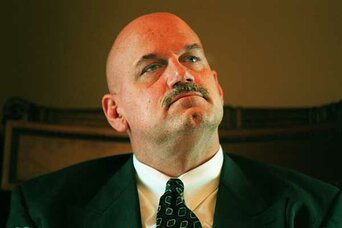 Apologies to fans of professional wrestling – including you, Connecticut Senate candidate Linda McMahon – but this list of comedic officeholders didn't seem complete without wrestler-turned-Minnesota Gov. Jesse "The Body" Ventura.
Mr. Ventura successfully turned a career on the full-contact soap opera into a term in Minnesota's governor's mansion as a member of the Independence Party. Since leaving political office in 2003, Ventura has written three books, two of which allege government conspiracies tied to the attacks of Sept. 11.
Ventura's candidacy for governor was seen by many as a joke at first – his only other experience in elected office came as mayor of Brooklyn Park, Minn., in the mid-90s.