1.More subjects measured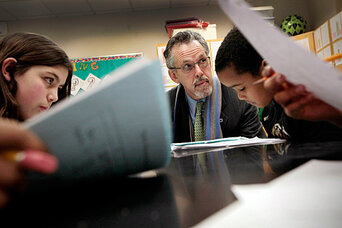 Under NCLB, critics said, the focus on improving reading and math scores narrowed the curriculum, leaving less time for other subjects. One example of how a waiver would change this: Under Kentucky's assessment and accountability model approved through its waiver, schools must conduct a yearly program review to identify areas of growth or weakness in the subjects of arts and humanities, writing, and practical living/career studies. The state will also provide transparency on achievement gaps not just in reading and math, but also in end-of-course tests in science, social studies, and writing.
Attention to middle- and high-achievers
NCLB has prioritized getting students to basic proficiency levels and bringing up low scores. That has reduced attention for students who are already achieving at basic levels, some critics say. Massachusetts will change that by including a new factor in its measurement of student achievement for schools, districts, and subgroups: gains in the percentage of students scoring in the advanced category in English language arts and mathematics. The state also plans to improve teaching and instructional materials at the advanced levels.
A crackdown on low graduation rates
Some critics say NCLB provides perverse incentives for districts to let low-performing students drop out, so they don't drag down test scores. But with the waiver for New Jersey, for example, the state will focus not just on low proficiency levels, but also on graduation rates. In identifying which schools will be targeted for intervention, for instance, it will look closely at schools where the graduation rate falls below 75 percent.
Better preparation for college and careers
NCLB's testing focuses primarily on Grades 3 through 8. Under waiver plans, more emphasis is placed on ensuring that students complete high school poised to enter higher education or a career path. For example, Georgia is developing a College and Career Ready Performance Index to measure schools and student subgroups. It will track how many students are ready to start college without needing remedial classes. It will also foster career exploration at the younger grade levels and offer more opportunities for high school students to earn college credits.
Improvements for English-language learners and students with disabilities
NCLB critics say that these groups of students have gotten short shrift. Under the waiver granted for Oklahoma, the state will require that each English learner, in schools identified as needing improvement, have a Language Instruction Educational Plan. This plan will be developed by content-area teachers and an English-as-a-second-language specialist, and the students' progress will be evaluated quarterly. The state is also boosting the types of professional development required of teachers who work with English learners.
Colorado, Indiana, and several other of the 10 waiver states also have put forward plans to ensure that English learners and students with disabilities have access to high-level standards and curriculum to prepare them for colleges and careers.