6.Ireland, 43.9 percent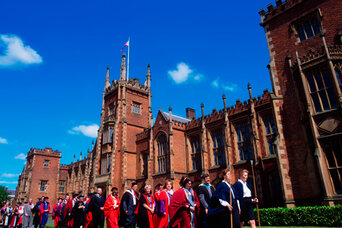 Ireland's higher education participation rate has increased 2 percent each year since the mid-1960s. While the country enjoys a highly educated workforce and high graduation rate, a little over half the population (57 percent) that could pursue higher education does so.
The Parade of Academics during Belfast Ireland's Queen's University graduation ceremony is seen in this file photo.
Source: UNESCO
New Zealand, 47.3 percent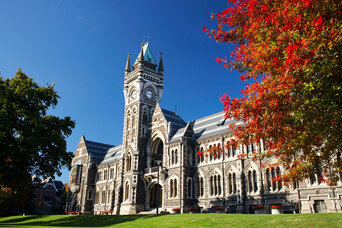 Public subsidies to students and households for education account for more than 40 percent of total public expenditures in New Zealand, and 53.5 percent of its students complete a tertiary program.
The clock tower at the University of Otago in Autumn, New Zealand, photographed at left in May.
Source: Global Education Digest.
Japan, 53.7 percent
In Japan, only half of people qualified to pursue a college education manage to do so. The availability of fulfilling jobs that don't require a college education is one factor in this trend.
At left, students attend their graduation ceremony at the National Defense Academy in Yokosuka, Japan on in 2009.
Source: Global Education Digest.
Russia, 55.5 percent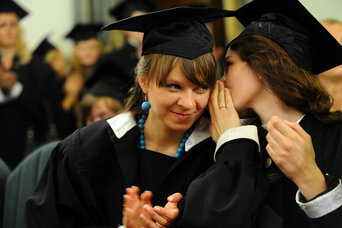 Most countries with high college participation have low levels of graduates majoring in education. Russia bucks that trend; one out of every 10 Russian college graduates majors in education, which includes teacher training and education science. By contrast, 22 percent of Russian college graduates major in engineering-related fields.
Russian students wearing bachelor's caps, at left, seen at a graduation ceremony at Moscow State Linguistic University in 2010.
Source: Global Education Digest.
South Korea, 55.5 percent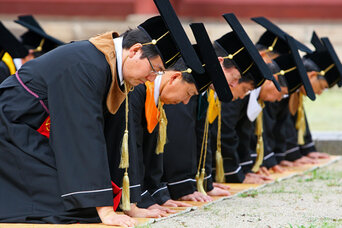 In South Korea, demand remains high for college education; almost all high school graduates attend college. South Korea spends less than 40 percent of its GDP financing tertiary education.
Professors, at left, prepare for degree conferment in 2009, in Seoul, South Korea.
Source: Global Education Digest.
Canada, 55.8 percent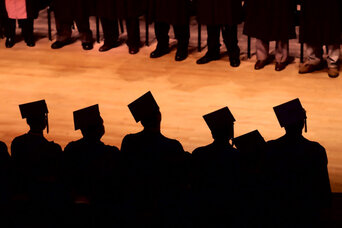 In Canada, an associate's degree is commonly seen as equivalent to the first two years of a four-year degree. Canada also has 2.5 percent of the world's mobile, or international, students in its colleges.
At left, DeVry Institute of Technology in Toronto holds a graduation ceremony in 2001.
Source: Global Education Digest.