1.Steer clear of race in the 2012 presidential campaign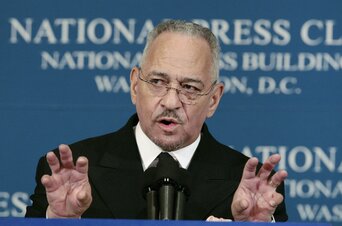 To some conservatives, Mr. Obama's past association with Rev. Mr. Wright – who was his spiritual adviser, officiated at his wedding, and baptized his children – merits more scrutiny than it received in 2008. Video clips of the minister denouncing America raised, in some conservatives' minds, questions about Obama's loyalty to the United States.
But John McCain, the GOP's 2008 presidential nominee, refused to use Wright against Obama. Some advisers were frustrated, including, the New York Times reported, ad man Fred Davis, whom the article says had produced an ad using Wright that never aired.
Fast-forward to 2012. It was Mr. Davis's firm, Strategic Perception, that presented a proposal to the "super PAC" Ending Spending Action Fund – founded by Chicago billionaire Joe Ricketts – to launch a $10 million ad campaign using Wright to attack Obama.
"Our plan is to do exactly what John McCain would not let us do: Show the world how Barack Obama's opinions of America and the world were formed," the proposal said, according to the Times, which was given a copy.
Now Davis says the proposal was just that – a proposal – and nothing was ever implemented.
"The document referred to in [Thursday's] New York Times story was one proposal prepared and submitted by Strategic Perception Inc.," Davis said in a statement e-mailed Thursday to Talking Points Memo. "The Ricketts family never approved it, and nothing has happened on it since the presentation. The vendors listed were as proposed, and had nothing to do with this proposal."
Presumptive 2012 nominee Mitt Romney has disavowed the idea, as has Mr. Ricketts. And as a matter of politics, analysts say, it was a bad idea from the start: Obama is personally popular, and the only people to whom it might appeal weren't going to vote for Obama anyway. A racially tinged attack could easily backfire and help the president – not only in building sympathy for him among swing voters, but also in driving up turnout among his base, including African-Americans.
Beware, political neophytes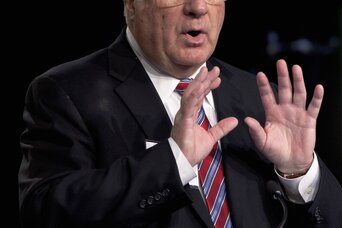 The lesson for Joe Ricketts – the founder of TD Ameritrade and the super PAC Ending Spending Action Fund – is that politics can be dangerous to one's reputation. Before the Jeremiah Wright flap, Mr. Ricketts was unknown to most Americans. Now, anyone paying attention to the campaign has seen his name splashed all over the media in connection with the controversial proposal to attack Obama via his former pastor.
The ability to spend unlimited sums of money on behalf of a political campaign was sanctioned in 2010 by the US Supreme Court. Suddenly, wealthy people with a taste for politics can jump in with big piles of cash to try to influence discourse. But sometimes things can go awry. Remember Foster Friess? He was Rick Santorum's big outside backer, who put his foot in his mouth when he joked on TV about birth control as "Bayer aspirin between the knees."
Ricketts, whose family also owns the Chicago Cubs, wasn't even in the room when Strategic Perception made its proposal, said Brian Baker, president of the Ending Spending Action Fund, speaking Friday on MSNBC's "Morning Joe."
"The world is full of bad ideas. This is one of them," Mr. Baker said. "This wasn't a proposal we requested at all. We never funded it…. We had nothing to do with the suggestion of Reverend Wright."
Even seasoned political professionals have to be careful
Fred Davis is no political spring chicken. He's perhaps most famous for the "demon sheep" ad he produced in 2010 for US Senate candidate Carly Fiorina in California – you know, the one that featured a "wolf in sheep's clothing" with glowing red eyes.
But Mr. Davis apparently didn't think about how explosive it would be for his Jeremiah Wright proposal to fall into the wrong hands. Someone gave the glossy 54-page proposal ­– professionally bound and illustrated with color photos – to the Times, and the story was on its way. Of course, Davis apparently thought the Wright ad campaign was a good idea, so we're supposing that he might have thought having it leaked to the media wouldn't be embarrassing. Maybe now Davis will lay off the whole Wright idea.
Brian Baker, the head of the Ricketts super PAC, is one political pro who for sure is rethinking how he handled the situation.
In the original Times story, Mr. Baker had said in an interview that no decision had been made on the Wright proposal. On Friday, he said he should have been more definitive.
"I meant we would not be doing it," said Baker on MSNBC. "I could have been clearer, yes. When I said no decision had been made, that meant we are not moving forward."
Two other high-profile Republican strategists got roped into the mess: GOP pollster Whit Ayres and Becki Donatelli, who was the McCain campaign's Internet strategist. The Times story said Davis had included them on his "Recommended Team of Pirates" who would carry out the ad campaign. But both said Thursday they had no upfront involvement with the proposal.
"I will tell you that the NYT assertion that I was involved in developing the proposal is flat wrong, and neither reporter called to verify that before printing it," Mr. Ayres said in an e-mail to the Los Angeles Times.
On Friday, Ayres deferred followup questions to Davis's firm, Strategic Perception.