Gregg Treinish: Modern explorer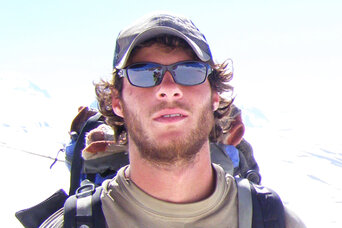 As a young modern explorer, Gregg Treinish already boasts an impressive résumé. He has hiked the 2,174-mile Appalachian Trail, became the first man ever to trek the Andes Mountains (covering 7,800 miles), and in 2008 was named "Adventurer of the Year" by the National Geographic Society.
Still, Mr. Treinish says, he felt unfulfilled. The 29-year-old, who lives in Bozeman, Mont., is well aware that some in society look upon him and other members of Generation X as being self-centered and civically apathetic. So this year he founded an or-ganization that offers his Merrell-wearing contemporaries a way to make a difference in the world.
Adventurers and Scientists for Conservation combines the passion of exploration with citizen science and the research needs of cash-strapped government agencies and environmental groups.
He has backcountry skiers, for example, assisting with efforts to expand a database on elusive wolverines, and alpinists documenting how global warming affects species in high elevations – the rafters of the earth.
He has backcountry skiers, for example, assisting with efforts to expand a database on elusive wolverines, and alpinists documenting how global warming affects species in high elevations – the rafters of the earth.
"We live in a time when young people are struggling to cope with traditional notions of what 'success' means that have been imposed upon them, and, at the same time, they are told to have lower expectations of what they can achieve," Treinish says. "We reject that. Having an enriching life doesn't have to be based on money."
He is concerned, too, about the phenomenon called "nature deficit disorder," coined by writer Richard Louv, that negatively affects children who are detached from natural environments. His group hooks up kids in different cultures, directly or digitally, with world-class explorers to ignite their interest in the outdoors and potentially to pursue careers in such things as wildlife biology, geology, and climate change.
"We want to make science cool," he says.
– Todd Wilkinson, Bozeman, Mont.
Next: Shwetak Patel: Kilowatt saver
Shwetak Patel: Kilowatt saver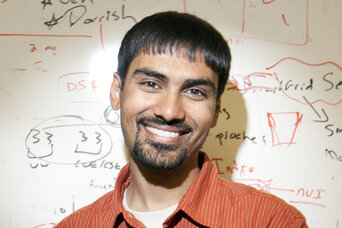 If you could literally watch yourself wasting energy, you might embarrass yourself into reducing your carbon footprint. It's a simple idea – monitoring use of energy in real time, with technology that measures appliance by appliance how much electricity is used – that has complex implications, says Shwetak Patel.
"I asked myself, what role can computer science play in improving things like global warming and the environment, and it turns out it's a core role," says the 29-year-old Patel, who teaches at the University of Washington, Seattle, and is a 2011 MacArthur Fellow.
Mr. Patel is creating easy-to-install technology that measures energy and water use. When the energy sensor is plugged into an outlet, it measures how much each appliance – from the refrigerator to the DVR – consumes, and every month a list is generated showing detailed electricity consumption.
"The idea is that if you give someone itemized feedback on energy and water consumption you see sustained reduction in behavior," says Patel, who estimates a 10 to 15 percent reduction of energy consumption among those using his device. "To be able to hit that just through behavior change is huge."
"[T]he problem is when people say we need to reduce our carbon footprint. We have no clue how to do that as individuals," he says. Patel believes that the biggest energy consumers are counter-intuitive. For example, it's not the workhorses like computers that we're on constantly; it is the "passive" devices that ratchet up the energy bill, like lighting or the cable box.
"Empowering individuals to monitor their energy will help everyone do his or her part in saving energy globally," he says.
– Whitney Eulich
Next: Chris & Kim Corbin, Luke & Sally Gran: Progressive planters
Chris and Kim Corbin, Luke and Sally Gran: Progressive planters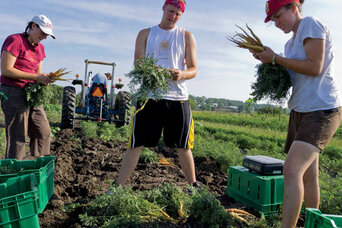 Corn and soybeans have provided very good livings for Iowa farmers in recent years. But the focus on these two cash crops has meant that people living in the center of the nation's bread-basket are now likely dining on vegetables grown in California or Florida, not from a farm on the outskirts of town.
Now four young entrepreneurs at TableTop Farm have set out to change the way Iowans eat. Working on rented land near the central Iowa town of Nevada, rookie farmers Chris and Kim Corbin and Luke and Sally Gran have quickly established their intent to provide families, as well as wholesale and retail buyers, with locally grown organic produce.
TableTop is part of the growing Community Supported Agriculture movement, which itself is gaining ground from the "locavore" trend – people searching for freshly picked, local fruits and vegetables.
With 86 percent of Iowa devoted to farmland, this would seem a good place to further the eat-local movement. So 24-year-old Sally Gran convinced relatives to rent her and her partners the ground they needed. They sold "shares" to area families that guaranteed delivery of more than a dozen vegetables throughout the summer.
Those subscribers provided TableTop with cash to start their crop. The couples also borrowed money and boosted income with sales at farmers' markets. Sally Gran says she may close a deal to provide carrots to a local food supplier.
"Those carrots are really sweet," she says.
The farm will double its acreage next season, and TableTop plans to hire four full-time workers to help deliver the news – and food – to a growing audience.
– Steve Dinnen, Des Moines, Iowa
Next in the series: The Change Agents